Why should your law firm use Taskeo?
Digital transformation of the legal sector has been slow in the past decade. But now, it's finally picking up the pace. Take a step forward and get ahead of your competition by using Taskeo's integrated practice management software.

Taskeo is a all-in-one online platform for comprehensive legal practice management. Use it to manage essential aspects of your business such as: Time Tracking & Billing, Case Management, Documentation Management, Appointments Scheduling and Customer Relationship Management.

Manage everything in one place. Control your business from anywhere. It doesn't matter if you are in the court, on a meeting with a client, in your office or at the beach in the Bahamas. So long you got Internet access, your whole law firm is at your fingertips.

Taskeo's practice management software gives you all the tools you need to manage your law firm:

- Time Tracking & Billing
- Case Management
- CRM
- Appointment Scheduling
- e-Discovery
- Client Portal / Data Room
- Marketing (Q2 2020)

Time Tracking & Billing
Keeping track of all the hours worked is a daunting task. It's a common problem that touches not just everybody, but legal specialists in particular.

Answering the high demand we have developed a simple and highly effective Time Tracking module designed with lawyers in mind.
Use Taskeo's practice management software to check how much time you have spent working for your clients in a given timeframe. Group and filter information by team members, clients, projects or tasks. Generate reports for your clients or accountants.

Track time on any device - desktop, tablet or mobile. Switch between devices and control the situation wherever you are. Start tracking time in your office from your desktop computer, go to court and stop it when you have lunch using your mobile. All your devices will connect to the cloud service that synchronizes data across them.

Preparing all billing information and reports for invoices is one of the most crucial tasks. Without it, there is no cash flow and no revenue.
Taskeo offers an excellent billing function to make this process easier than ever before.
Sum up all your tracked time and turn it into a spreadsheet report. Each time log is editable. Your admin staff can quickly and easily add, remove and edit records.

Need more flexibility? It's also possible to set custom costs for tracked time, independent from an hourly rate of your team member. Moreover, for every record, you can add comments and point the person behind the time tracking request.

Case Management
Case management isn't only for the corporate lawyers. Your law firm can operate smarter and get more done with Taskeo's case management features.
Assign tasks, set up reminders and recurring assignments or create task and project templates. Whether you're working solo or in a team, Taskeo helps you get more done with less effort.
Make your case tasks visual
Taskeo also allows you to quickly check the case progress. Kanban view, list view, calendar view and burndown chart. This way, you'll always know what's the current case status and what should be done next.
Secure case and project sharing
Sharing cases with your employees and partners? You can now be extra detailed about their permissions.
Define who can access your data and to what extent they can apply changes to it.
Customer Relationship Management (CRM)
Taskeo's CRM is created with legal specialists in mind. It's not just another CRM tool available online. It's made for lawyers like you to streamline your contact,management as well as client acquisition, nurturing and retention. It's a simple and flexible CRM system designed to help you manage your practice successfully with a variety of industry-focused features.
Contacts Database
CRM allows you to collect necessary information about your customers and contacts, so you will never lose the opportunity to expand your client base.
Increase Sales
A well-planned sales process, visualized on the Kanban board, will shorten the sales cycle, improve conversions, and increase sales in your business.
Flexible Legal CRM
Benefit from fast deployment, advanced self-configuration capabilities, and ready-made templates for your industry.
Appointment Scheduling
Online appointment scheduling is transforming the way people interact with law firms. It provides an entirely new way to engage with your clients. This simple, yet powerful technology is steadily changing how meetings are arranged across the world.

Taskeo is now leading this revolution with the most flexible, scalable scheduler for legal professionals. Our appointment software uses the most modern, secure technologies to help your law firm improve efficiency, save time, reduce costs, and generate more revenue through smarter meeting management.
e-Discovery
Tired of unreliable OCR software?
Looking for something that will allow you to work seamlessly with all your case file scans?

Taskeo comes with a full package of tools that will help you read and analyse all the scans and pictures you're working with.
Type in your query and Taskeo will tell you where to find it!

Why waste time looking for files when you could be doing something that truly matters?
All your case files, agreements and contracts safely are now stored in one place for easy access.


Client Portal & Data Room
In competitive markets, delivering a customer experience that goes above and beyond the norm is essential to catching and keeping consumers. Your law firm reputation is built upon the experiences your customers had with it. Providing easy access to essential information and self-service tools, is key to establishing your law firm as a modern digital enterprise.

Cases and projects can get messy. It can become a real headache to keep track of files, tasks and deliverables. If you email most of your files, these can quickly get buried in both yours' and your clients' inbox.

Taskeo is solving this problem. Keep your client files in one, safe place. Keep your communication clear with our integrated mailbox.
Email Marketing (Q2 2020)
Taskeo offers a suite of email marketing tools designed to deliver tailor-made messages to your contacts when they need it the most. You can build an effective email marketing strategy for your law firm in just a few simple clicks.
Newsletters
Send one-time email broadcasts announcing updates and offers.
Automated emails
Trigger emails after meetings, website visits, and more.
Segment-specific sends
Get higher engagement rates through highly-targeted recipient groups.
How do we secure your data?
You worry about your company data, your clients data and case files. We understand this. That is why we made your security our priority.
- Double backups. Nothing ever gets lost with the double copy of your data secured in two server locations.
- IP restricted access. When locked behind an IP address, nobody unwanted will access your sensitive data.
- Two Factor Authentication (2FA). It's not just email and password. Secure your account with a second level for maximum protection
- Private cloud. Rest assured your data is well-protected and protected from unauthorized access.
Powerful integrations

Intuitive views: calendar, kanban, list and burndown chart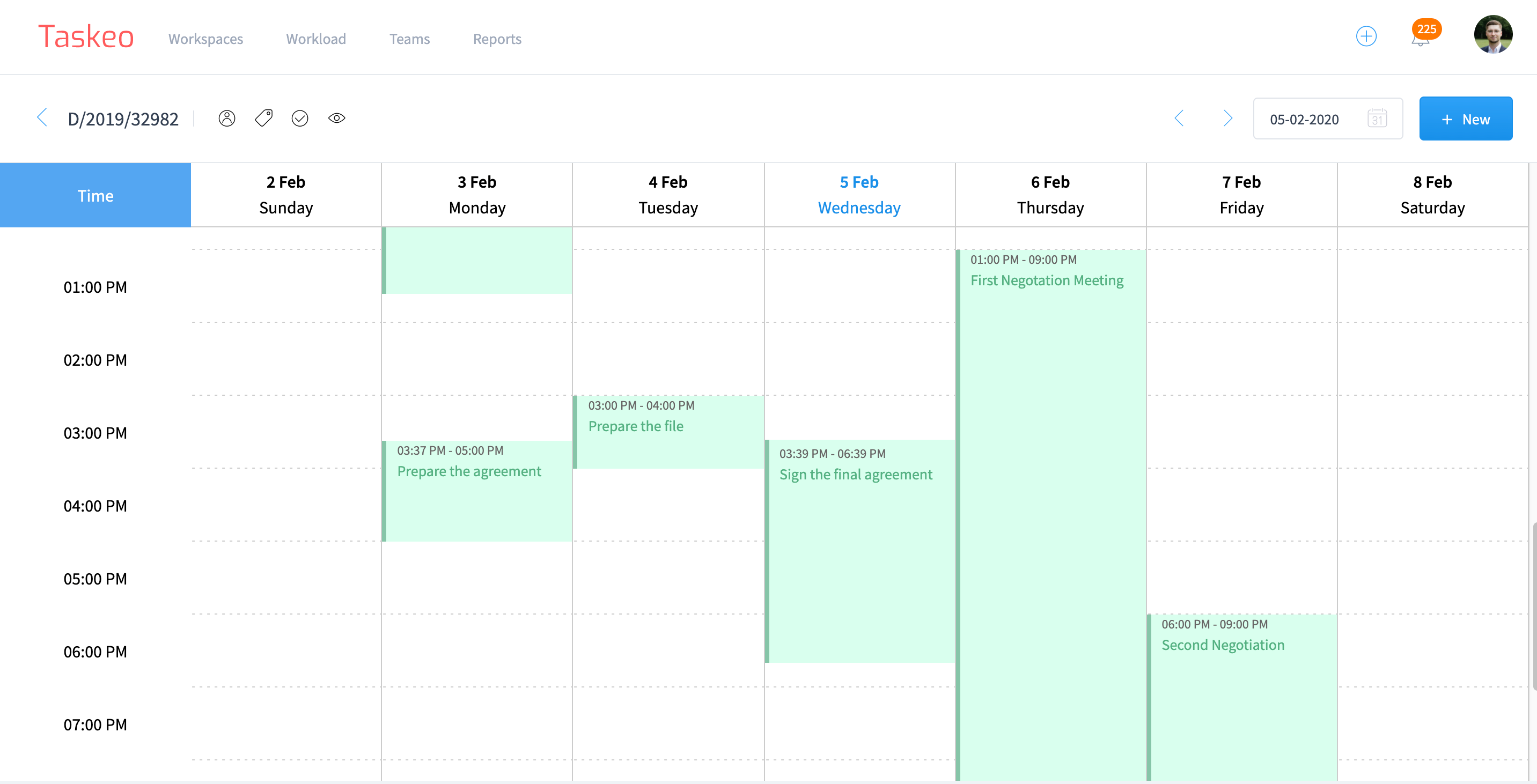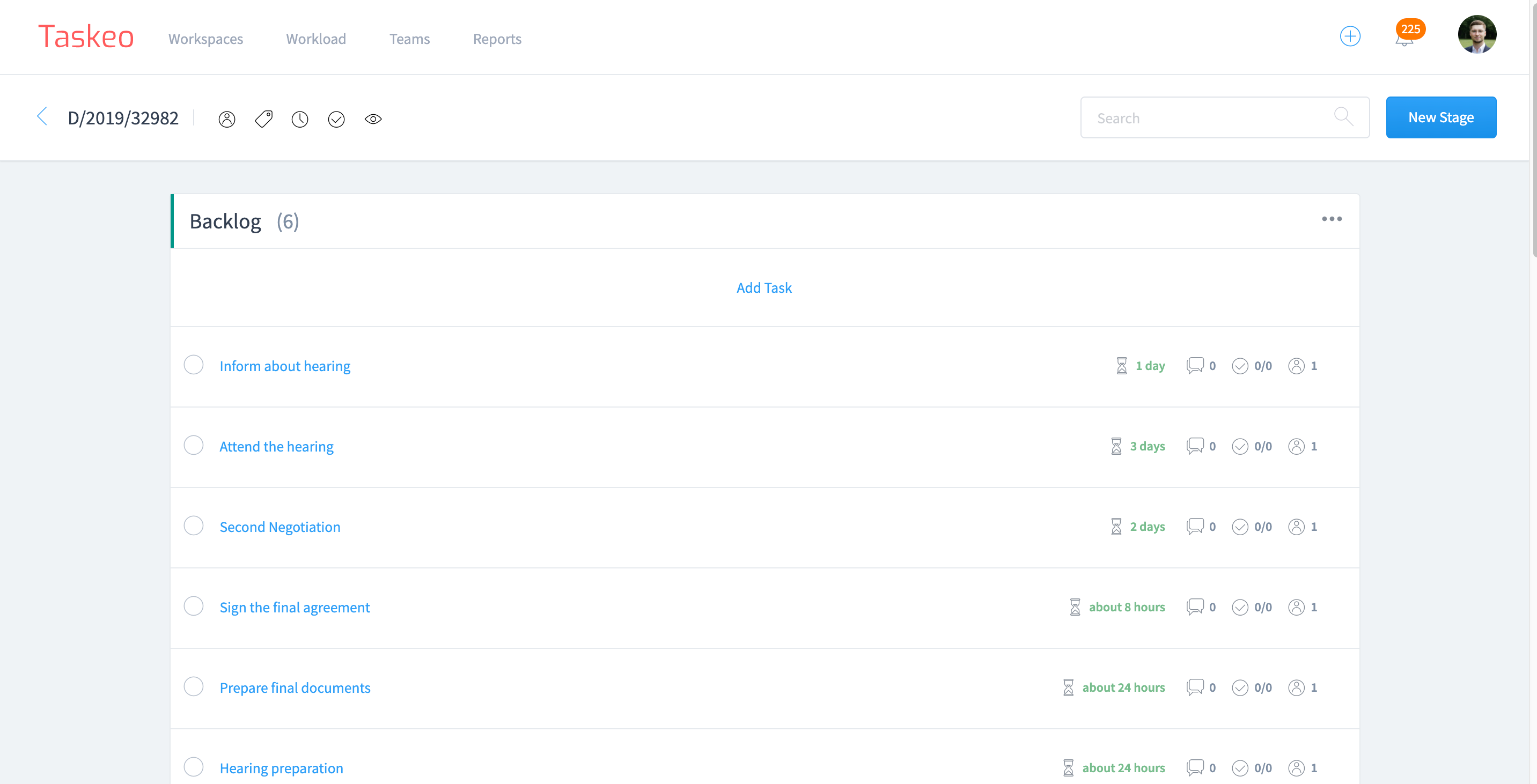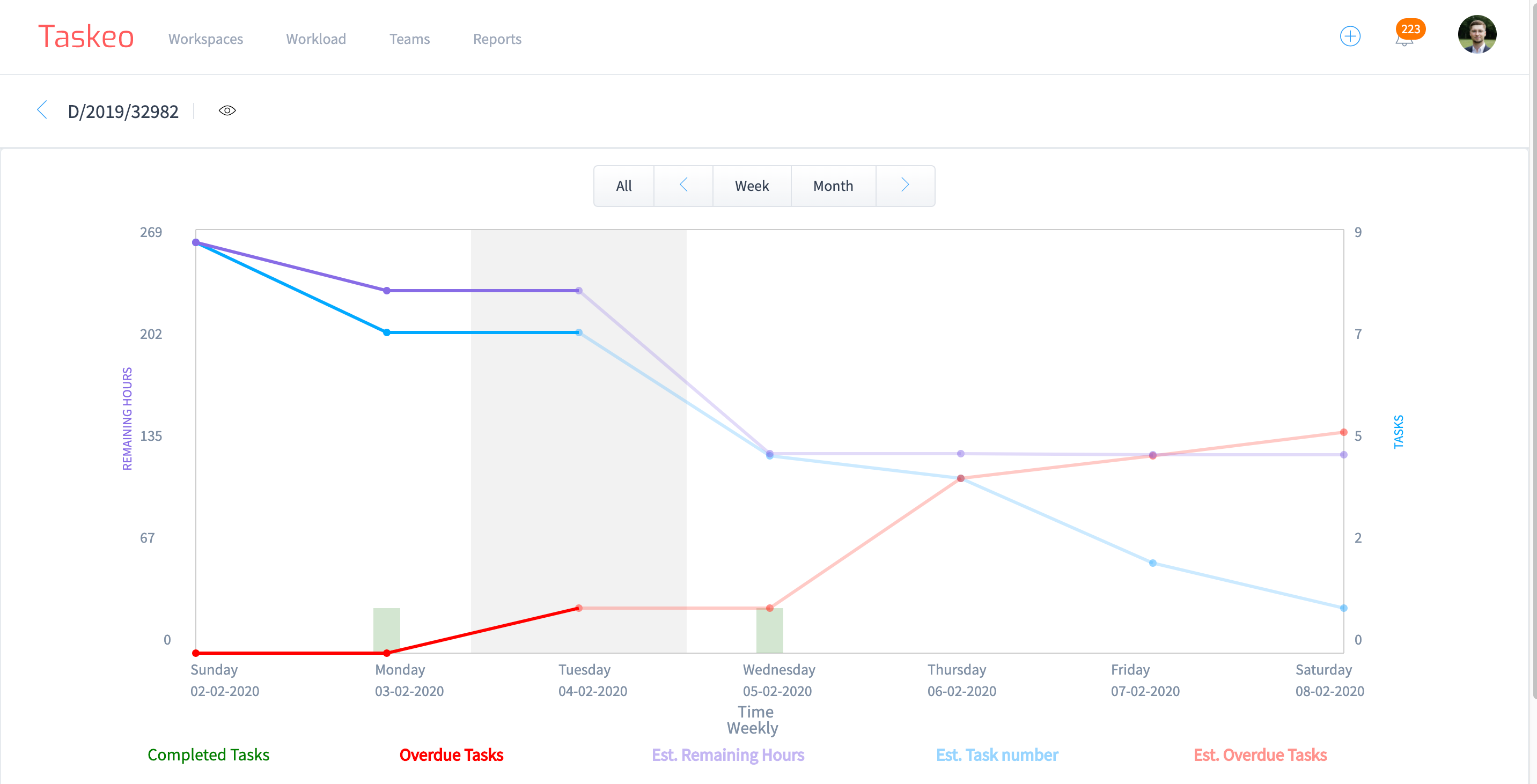 All the features for your team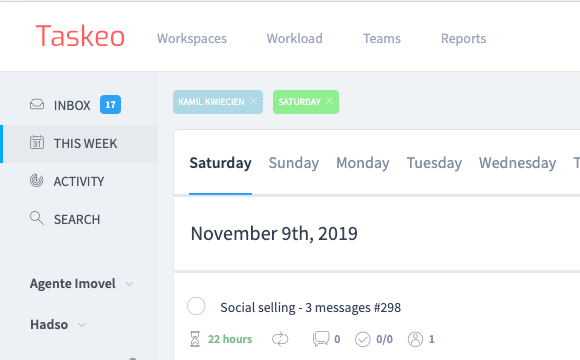 Personal Dashboard
All your tasks from all your teams and projects - listed in one place, so easy to find.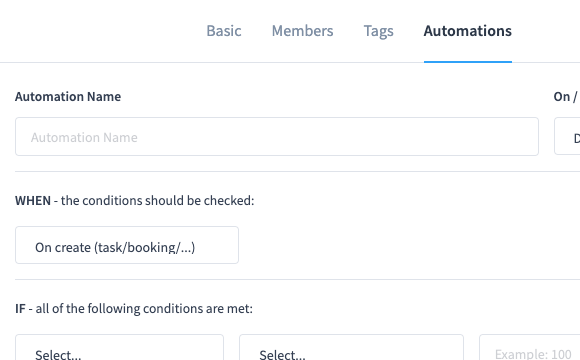 Automation
Every day, thousands of teams waste time recreating tasks and processes. Don't be one of them.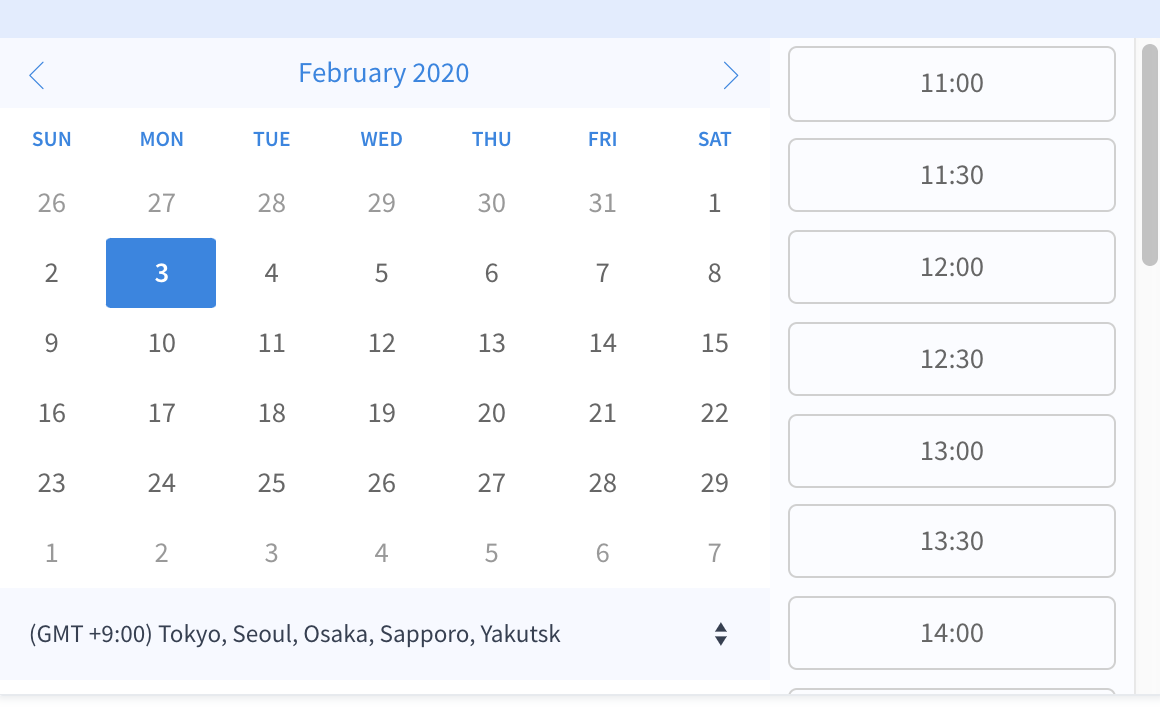 Meeting Planner
Streamline calls, meetings and events organization.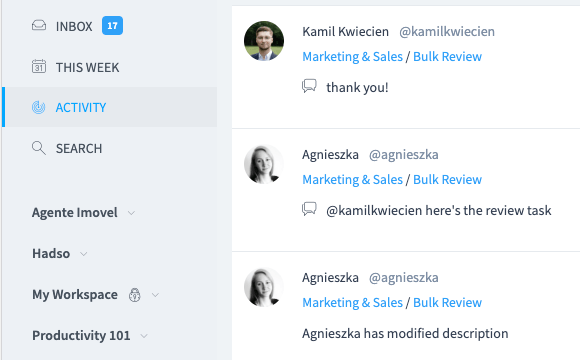 Activity Feed
You think "feed", you think "social media". Our feed keeps you up to date with all events across your teams and projects.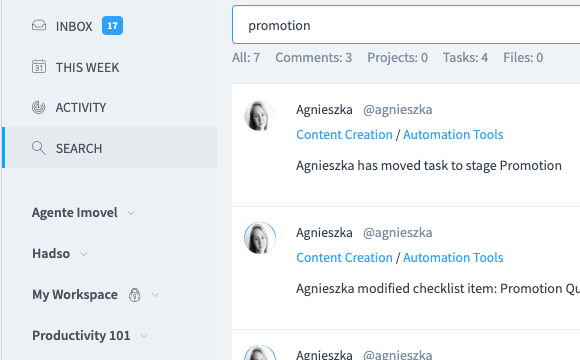 Smart Search
Forget the tedious manual search of tasks or attachments. Type in your query and see where you can find what you're looking for.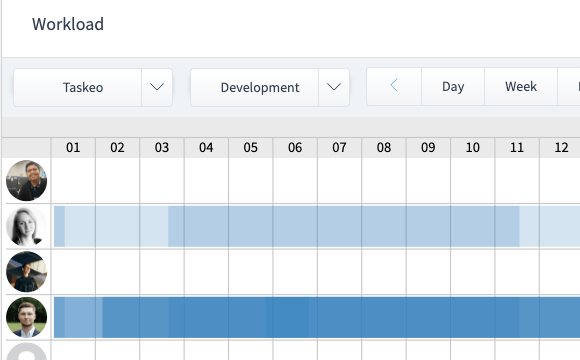 Workload
Your way to distribute workload smartly among your team members. No more bottlenecks, overloads and idle moments.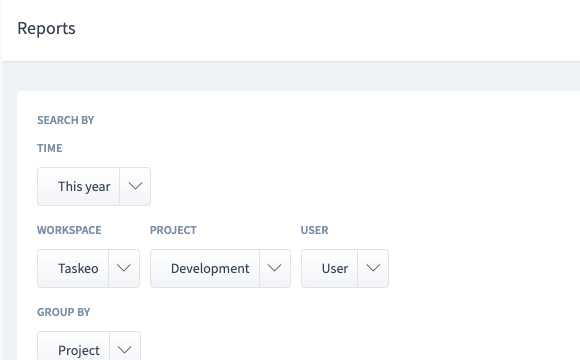 Reporting
Easy time clocking for all your tasks. Generate reliable reports with one click.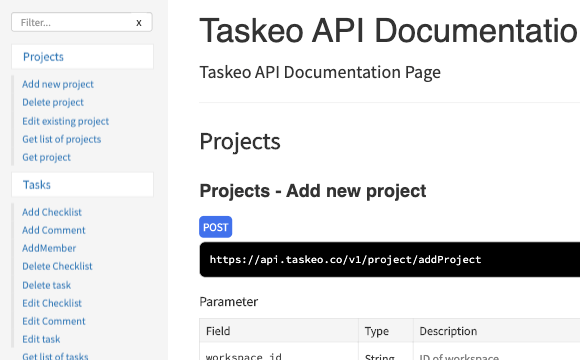 API
Connect Taskeo with your current system thanks to our open API.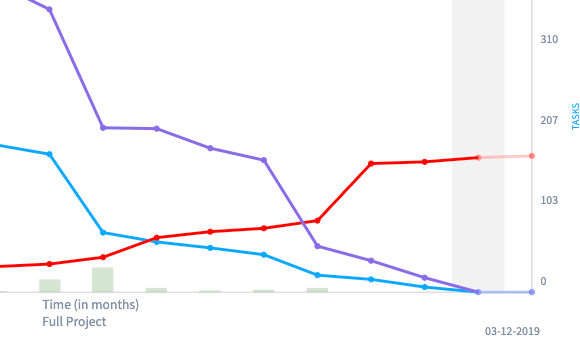 Burndown Chart
Preview estimates and progress on your projects. Plan smart with reliable project data.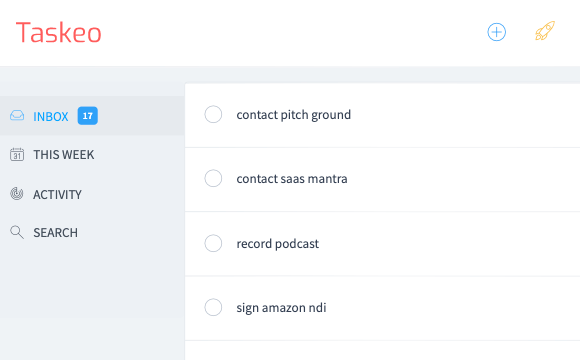 Inbox
Drop quick notes when in a hurry. You can convert them later to tasks in a selected project.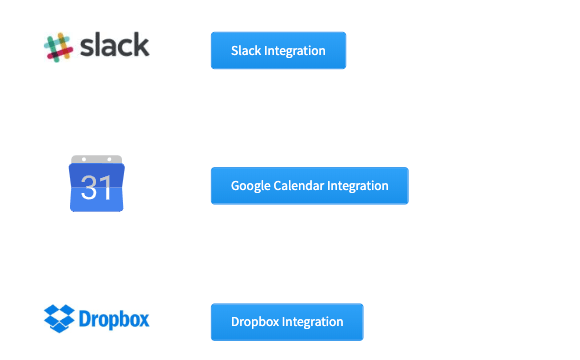 Integrations
Integrate Taskeo with your favourite apps: iCal, Google Calendar, Zapier, GitHub, BitBucket, DropBox and Slack.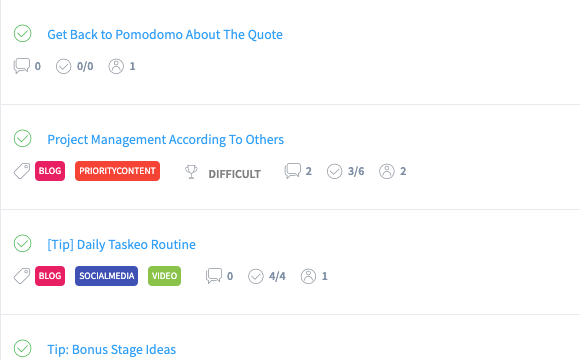 List View
Switch view if you prefer vertical list instead of kanban.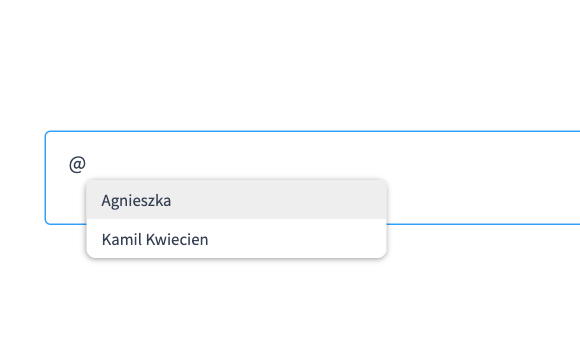 Mentions
Mention users like on social media. Ensure nobody misses anything important again.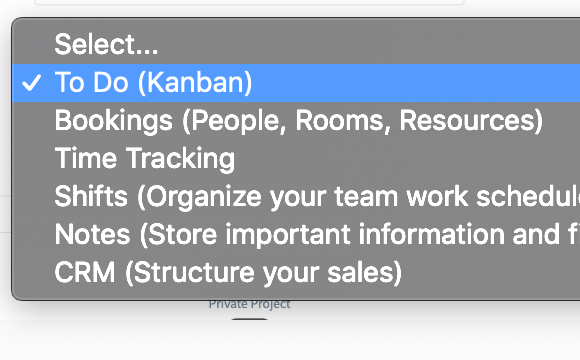 Project Types
Use different project types depending on your goals and needs.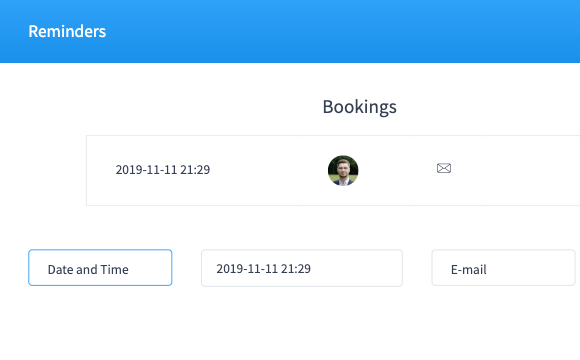 Reminders
Set email or push notification to remind you about important tasks and events.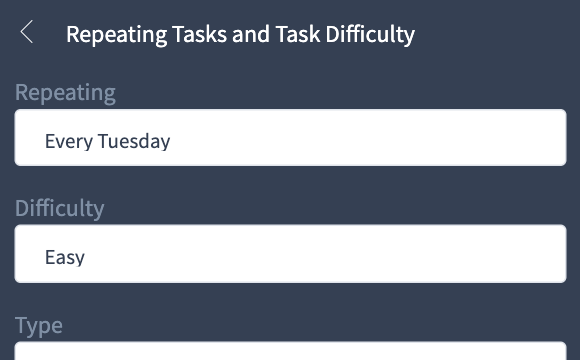 Repeating Tasks
Save time by setting up automatically created, recurring tasks.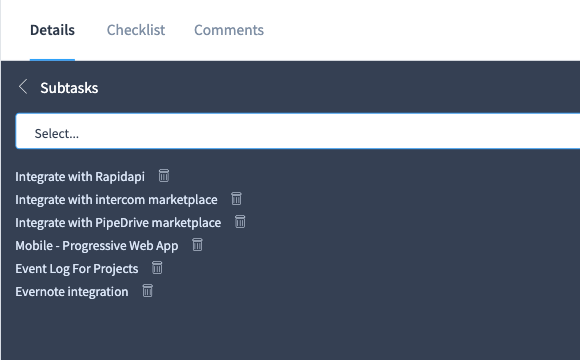 Subtasks
Sometimes a checklist is just not enough. Simplify the navigation of task dependencies.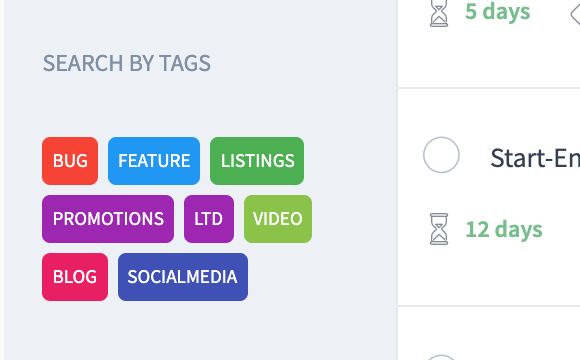 Tags
Tag your tasks with colorful labels to find them more easily.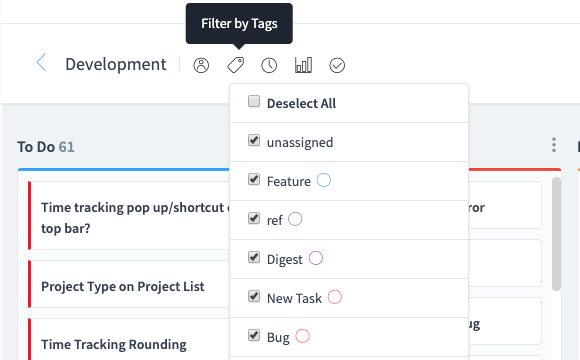 Task Filters
Filter your project tasks view by Users, Deadline, Tags and Status.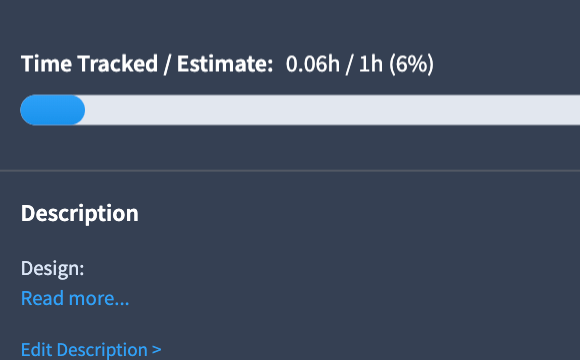 Task Progress
Set up task estimates to visualise their progress.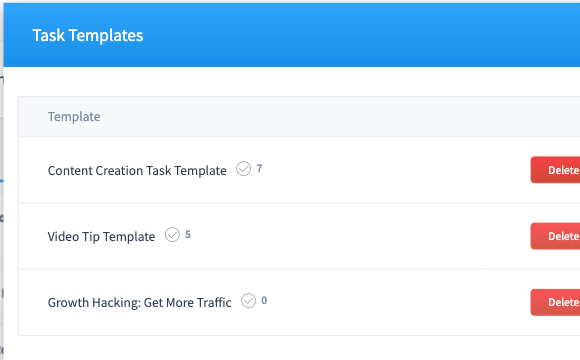 Task Templates
Easily recreate tasks from task templates. Automatically copy checkpoints and description.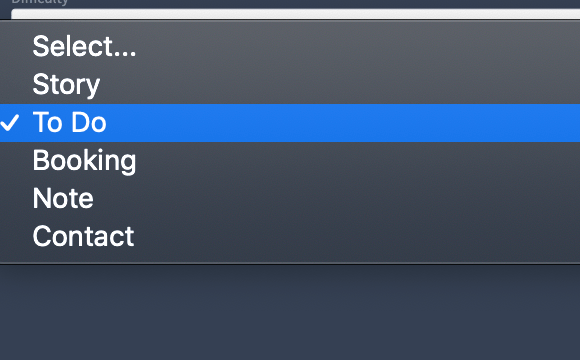 Task Types
Turn your tasks into different types to separate them from regular to-dos.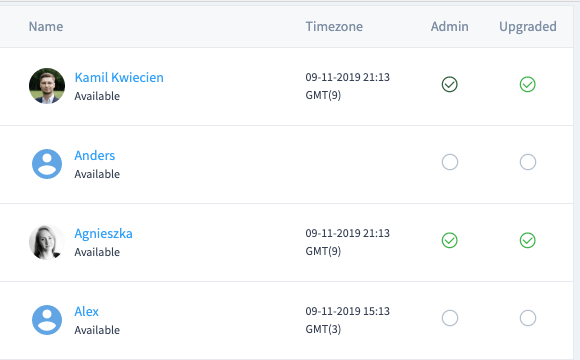 Teams
See who you're working with. Check the team members' timezone, availability and last login time.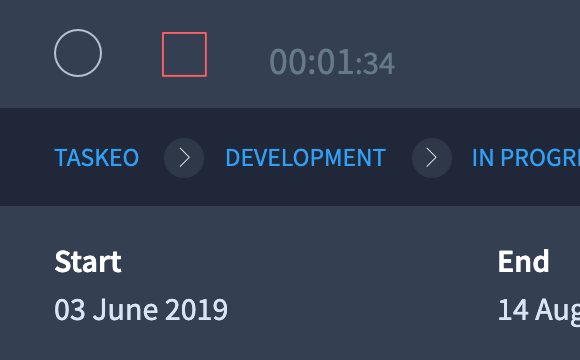 Time Tracking
Track time without third-party apps.