Why is it better with Taskeo's appointment scheduling software?
Appointment scheduling, as it is done now in many companies, is tiresome. It takes several back-and-forth emails to arrange one date. Or making phone calls that someone may not pick up. Booking a meeting shouldn't be a lengthy, patience-draining process. And it won't be the moment you shift to Taskeo.

Taskeo's integrated appointment scheduling software comes with a bundle of features that make meeting planning easier than it ever was before. With Taskeo's appointment scheduler, you can simplify arranging meetings with branded availability calendars. All it takes is sending one link so the other part can choose the right date for them.

Who is Taskeo Appointment Scheduling Software For?
Are you tired of the endless email threads to arrange one meeting? Have you got it hard to manage and organize your meetings? Adding another app to the heap of those you already use sounds awful?

If you answered "yes" to at least one of these questions, then Taskeo's appointment scheduler is definitely for you. It's been designed to help people like you: business owners, sales representatives and managers, consultants and coaches or team and department leaders.

How does it work?
Create an appointment module to list all your meetings
Create an availability calendar for each meeting; select dates when you're available for meetings
Send the calendar link to anyone who wants to meet you or embed it directly on your site
Get informed each time someone books a meeting with you
More Tools In One Place
You no longer need to look for third-party solutions to find that one, perfect meeting scheduler.
Taskeo's appointment scheduling module is a part of an integrated business management platform that delivers you CRM, project management, time tracking and billing together with smart meeting calendars.
Instead of collecting apps, try out Taskeo to manage your meetings AND everything else in your business!
Create availability calendars
Eliminate the back-and-forth from the start. By opening your calendar link, anyone can see the dates when you're available and pick a date that aligns with their schedule.
Set Different Meeting Durations & Breaks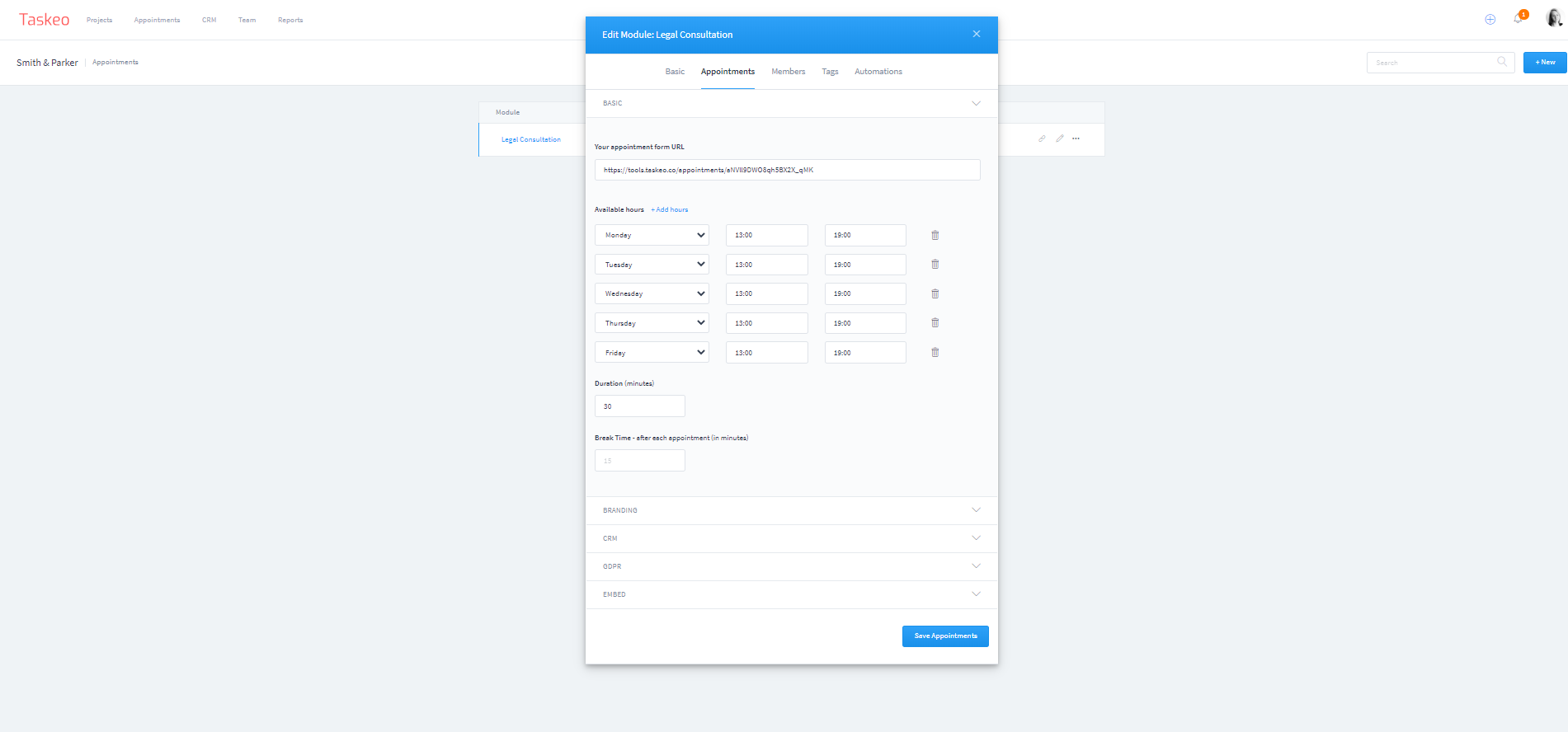 Each meeting's duration can vary. Custom breaks between meetings will ensure you don't race from one meeting to another.
Include your colleagues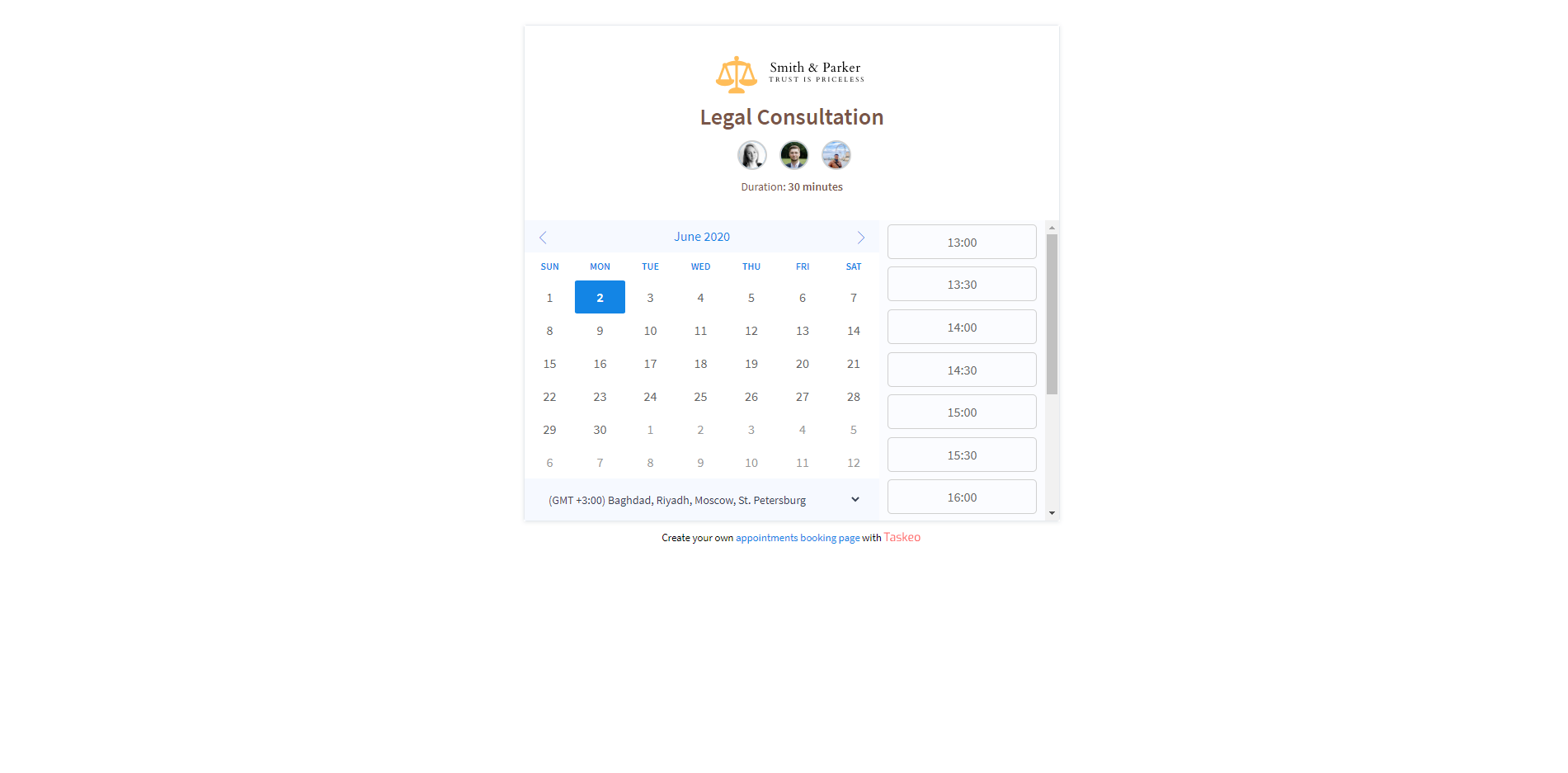 Invite your team members to the meeting so they also receive all notifications and appear in the meeting form.
Show off your branding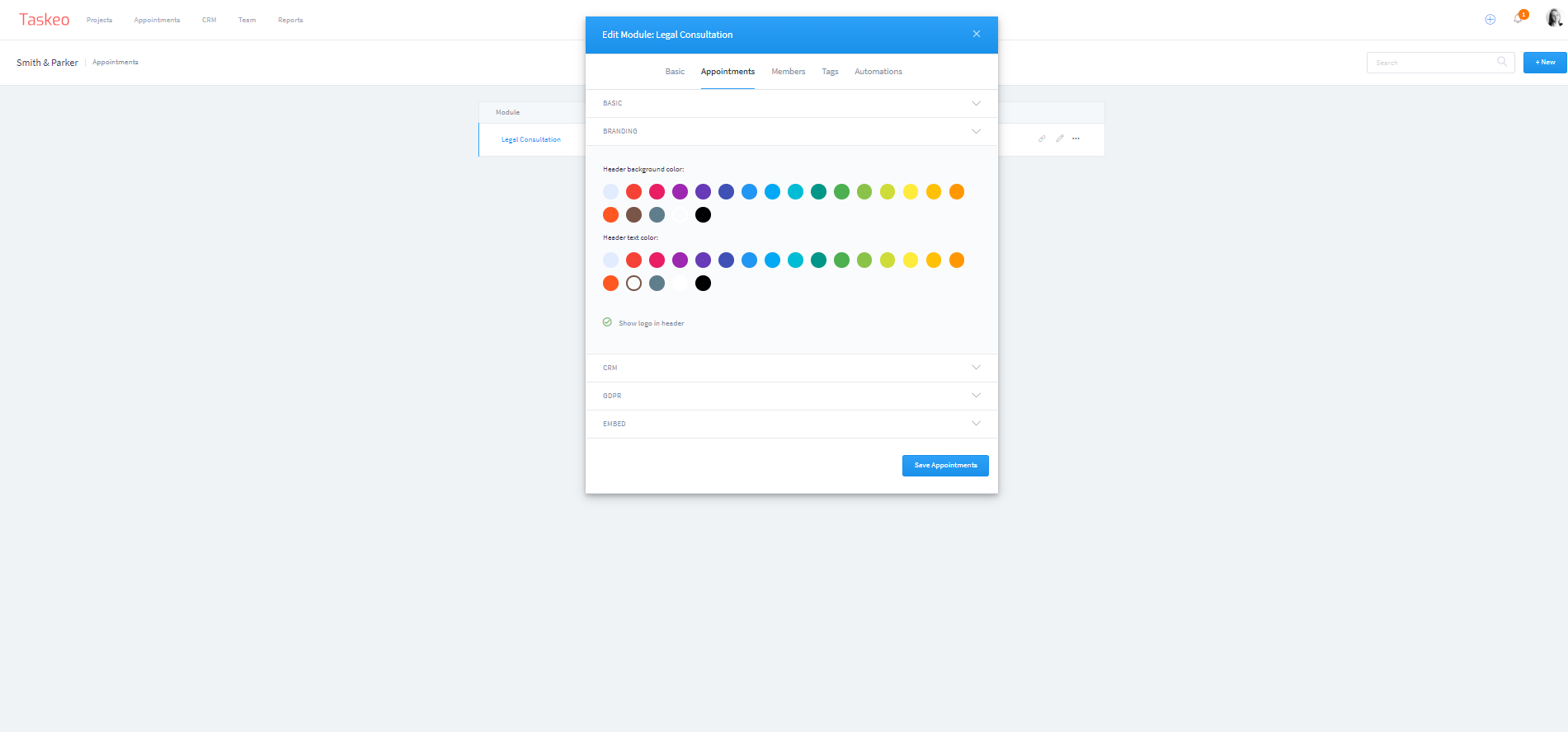 Include branding elements with header and font colours, your logo and profile pictures.
Embed the form on your website
Make it easy for your clients to schedule a meeting by placing an appointment form directly on your website.
GDPR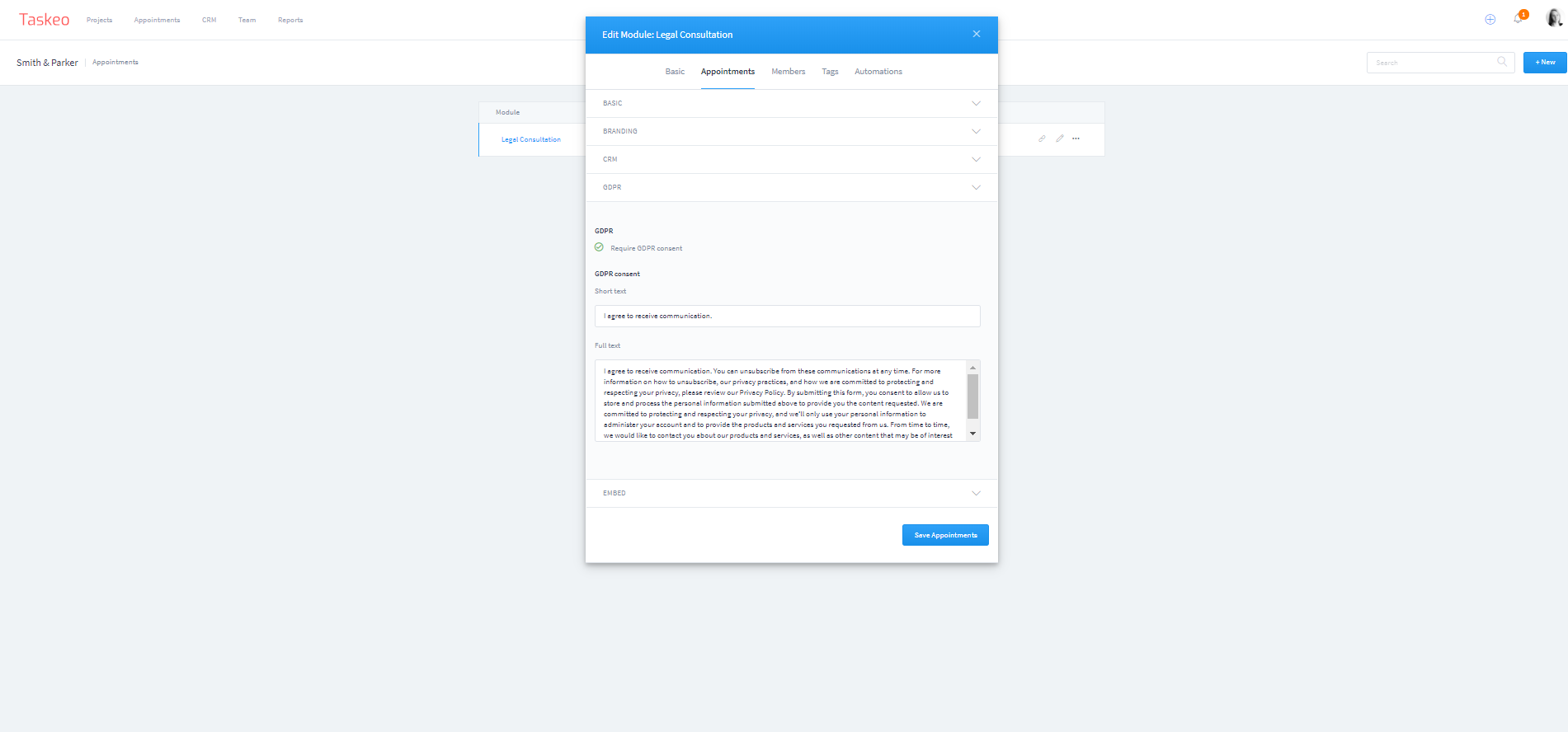 Include European GDPR law notice in your form.
Import Contacts to CRM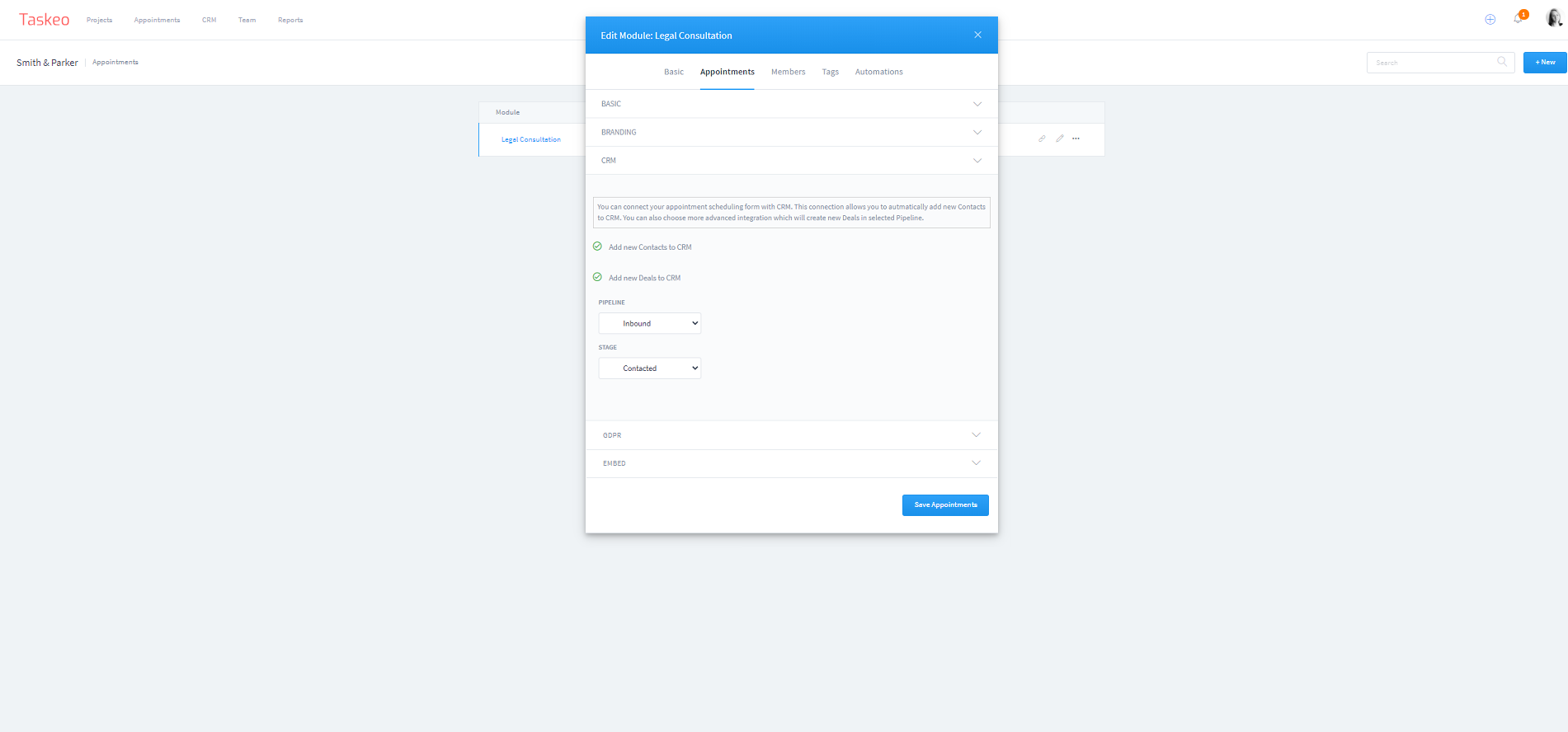 Someone signed up for a meeting? Automatic import to Taskeo CRM will ensure they're on your contact list and in the right pipeline.
Pssst… We need to brag a little.
For two consecutive years, our agency management software has been appreciated twice by SoftwareSuggest tool directory.

How Do I Schedule an Appointment Online?
Use Taskeo scheduler to easily create simple meeting scheduling forms for each of your meeting types. Share the link with your clients to set up a date that is right for everyone!

How Do I Create an Online Booking Website?
Embed Taskeo's appointment form widget on your website to simplify booking a meeting with you.

What's the Best Way to Schedule Online Meetings?
Appointment scheduling software such as Taskeo makes scheduling online meetings easier and faster. By cutting out the email shuffle and manual date arranging, you can schedule more meetings and make the most of them.