It's easy to get overwhelmed with all the options when you're looking for software for your company. Of course, one of them is Taskeo. We believe in our product and we know it can make your people work smarter. But it would be a lie to say we're the only option available. If you're looking for Taskeo alternatives, there are many out there and each of them can assist you with a variety of problems.
If you don't want to stick with us, let us introduce you to some worthy alternatives to Taskeo.
And by the way – your opinion still matters a ton. So don't hesitate to drop us a suggestion or two so we can make Taskeo better.
With that being said, let's get started.
What can Taskeo help you with?
The idea behind Taskeo is simple – to make managing your projects easier. This vision was something that shaped Taskeo from the beginning. A lot changed ever since our first day. We've talked to local business owners and project managers of the biggest global companies. What they told us, gave form to what Taskeo is today.
These days, we're working hard on making Taskeo your #1 product that will help you organize and automate your business. We believe you should focus on getting the results instead of manually navigating your workflow.
Here are some of the basic things we'd love to make easier for you:
workflow automation: with our recurring tasks and reminders, we're aiming to free your mind from tedious task creation and revision
automatic time & venue management: tired of monitoring whether two meetings don't overlap in the same room, at the same time? Taskeo solves that for you.
company overview: our workload view, activity feed and notifications keep you up to date with everything that's happening in your business – all news at your fingertips, whenever you need them.
In some departments, we're still work in progress. That is why some of the alternatives to Taskeo are good to check out while we develop our product further and expand the lists of our features and automations.
Taskeo alternatives you should check out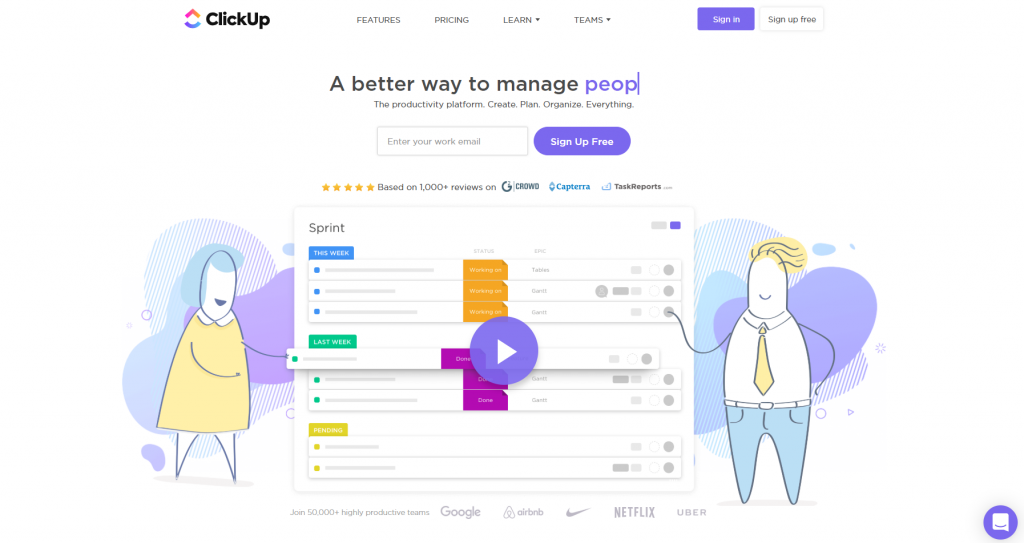 One app to replace them all
Pricing: Free account available; premium accounts from $5/month
If you check out ClickUp's feature page, you're bound to be impressed. From process management to collaboration and reporting, this product offers quite a few options to go with if you're looking for an advanced project management tool. As their tag line says, ClickUp wants to be your to-go SaaS if you want to manage your team and company on all levels. They're definitely a Taskeo alternative worth trying out if you didn't find what you need in our feature list.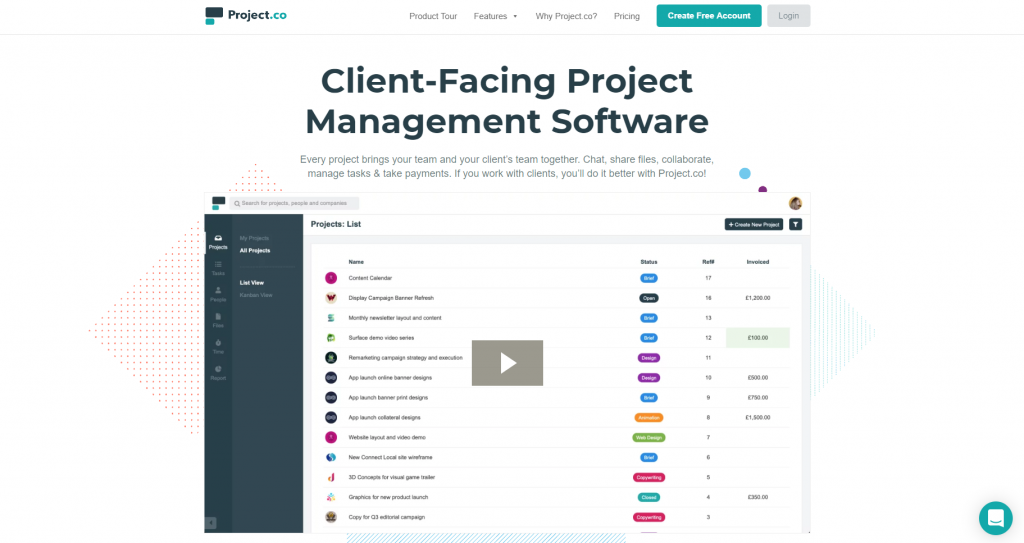 Client-Facing Project Management Software
Pricing: Free account up to 3 users; premium accounts from $49/month
Although much more costly than Clickup, Project.co is another alternative to Taskeo that you should keep in mind. Their freemium-version account offers you all of their features at the disposal of a total of three people in your company. If you want to go beyond that, you'll need an upgrade.
Until then, Project.co covers most of the needs that any company could have: from project management to time tracking and invoicing. All with the idea of making it easier for your team to bill your clients and manage their assignments.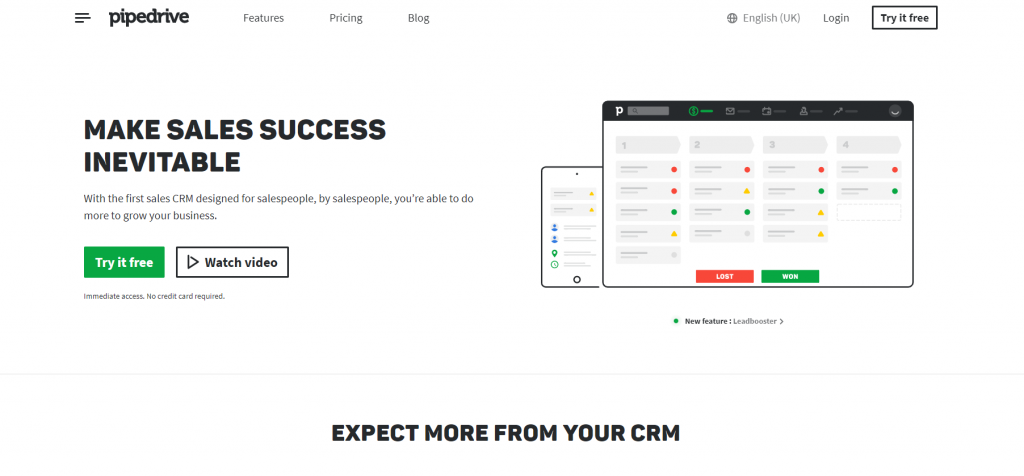 Pricing: Free trial; premium plans start from €12.50/month
A sales CRM built for minimum input and maximum output
There's no denying that Pipedrive is one of the best sales-oriented CRM systems currently available.
Pipedrive covers everything you need to succeed with your sales. It equips you with tools that allow you to manage your sales funnel as much as it gives you options to monitor the work related to nurturing your leads and closing deals.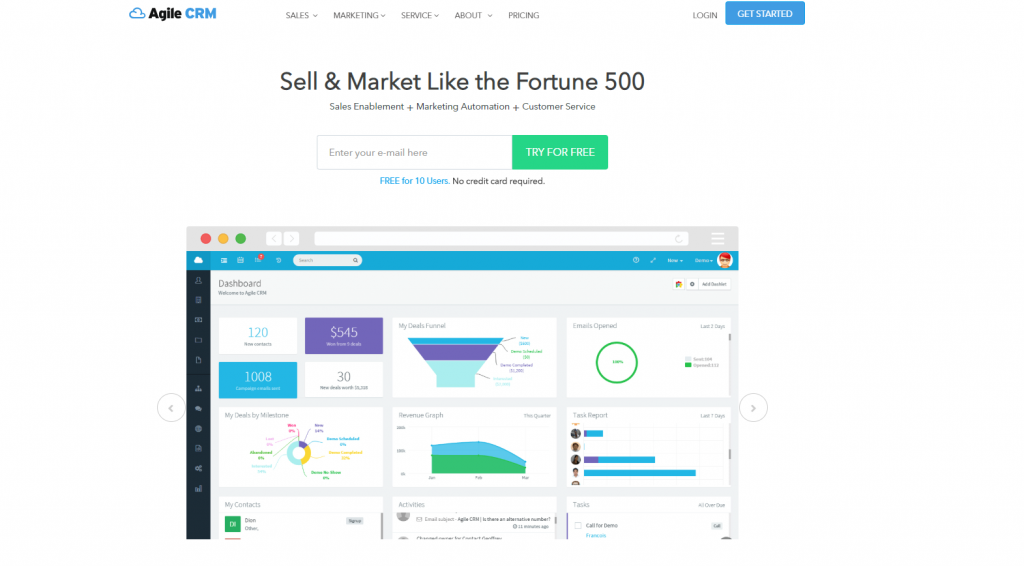 Sell & Market Like the Fortune 500
Pricing: free up to 10 users; starter premium account from $8.99
Agile CRM is another CRM alternative to Taskeo and gives you quite a few functions to go with. From sales essential to telephony features, this SaaS platform solves many problems related to sales and marketing.
Their free account is worth trying out if you're not yet keen on taking out your wallet. With 50 000 contacts and 10 users in its freemium version, Agile CRM is an option to consider.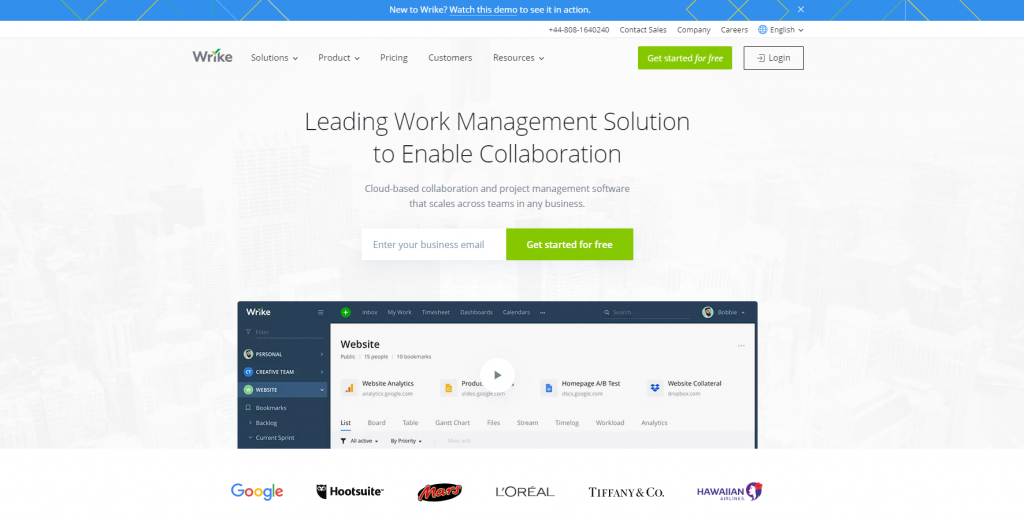 Leading Work Management Solution to Simplify Planning
Pricing: Free up to 5 users with basic options; premium accounts from $9.80/month
If you're looking for a project management alternative to Taskeo, Wrike belongs to the top of the list. It's currently one of the most popular and trusted platforms that's been around for a while and has a lot to offer.
Wrike creators pride themselves on setting up a working space for many teams, from marketing and creatives to developers. They offer many standard PM and collaboration functionalities that help you monitor the progress of your assignments and communicate better.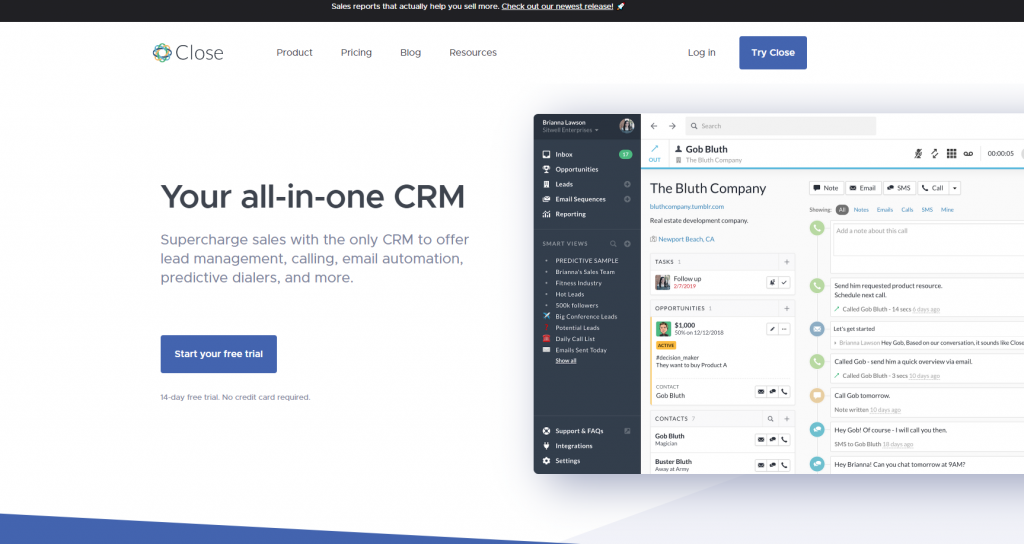 A sales workflow optimized to help you close more deals
Pricing: 14 days free trial; premium accounts starting from $35/month
Close is one of those alternatives to Taskeo that come with inbuilt email marketing automation and extensive lead management. Pair it with the rest of their features – such as reporting, SMS support and others – and you're equipped with everything you need to close all your wanted deals.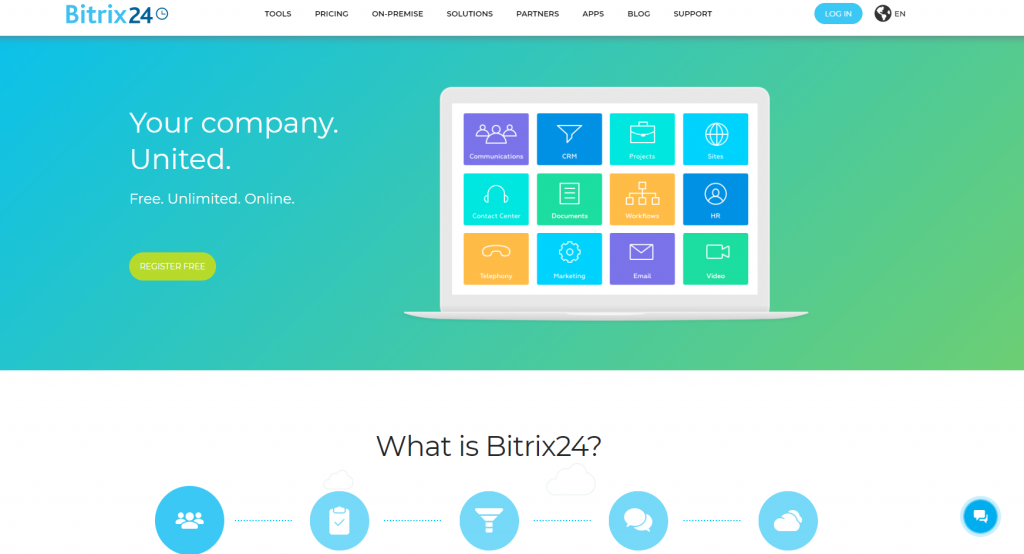 #1 Free Collaboration Platform
Pricing: Free version up to 12 users; premium plans from $55.20/month
Another Taskeo alternative that will help you manage your company and projects from one place is Bitrix24. This platform offers you HR tools, chat and video communication opportunities, project management, CRM and even a website composer.
You can onboard up to twelve of your employees for free and benefit from the platform's basic functionalities that will cover your company's fundamental needs.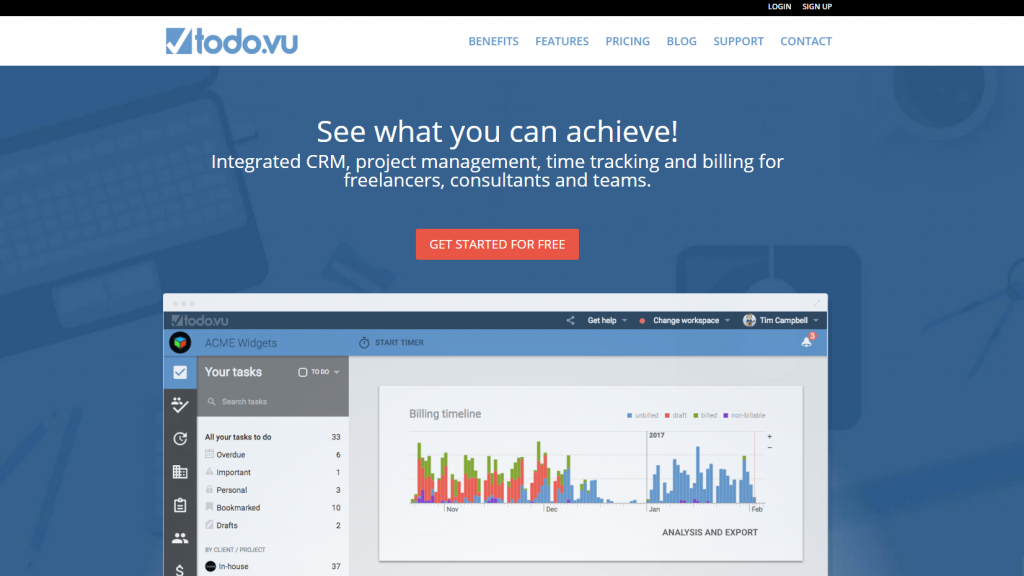 Productivity suite
Pricing: a limited free account for one user; premium accounts from $5/month
Todo.vu team has created a special tool that combines project management with CRM. If you don't want to stick to Taskeo, you can choose this platform to manage your work and bill your client from one online platform.
While it has a free plan recommended for freelancers, todo.vu also offers an affordable version for $5/month for each of your users. And the number of features available in this package appears to be just enough to run your business without missing deadlines.

One app to manage your entire business
Pricing: 14 days free trial; accounts available from $15/month
This multilingual business management tool has a lot to offer. They're one of the alternatives to Taskeo that are recommended for small and micro businesses.
Their feature list is long and it only starts with custom branding, standard task management, invoicing and CRM. You can check out Plutio for 14 days free of charge, and then sign up for one of their reasonably priced plans.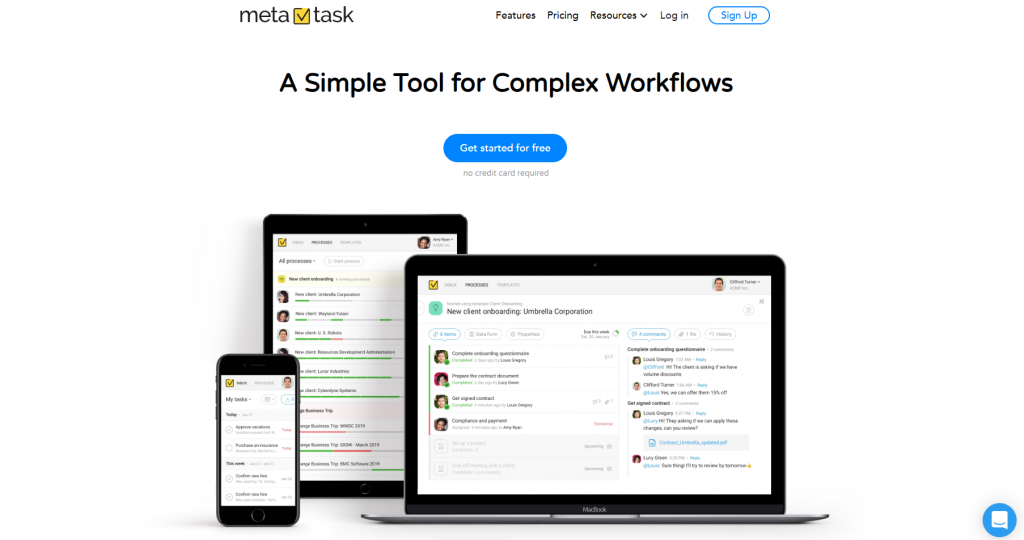 A simple workflow management tool for business
Pricing: 14 days free trials; monthly account free at $5
Metatask is a great Taskeo alternative if you're looking for more business automation. That's exactly what this tool provides beside the standard task inbox.
Some of the automations that you can include with Metatask are approvals, reviews and processes templates. All that for a good monthly fee that even the smallest businesses can afford.
Cyfe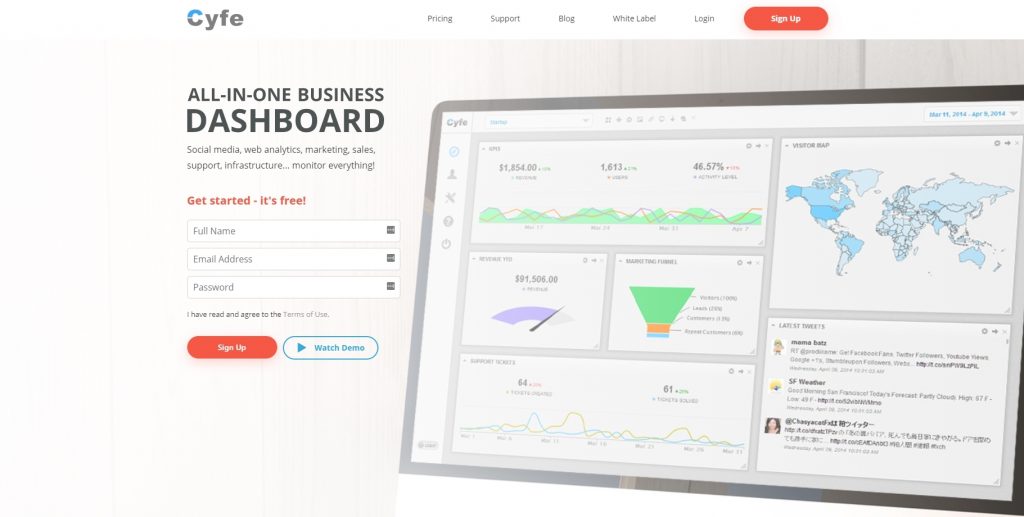 All-In-One Business Dashboard
Pricing: free plan available; premium plans from $29/month
When it comes to running a business, data is everything. Maybe it doesn't qualify directly among all Taskeo alternatives, but Cyfe gives you all you need to track all the important numbers in your company.
Cyfe loves analytics and they help you go about them the right way. From custom widgets to real-time reports, their features will show you the numerical side of your business – and trust us when we tell you that it matters!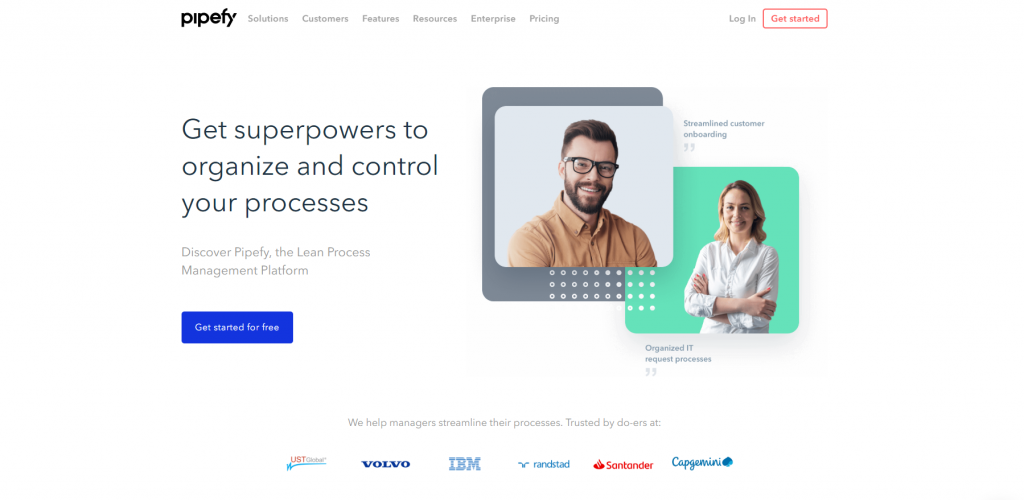 We help managers streamline their processes
Pricing: free plan available; premium accounts from $9/month
CRM, Agile, Lean and process management – all rolled into one. If that's the kind of alternative to Taskeo you're looking for, try Pipefy.
This platform comes with an extensive list of solutions for different teams and departments and is reasonably priced at that. From customer support and customer onboarding, through purchase processes to lean management, Pipefy simplifies the way your organization works. When management is simple, it's easier to focus on what really matters for your business.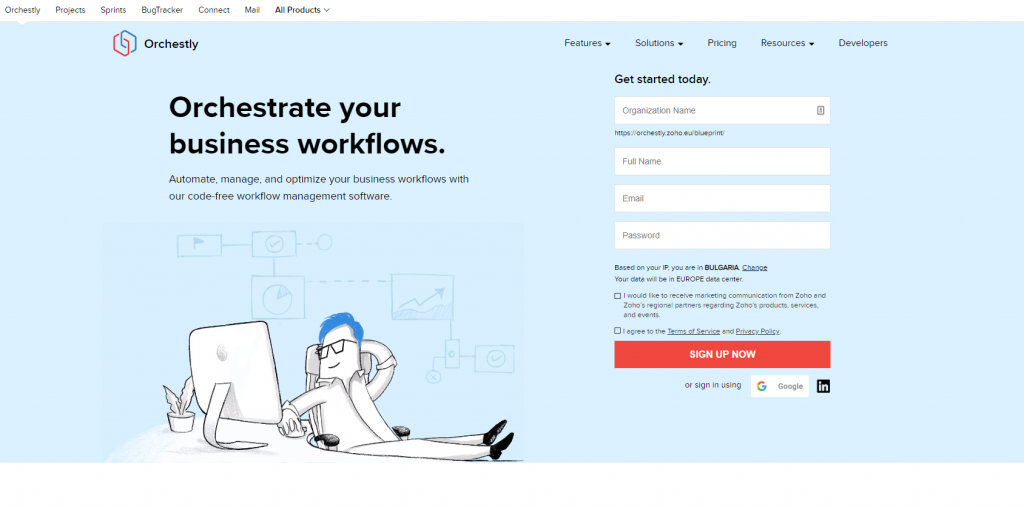 The command center of your organization
Pricing: free 15 days trial; accounts from €7/month
Efficient workflow management matters! If you've got that right, your entire business will start operating on a whole new level. People at Orchestly understand it and that's why their product is such a good alternative to Taskeo.
Process mapping, process automation, email templates, widgets workflow builder and so much more comes within a single package they offer. Check them out for free for 15 days and see if Orchestly is your thing – and if yes, then why not give it a go?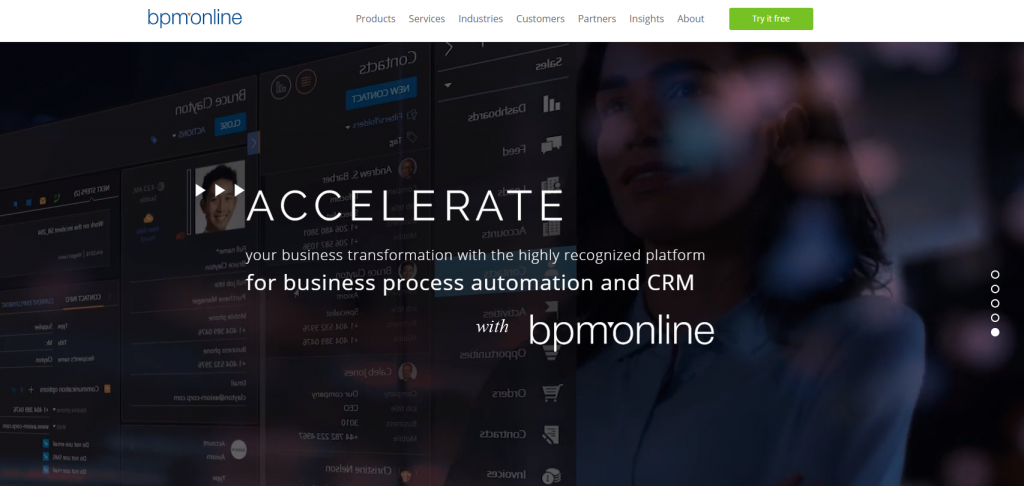 The mission of bpm'online is to help companies accelerate
Pricing: free 14-days trial available; plans from $25/month
Bmp'online is one of the largest toolkits that equip you with everything you'd ever require to manage your business processes and customer relations from one place.
It's relatively pricey (as in comparison to other products in this guide) but it offers a vast variety of services and solutions to different kinds of teams, companies and industries.
It also offers a free 14-days trial if you want to test whether this is the tool for you or you'd rather settle for something simpler.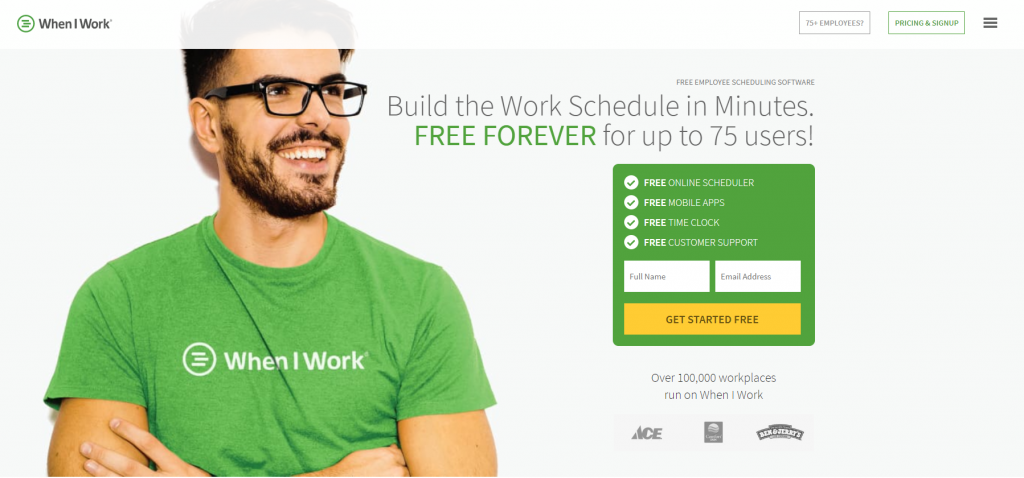 Pricing: free account available; premium plans from $1.75/month
Free Employee Scheduling Made Easy
When I Work is an excellent Taskeo alternative when it comes to time tracking and clocking hours at your workplace. The primary function is to help companies manage shifts of their employees – so you can already guess it's a perfect tool for very specific industries.
All features are available on a mobile app, making it so much easier for your employees to manage their work time, as well as request days off, trade shifts and build the schedule.
Got your favourite Taskeo alternative yet?
The variety of tools currently available makes choosing the right one for your company easy and tough at the same time. You may have decided that Taskeo is not for you – so we hope that at least we could introduce you to some of the best alternatives available.
But before we let you go – don't hesitate to stop by and share your thoughts with us. Your suggestions, feedback and ideas are what makes our product grow and develop.
Until then, enjoy whatever tool you decide to go with. There are some great picks out there. Platforms that are worth every penny. We encourage you that you keep digging and experimenting with many of them.
Because only by trial and error can you find what's best for you, your team and your business.