Running demo meetings can become an efficient way to increase your user base… but only if you know how to present software to your clients correctly.
Truth is, it's very specific for software.
When you think of it, there are many factors that contribute to a buyer's decision-making process that are completely irrelevant in other markets.
Which is obvious, because you're dealing with different goods, different customers and different blockers.
Here are some points that make selling software so special:
You're selling a product that cannot be touched or tested easily. It's not a pair of jeans that either fits or not.
Software can be quite costly; the financial blocker is meaningful as businesses want to be sure they're investing their money the right way.
Not everyone is tech (software) savvy. Being unable to implement a new system in a team is a real problem.
The person you speak to, even if holding some power within a company you're selling to, may not be able to convince the boss or board to invest in your product.
They're not aware of measurable benefits that come with using your product or they're unable to understand their own problems.
So, let's have a look at how to deal with each of those issues and successfully present software to your clients.
Your Intangible (?) Product
In the past years, the digitization of our lives have gone much forward. And still, there are many people out there who are not keen to buy things they can't physically touch or measure.
Paying for accounting services, for coaching, training, office supplies and appliances or advertisement – that makes sense. But software is a complicated matter. As you try to present software to your clients, you will encounter people who don't understand why they should pay for something they can do without your product, in a more traditional way.
It's also hard for them to test your product. This is why you should show them around.
Having a great user onboarding process is crucial to make new users understand your product's value and why they should use it.
But free trials are also a good way to do it. According to Becca Stickler from GetCodeless, it's one of the advantages that SaaS have over other companies.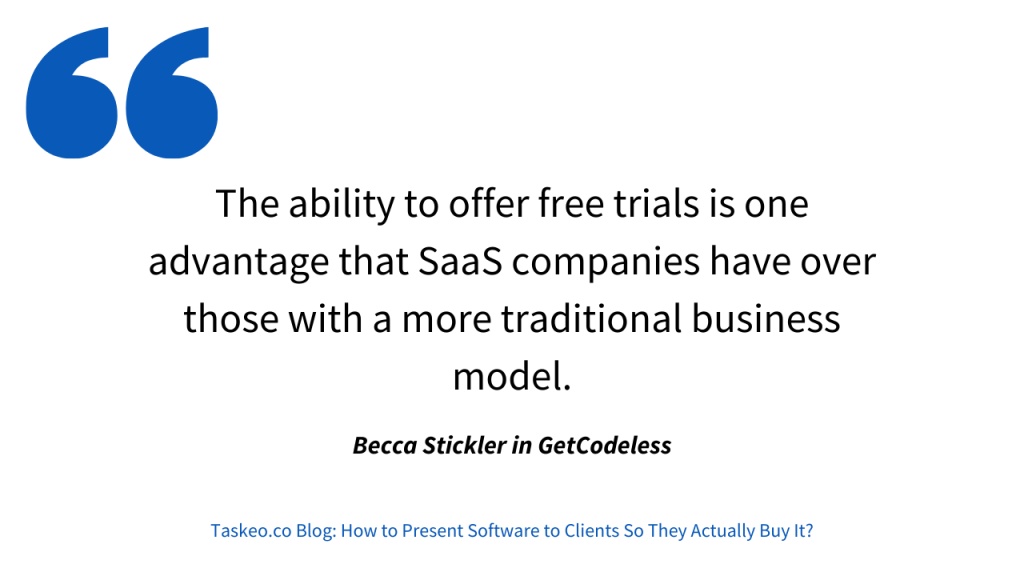 Ask your potential clients about common tasks they deal with on a daily basis. Then, show them how your software can make it easier to complete them. Let them click around, test functions and ask questions. The point is to let your future users interact with your product so they can picture working with it daily, solving real issues they're familiar with – not watching some irrelevant examples.
How we do it at Taskeo
Here at Taskeo, we're ensuring that you can test our product thoroughly. You can sign up for a free version of our platform and see if it's the tool you need. The free plan includes only some minor limitations, allowing you to see the benefits of our project management and appointment scheduling tools before you upgrade to PRO.
Costs come with benefits
Everyone wants to maximize revenue while minimizing costs. That's why when you're showing up with a paid solution to some of your customer's pains, they may wonder if they can't get it for free.
The higher the price, the higher the barrier you need to bring down to connect with your potential user (with minor exceptions of those industries in which cheapness can discourage your customers).
However, don't try to convince them that your product isn't that expensive. Instead, show them that for the money they pay, you make their work a lot easier.
Data will be your ally in this battle. You can showcase stories of companies who increased their revenue thanks to your product. You could also show statistics presenting the average loss of money if solutions alike with yours aren't used.
On top of it all, make use of your pricing plans and value ladders. Most applications and platforms come with several plans to meet financial capabilities and needs of different customers. Present them to your client so they see they don't have to go for the most expensive plan if they can't afford it.
How we do it at Taskeo
To meet the needs and financial capabilities of different customers, we've set up three plans to choose from. You can stay on a free plan forever, sign up for a PRO plan or contact us for custom pricing with flexible solutions tailored to your needs by our dev team.
Implementation Assistance
The more complicated is your product, the more you should consider implementation assistance. People who are confused by your software won't stay to explore it until they understand how to use it. They will, instead, leave and find a tool that is easier to use or that comes with the creator's assistance.
There are many complex systems and applications out there that offer implementation services, training and assistance. For an additional fee, they'll help you set up the software you purchased and train you how to use it.
This is one of the ways to help your customers settle in.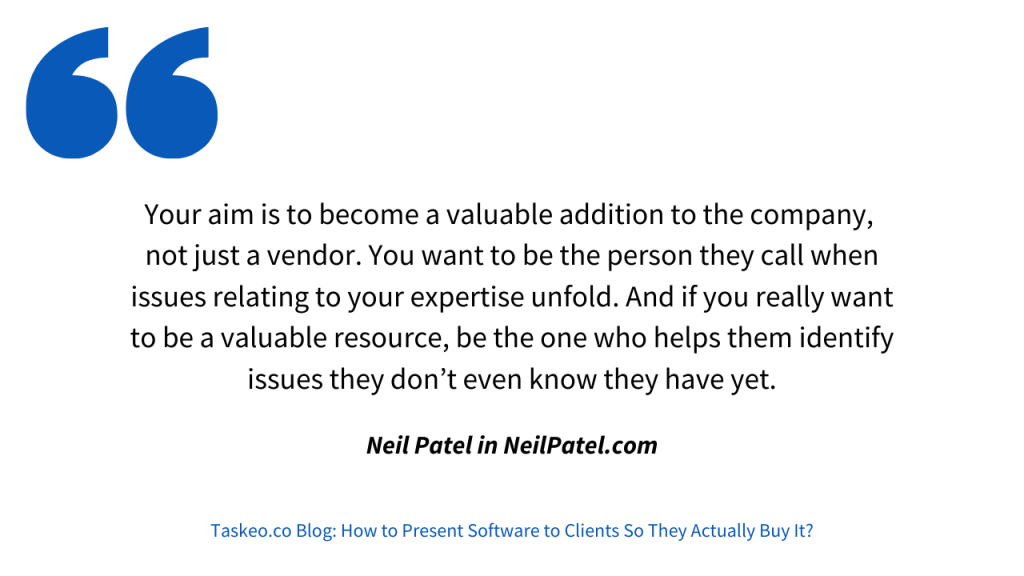 Another one is to simply share your knowledge base with them. Show them your FAQs, tutorial videos or blog posts. Invite them to join your community or forum.
Customer education can be your secret to success if you want to retain more customers. They'll be less likely to leave once they invest time into learning how to use your product.
In his blog post, Neil Patel correctly points out that you shouldn't just strive to take your client's money. Instead, you should provide value and become someone they can rely on whenever things get too hard for them.
How we do it at Taskeo
To ensure our customers are well-educated on how to use our software, we supply them with a regular dose of updated tutorials. We also encourage them all to join our Facebook group where they can ask questions and suggest improvements to Taskeo.
On top of that all, our custom enterprise plan includes implementation assistance. If you're up for it, our team will teach you how to navigate the platform and how to make the most of it.
Convincing their bosses
Even though you may speak to someone holding a certain amount of power at their company, they may not be the final decision-maker.
In many cases, you will present your software to people who then have to convince their superiors that it's worth investing in.
Oftentimes, these people don't have the skills to do that.
Just the same way you deal with all these issues we're discussing now, they'll have to deal with them when convincing their boss. And believe us, they won't go above and beyond to do that.
Instead, you have to ensure the task will succeed. Help your potential clients convince their bosses by providing them appropriate reasoning as well as materials: samples, case studies, videos, testimonials – anything that can make it easier for them to sell YOUR software to THEIR boss.
Be sure to answer all the doubts that the boss might have beforehand. It will require some research from your side to learn what these doubts might be.
Clarity of benefits
Last but not least, it's not uncommon that you'll have to present your software to customers who have no idea what benefits come with it. Sometimes you'll deal with people who aren't even aware that they have a problem that you can solve.
Remember: to present software in a way people want to buy it is to talk about benefits, not features.
You're in for a tough task. You'll probably only have a short meeting to present software to your clients in an appealing way. In fact, as Brent Barnhart said on the SproutSocial blog, you'll have to go for a healthy balance between "educating your audience and drowning them with information".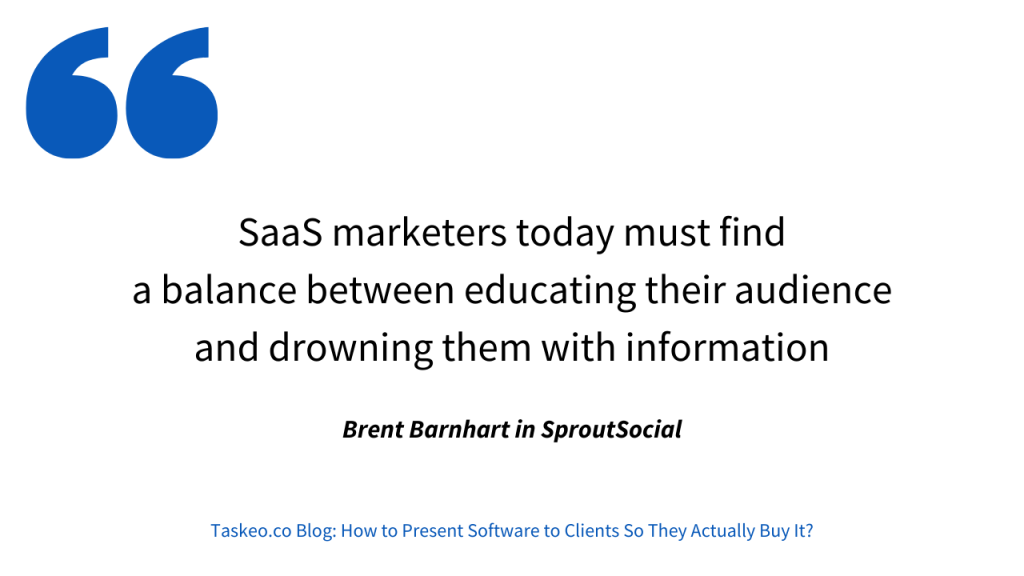 You will gain a lot if you incorporate stories into your demo calls or meetings. Here are some examples of stories you can share:
Customer success stories
Problems you've helped to solve that are similar to your customer's problems
Unusual things you've done for your customers and extra miles you've walked for them
Data and statistics will be incredibly useful to include as well but remember: stories have the power of connecting people because they're relatable.
Read as well: Running Client Meetings in a Way That Helps You Bring And Retain More Customers
Go convert them!
On top of all these tips, only one remains: discover more about your customers by talking to them. You'll only learn how to present software to your clients when you show it to them over and over again.
Practice – supported by learning from mistakes – makes perfect.
It's your turn to make it happen now.