Online businesses play according to different rules. What's new and strange to others, for them makes a regular industry occurrence. Example? Virtual sales appointments.
Getting on a video call to sell your products or services seems like a crazy idea for those companies which haven't done it before.
You may be used to traditional, face-to-face sales meetings. But if there's a good moment to try out selling through virtual appointments, then that moment is now.
Today, we're coming to you with a comprehensive beginner's guide to virtual sales appointments. In the article below, we'll run you through everything you need to know to get started with online sales meetings.
Interested in learning what to do before, during and after a sales meeting? Keep on reading.

Why Virtual Sales Appointments?
One question to begin with: why would you choose meeting with your clients online rather than face to face?
Here's the thing: this type of meeting isn't going to work for every business type. But if it works for yours, it will come with several tangible benefits.
Let's have a look.
Reason #1: They're Easier to Arrange
What if you no longer need to devote a large chunk of time to commuting from one business meeting to another? Or worry about overbooked meeting rooms leaving you with no place to invite your client to?
You'll get the same setup in which other businesses run their virtual sales appointments.
Let's face it: this type of meeting is much easier to arrange. Especially for your clients, who more often than not don't want to commute to meetings. All it takes is to pick a date and get on a call.
Reason #2: You Can Schedule More of Them
It's simple: when you don't commute as much, you're able to attend more meetings. And more meetings can directly translate to increased chances of closing deals.
Reason #3: You Can Go Global
Traditional sales meetings are strictly location-bound. So, the farther your client is from you, the less likely you are to meet them. It means you've got lower chances to sell your product or service. You competitors that are closer to that given client are ahead of you by default.
With virtual sales appointments, this isn't an issue: you can sell to anybody anywhere, so long you speak the same language. It doesn't matter whether the prospective customer is in another city or on another continent. You can always reach them online.
Reason #4: Record And Analyse
"This video will be recorded for training purposes…."
This customer support staple of an opening suddenly makes a lot of sense for online sales meetings as well.
Of course, you will need your client's permission to record either audio or video of the meeting. However, whenever you do, you gain access to something very important: replay of everything that has been said.
You can use it in two different ways.
One: take note of everything your prospective client is saying and the language they use. Later on, you can mimic it in your marketing efforts.
Two: analyze what you've said and what you could have done better. Use the recording to unify your branding messaging and positioning.
As a bonus, you can also use these call recordings to extract repeating details and tendencies. They will make an excellent addition to any data-driven sales process.
That said, let's talk about preparing for virtual sales appointments.
Preparing For Virtual Sales Appointments
The way you prepare for virtual sales appointments can make or break your business.
Let's see how you can prepare for a successful online meeting.
Make It Easy to Book a Meeting With You
It all starts with how easy it is to schedule an appointment with you. The easier the process is, the more meetings people are likely to book.
Start with your website. Clear call to actions should direct your leads to the place where they can schedule an appointment with you. The last thing you should do is to place your contact information or appointment scheduling form somewhere on a well-hidden subpage.
And speaking of booking forms…
It's a simple widget that allows your leads to pick one of the available dates from your personal meeting calendar. Booking form placed directly on your website can double the chances of someone booking an hour to talk to you.
Here's an example of Taskeo's appointment scheduling form: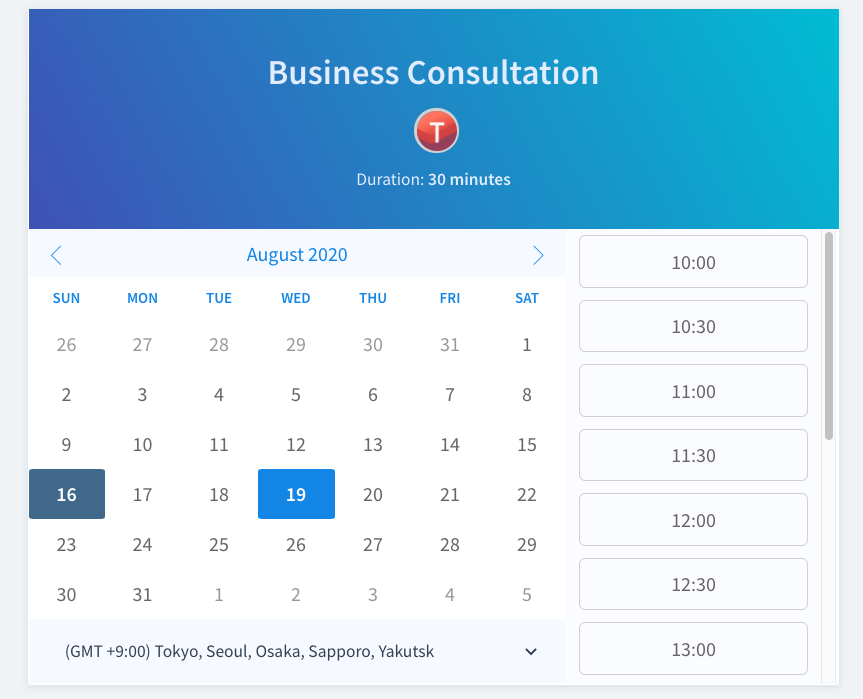 It shows all possible dates and times that are still available.
With this type of a form, it can't get easier to book a meeting with you. All information is right there and the only thing the person needs to do is to pick the date that aligns with their schedule.
Read as well: Best Appointment Scheduling Software: Your Go-to List
Ensure Your Tech Works As Intended
During a face-to-face meeting, you don't have to worry that much about technology failing you. But when you meet with people online, the number of things that can go wrong goes through the roof.
That is why regular tech check ups are necessary for your camera, microphone or speakers. Make sure all your software is up to date too. You don't want a long update download to kick in right before an important meeting.
It's also good to have a backup plan for the most possible failures. Be prepared for things such as random internet outages or dying headphones. If possible, have solutions prepared.
Get to Know Your Tech
If you look like you don't know what you're doing, you're not going to look professional in front of your client. Period.
Don't fumble around when trying to share the screen or pull out the presentation deck. Understand how things work – from setting up and regulating your microphone to using advanced settings of your video conferencing software.
Learn how to troubleshoot at least basic technical problems, such unstable or low quality connection and lack of sound or video. It's going to work in your favour if you're capable of dealing with most commonly occurring problems.
Ensure Professional Background & Setting
During any of your virtual sales appointments, you want to make the best impression possible. Just like in the offline world.
How to make it happen?
Shoot for a neutral background or at least one that will look professional. Ensure silence in the room and limit distractions as much as it is possible.
Don't forget to take care of yourself. Even if you run your business entirely from home, it's not a reason to call people in sweat pants and with messy hair. Would you attend a meeting at the client's headquarters looking as if you just got out of bed?
We bet not.
Meet your clients online like you'd meet them offline.
Prepare Materials to Share on Screen
It's likely that you'll turn on your camera and look in your prospect's face during your online sales meeting. However, don't forget the importance of visuals.
Think about all the pitches that startups do for investors. Even though they are one before the other, presentations, visuals and materials are still present.
Do the same. As nice as you might look today, a convincing, story-driven presentation deck may still be a better option to show.
What to Do During an Online Sales Meeting?
Most of the sales principles apply both to online and offline conversations, but in this article, we will only focus on what's so special about virtual sales appointments.
Treat it Like a "Normal" Meeting
We hear you saying: what sort of a tip is that? But here's the thing: online sales meetings feel different than the traditional ones. The fact you're before a screen rather than a person makes some people completely forget how to act.
A few points above we said: dress properly, secure professional background. The same rules apply here. Virtual sales meetings stand out in different ways, but the idea is always the same: you're trying to make money. Don't do anything you wouldn't do if your client was sitting right next to you.
Look in the Camera
It's a simple tip. But somehow, we often forget about it during our online meetings.
Eye contact is important. Just like would look in your client's face when meeting them offline, do your best to look in the camera as you speak during a video call.
Share Your Screen, Show Visuals
Meeting online opens quite a few possibilities to share different media with your client. Use it to present your product or service in action.
Here are three basic things what you can do:
grab their attention with a presentation deck
showcase your work
offer a product tour
Visuals and examples will keep your client more engaged than words alone.
Re-engage Them Often
It's easy to lose focus during a video call. Especially if, for some reason, your client decides not to use their camera, nothing stops them from tabbing out on you and starting to multitask while you talk.
That's why it's so important that you root their attention. Ask them questions, allow them to contribute to the conversation. Do your best to prevent them from dropping their focus and doing other things.
Make Use of Your Notes
You can use all kinds of notes and sales guidelines without your clients knowing – so long you're not currently sharing your screen with them.
When you're face-to-face with someone, it's harder to hide you're supporting yourself with guidelines coming from your sales manager. But online, you can easily glance at them every now and then and keep the conversation on the right track.
Keep an Eye Out For Technical Issues
Imagine you've been talking for several minutes now only to discover your microphone has died somewhere along the way. Or that your client suddenly froze, no longer moving. They lost their Internet connection.
Some technical issues are instant and they interrupt your conversation within seconds. Others are sneaky and it often takes a moment for us to notice something's wrong.
Be alert. Don't get too carried away with pitching your product or service. Keep an eye out for technical issues that will interrupt the conversation and disturb its flow.
Things To Do After A Virtual Sales Appointment
Now that your meeting is over, there are a few things you should definitely do.
Let's look at them one by one.
Follow Up With An Email
As soon as possible, send a follow-up email to your contact. Thank them for their time. You can also send a brief recap of things you've discussed, if such is appropriate.
Don't forget to nudge your contact into taking a desired action.
Put Them in the Right Pipeline
If you haven't yet, place your contact in your customer relationship management system. Doing this will make it much easier for you to keep track of what's happening to it.
If you use Taskeo's appointment's scheduling, you can instantly import your meeting attendee's data into Taskeo CRM.
Once your contact is in your CRM, use features such as reminders or timeline to plan your further actions. This way, you can make the most of your efforts and increase your chances to successfully close a deal.
Write Down the Take-Aways
Learn from every meeting you attend. Reflect on everything that has been said. Think what you could do better.
It's also crucial that you take notes on a given client. What's important to them? What stops them from doing business with you? What are their special needs and requests? Write all of this down in your CRM to tailor your services to their needs.
Follow Up & Keep the Contact Alive
Remember: it's you who cares most about closing the deal. Don't drop the ball, especially not because you forget to follow up with your prospect.

If you place your contact in your CRM app, it will be much easier to keep the relationship alive. Nurture the lead and follow up with them until they either purchase from you or decline your service.
Whatever you do, don't passively wait for them to show up at your doorstep with their wallet out.
Your Turn!
Virtual sales appointments can become your new way of closing more deals. In the world where you can reach anyone online, selling through video calls should become a standard point of your sales team strategy.
Are you ready to give it a go?