Sometimes you just need to check what your colleagues are up to without asking them directly. It could be due to different shifts or different time zones. The most important thing is that you've got access to this kind of information at any time.
And in today's tip, we're going to show you three different ways to preview what your people are working on without asking them personally.
Filter your dashboard by members
You can display your team member's tasks if you click their avatar on your dashboard. Doing this will show what open & active tasks they've got on their to-do list.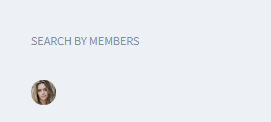 Filter your project by users
You can do something similar in the project view as well. Click on the User filter and select the one you'd like to preview. This function will allow you to display only those tasks to which your colleague is assigned.

Filter your activity tab
You can see comments added by your colleague, tasks created by them or the files they uploaded. Head to your activity tab and select the right avatar to have a look at your team mate's action log.

You no longer have to send messages to your colleagues – all info is right at your fingertips!