Wondering how to grow your law firm when things only seem to get worse by the day?
You're not alone.
The pandemic caused by the coronavirus continues to significantly disrupt every aspect of our lives, including economies and businesses. World Economic Forum argues that the global consumer spending has dropped more than 100% due to the quarantine.
It is safe to say that in the past weeks most industries have been struggling to survive, let alone to flourish.
Law firms and legal specialists are also in this group. The pandemic has turned their lives upside down and threatened their businesses.
However, if you are trying to learn how to grow your firm despite the intimidating circumstances, we have come up with a few tips to make it happen.
Let's talk about five things you can do to save your business today, why running a remote legal practice can be the answer to the crisis, and how remote work tools can help with it.

Cut down on the costs of offline marketing
Part of the answer to the problem of how to grow your law firm when things don't look so good, is to be smart with your spendings.
In the hard times like these, it's important to keep track of your cash flow more carefully than before. If you have a marketing budget, make sure your campaigns are adapted to the pandemic circumstances. Some marketing techniques won't yield the same results as they used to do before.
Focus on the digital ways of expanding your client base. Offline marketing campaigns like events or billboard ads will not be effective because of the quarantine occurring forcing people to stay home.
Shifting your marketing expenses towards digital aspects of marketing such pay per click, search engine optimization, digital ads, email and content marketing or social media.
In fact, paid online advertising may be the way to go right now. Here's what Attorney at Work says about it:
Remember: most people are stuck at home but available online.
Make or break your brand image
Every business strives to have a positive brand image. Offering even the best legal services will not help if your reputation leaves a lot to be desired.
Creating a reliable, honest and compassionate brand image is a solid piece of advice on how to grow your law firm. Especially now.
The world needs empathetic personalities. By showing genuine care and concern for your current and future clients (but not only), you'll create a positive brand image in the mind of your audience. Remember, people won't forget what you did or didn't do these days. And it will eventually come back to you.
One of the possible ways is for your company to implement Corporate Social Responsibility (CSR). This way, you'll show you would like to give back to the community and contribute to society when it needs it most.
Be flexible & adaptive
It's hard to foresee how the future situation will unfold. Don't stick with plans or strategies that were created for a pandemic-free world.
The answer to the question of how to grow your law firm in times like these is, in large part, about the way you handle the situation. Sadly enough, not every business will make it out alive – but whether yours does, will depend at least partially on your ability to navigate through a crisis.
Always have contingency plans and adapt to any situation that might threaten you and your team. Always prepare for the worst, react quickly and have a plan of action ready to minimize the damage caused by the crisis.
Keep it honest with your clients
Be transparent. Talk to your clients and partners. Law firms and other service-based businesses depend on their client base. Be ready to walk an extra mile for those who need it – so then they can walk one for you as well.
These days, people are already uncertain as it is. The last thing they need is to worry if your law firm is reliable. If things go wrong – be honest about it. Explain. Warn them in advance. Don't promise to help, or worse, charge them, if you can't meet your end of the bargain.
Master working from home
Working from home has become the new norm. As the number of cases from Covid-19 keeps on getting higher daily, the thought of socializing gets more terrifying each day.
However, working from home has its own setbacks. Lack of motivation. A decrease in productivity. Distractions. Unable to organize your work at home. People who have never worked from home before are likely to struggle with their new working environment.
Law Technology underlines that in times like this, it's normal for things to feel off the track.
How to deal with that?
First, focus on bringing your entire business online and supporting your team as they switch to remote work. Only then can you go back to wondering how to grow your law firm.
5 steps to putting your law firm in the remote mode
Create a dedicated working space. Working from the couch won't work. Try to resemble the environment of your office space.
Invest in the right task management tool. Platforms such as Taskeo help you manage your legal practice remotely. This way, you can communicate with your team and manage the workload even if you only communicate online.

Managing your tasks in Taskeo
Find reliable messaging tool. Tools such as Slack make it easy for you to chat with your team as you work. You can also use video conferencing software to contact your clients for meetings you'd otherwise hold in person.
Do your best to follow the regular routine, even though it may not always be possible. This will allow you to feel in control despite the change in how you work.
Take your time to adapt. If you have little to no experience in remote work, you'll need to go through an extensive trial and error process before you find what works for you and your team. Be patient.
Our handpick: Best Tools For Lawyers That You Need Today
How can Taskeo help you with remote practice management?
Taskeo is a project management, automation and appointment scheduler software that will help you organize tasks and increase your team's productivity.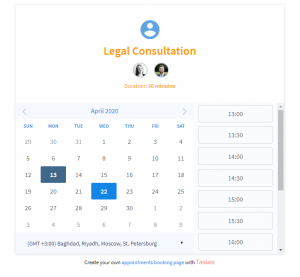 Scheduling your meetings with Taskeo Calendar
Not only does Taskeo simplifies your case and project management, it also assists you in growing your business remotely.
Remote project and case management
Legal-oriented time tracking and billing
Integrated appointment scheduler
Customer Relationship Management module
Recurring tasks and tasks reminders
Safe file sharing in an encrypted cloud
Need more information? Click here to learn more about how Taskeo can change your law firm.
Now it's your turn
It's not easy to determine a strategy that will surely keep your business growing in the hard times. But there are things you can still control. Remember: shift your marketing efforts to online, master work from home and using the right tools will work in your favor.
Ready to take the right steps?