You surely have some assignments that are necessary for your workflow while effectively clogging up your schedule. But what if you could delegate them to a machine? Well, good news – you can. Today we're coming to you with a list of 58 business automation tools that will help you simplify your work.
It's that simple: technology easily handles many of the tasks we're occupied with every day. Whether it's marketing, sales or support, there are tools out there that can take care of the most mundane elements of your to-do list.
This is our list of applications that will make it easier to create, manage and monitor your workflows and campaigns.
All thanks to the power of automation, of course.

But why should I automate my business?
You might have heard this or that about automation and you might associate it with machines performing human work. However, as the years pass automation begins to play a major role in the service sector as well. It turns out that there's a lot to automate in the life of office workers and business founders.
When you type "automation" in Capterra's search box, you'll end up with over 4200 product results. That's a lot to choose from.
But it also gives us a clue about the increasing popularity of automation in different business aspects.
Just as is the case with manual work, introducing business automation tools in your company can make a real difference.
Here's how.
Prevent human mistakes
Obvious alert: people make mistakes.
In our forgetfulness or shifting focus levels, we sometimes mess up the simplest of things. Mistakes happen to the best of us.
Automating certain elements of our workflow helps you limit their number. Of course, sometimes systems make their own mistakes or user's actions confuse the machine. But the probability that your app doesn't send you a reminder is much lower than if you relied on your overworked colleague or an assistant.
Software is also much less likely to mess up a project setup process as it follows a specific template. It doesn't forget and doesn't confuse elements like people do. In some aspects, machines are far more reliable than us.
Free your mind
The fact that an external system can remember and create things for you contributes to the healthy state of your mind. Let's be honest here: we're already overloaded with information. Not only do we have our plates full practically all the time but also things from different aspects of our life occupy our memory and attention.
It's not easy to stay focused.
Give it a go. Set up some reminders and recurring tasks. Create some processes to run automatically in the background and you WILL feel the difference.
It's as if some weight was lifted from your shoulders. Less to remember. Less to worry about. Less to work on.
Make your management smarter
If we wanted to simplify some things, we'd say that work comes down to these two elements: organizing the processes and actually working.
Workflow creation and management are crucial for successful project delivery or effective operations. However, with a bit of help from business automation tools, you can make them smarter.
This involves operations related to your daily sales processes and client management, but it also extends to your website management (you can check here for the best WordPress automation plugins).
When a process is owned by a system, it's virtually stored somewhere. Without it, you'll likely rely on your team members to remember how things should be done. Automation, meanwhile, creates a path to follow and things just happen on their own.
Managing this is much easier. Saved processes can be modified, tweaked and optimized. It's a smarter thing to do as you don't have to spend an excessive amount of time introducing the changes to your team. Your system will know what to do from the get-go and you'll only need to show up occasionally to add new elements to your process.
Focus on human interaction
Imagine how much would change if, instead of spending time training people how to navigate operations, you'd help them solve issues they face on a daily basis.
Or if you could, instead of manually sending emails, just grab your phone and call several of your customers to gather their feedback.
It is possible if you introduce automation to free up your schedule and do part of your work for you. It's always better to leave to a machine what a machine can do. Focus on authentic human interactions with your leads, customers and colleagues.
Set up processes you'll actually stick to
When a process is little more than a verbal rule passed on during meetings, it's easy to deviate from it. You'll forget checkpoints you set yourself or skip some points on your to-do list. It's in our human nature to be forgetful and creating habits take time. A lot of it.
It's so much easier to follow processes and stick to workflows when a reliable system shows you the exact path to project completion.
It's even easier when the whole process is entirely run by your chosen application, without your input or interference.
Let's talk examples
So you get a better understanding of how can automation help your business, we're going to take Taskeo as an example of project management automation.
There are many project management applications out there, but many of them lack the crucial element of automation. In Taskeo, we strive to make these useful features available to anybody who is in need of boosting their results without putting in extra hours.
There are five main features that show Taskeo automation from the best angle:
Recurring tasks allow you to create a task once and forget about doing so again; depending on the interval of your choice, recurring tasks will automatically show up in your task list when the time is right.
Reminders help you avoid forgetting important matters. In Taskeo, you can send reminders to yourself or your colleagues at any chosen date – even as far as several months from now on. Rest assured you'll be reminded on time!
Task templates allow you to recreate tasks you've set up as an example for future assignments. Save time rewriting checkpoints and instructions. All it takes is but a click of your mouse.
Time tracking and reporting work in tandem to monitor your efficiency without any effort from your side. With just a few clicks, you can create reports related to time clocked for different tasks and users.
That's just a taste of what automations Taskeo has in store for you.
Now that you understand what's the automation like, let's jump into the list of business automations tools. You should definitely check them out if you're looking to improve your efficiency and productivity.
Read as well: Tools For Startups: All Must-Haves To Rock Your Business
Business Automation Tools: The List You've Been Looking For
Social Media Management Tools
Social media management can be easily automated. You can set up messages to be published later in the future as well as tune your application to catch people mentioning your brand.
Here are some of the social media tools you'd want to look at.

"The most powerful Twitter tool for real-time tracking, organizing, and engagement. Reach your audiences and discover the best of Twitter."
Pricing: Free
Ever since it's been purchased by Twitter, Tweetdeck is available to anyone with a Twitter account. It's free of charge and it allows you to unlock some additional features that are not accessible in the classic account. Use Tweetdeck to schedule your tweets and monitor your activity on the platform.
Feature highlight
Column view to simplify Twitter monitoring
Multiple account management
Tweet scheduling

Pricing: From $25/month
"SocialPilot is a comprehensive social media marketing tool which helps professionals, teams, and businesses automate their social media management. It helps customers at every step – right from publishing posts on their profiles to analyzing their posts' performance."
SocialPilot is one of the advanced social media tools that cover not only scheduling of your posts, but also analytics and social media marketing activities. Its expanded toolkit offers you practically everything you need to help your team work with social media in an effective way.
Feature Highlight
Scheduling to Facebook, Twitter, Linkedin, Instagram and Pinterest
Analytics for these platforms
Social media calendar
Bulk scheduling
Client management
Browser extension
Facebook ads
White label solutions
Teams and collaboration

Pricing: from $9.99/month
"Tailwind is the social media scheduling tool that gets real results in less time."
Tailwind specializes in Instagram and Pinterest scheduling – and it's badged as a trusted partner by both of the platforms. Not only does the tool allow you to schedule messages to these highly visual platforms, but they also help you optimize your marketing efforts and offer solutions to increase your reach.
Feature highlight
Scheduling to Pinterest & Instagram
Analytics
Tribes – Pinterest communities to increase your reach
Instagram 9-grid preview
Hashtag recommendations
Pinterest SmartLoop – reschedule your most popular pins at the best engagement times

"Over 17,000 social media managers use our tool daily"
Pricing: From €89/month
Agorapulse can successfully serve as an alternative to several other social media automation tools. From scheduling to social listening, from collaboration to measuring, this platform strives to be a go-to tool for medium and large teams.
Feature Highlight
Advanced scheduling and content adding for Twitter, Facebook, Instagram, LinkedIn and YouTube
Direct message management with automated features
Comment management
Bitly integration
Social monitoring
Content approval workflow
Response time reports
Team role assignment

"Boost your productivity with advanced post scheduling tools. We help individuals and teams."
Pricing: From $15/month
SocialOomph allows you to schedule to numerous social media channels while maintaining its affordable pricing for individuals and teams alike. The platform offers a 30-day trial to check out all its features without fees.
Feature highlight
Posting to Facebook, Twitter, Linkedin, subreddits and Discord
Post queues
Bulk uploading
Post tagging
RSS feed
Self-destructing posts

"We created Edgar in 2014 so that professionals could manage their social media with more consistency and in less time."
Pricing: From $29/month
MeetEdgar is a popular social media management and scheduling platform that stands out with its user friendly interface. It also comes with additional analytics features that keep you in the loop at all times.
Feature Highlight
Scheduling to Facebook, Twitter, Instagram, and LinkedIn
Auto-variations for social media posts
Post categories
Continuous posting
Native Photo and Video Support
Post expiry date
Social A/B testing

"Get from planning to campaign sign-off faster and with no misunderstandings."
Pricing: from $39/month
Planable is a simple social media scheduling platform that automates your presence on Facebook, Twitter, Linkedin and Instagram. It's rich in features that help your messages stand out and always get posted at the right time.
Feature Highlight
Facebook, Twitter, Linkedin and Instagram scheduling
Rich content creation with hashtags, emojis and Giphy integration
Post preview
Predefined posting times
Drag and drop calendar
Team and client collaboration

"Brand & content management, made easy for marketing teams"
Pricing: from $25/month
Loomly is one of those tools that will help you not only in managing your social media presence, but also your online brand image as well. It gives you anything you need to organize your marketing team's work as well as get inspired to create better social media content
Feature Highlight
Scheduling to Facebook, Twitter, Instagram, Pinterest, Linkedin and Google My Business
Comment and discussion management
Metrics & analytics
Workflow management and approval system
Post ideas & Twitter trends
Post templates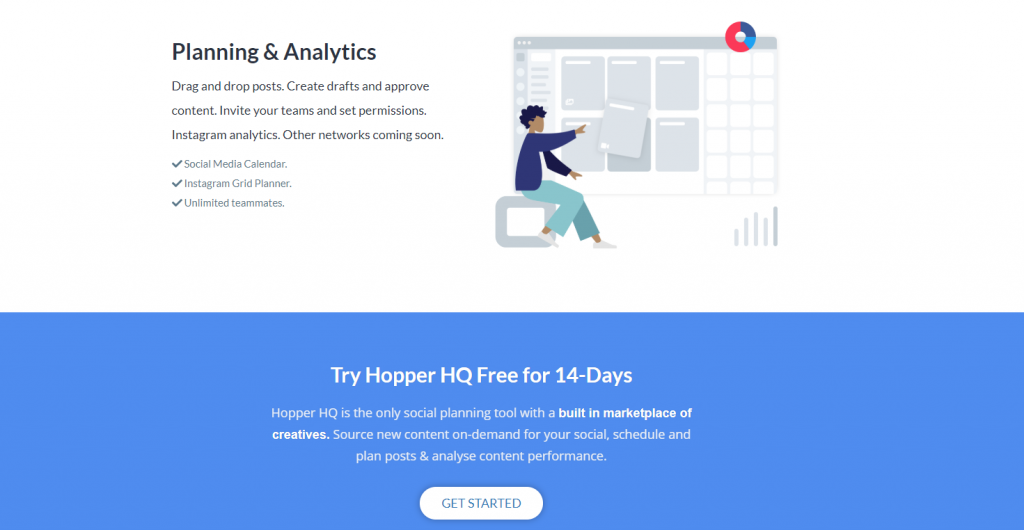 "Hopper HQ is the only social planning tool with a built in marketplace of creatives. Source new content on-demand for your social, schedule and plan posts & analyse content performance."
Pricing: from $16/month
Hopper comes in handy when you limit your social presence to the three most popular social channels – Facebook, Twitter and Instagram. Despite the limited cover for your social media presence, Hopper has quite a few interesting functions that other platforms can't offer.
Feature Highlight
Dropbox upload
First comment customization
Full image editing
Mentions and hashtags
Instagram grid planner
Video post scheduler
Content Marketing
While engaging social media messages will be part of your content strategy, it's not where it ends. All your content – from blog post to newsletters and white papers – can be easily managed and effectively distributed with the right tools.

"Powerful content marketing and social media management platform for publishers, brands, agencies and startups who want to share the best content consistently and increase their reach."
Pricing: from $49/month
Content studio belongs to one of the best automation tools when it comes to managing your social content. It allows you to craft social media messages, set up automations between your profiles and blog, as well as curate content from your chosen categories.
Feature Highlight
Scheduling to Facebook, Twitter, Instagram, Linkedin, WordPress, Tumblr and Medium
Intuitive and user friendly interface
Content translation
Analytics
Post Recycling
Prime time scheduling
Content discovery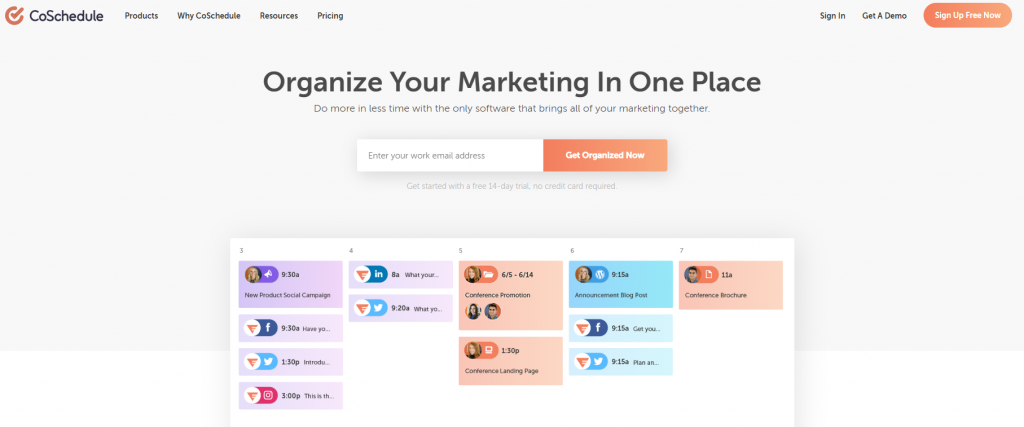 "Do more in less time with the only software that brings all of your marketing together."
While we include Coschedule in our content marketing section, there's much more this tool can do for you. From content automations and planning to marketing workflow management, Coschedule arms you with some of the best solutions currently available.
Social media scheduling
Comment and discussion management
Editorial calendar
Content prioritizing
Blog post drafting and editing
Content promotion via email
Full marketing suite
Work organizer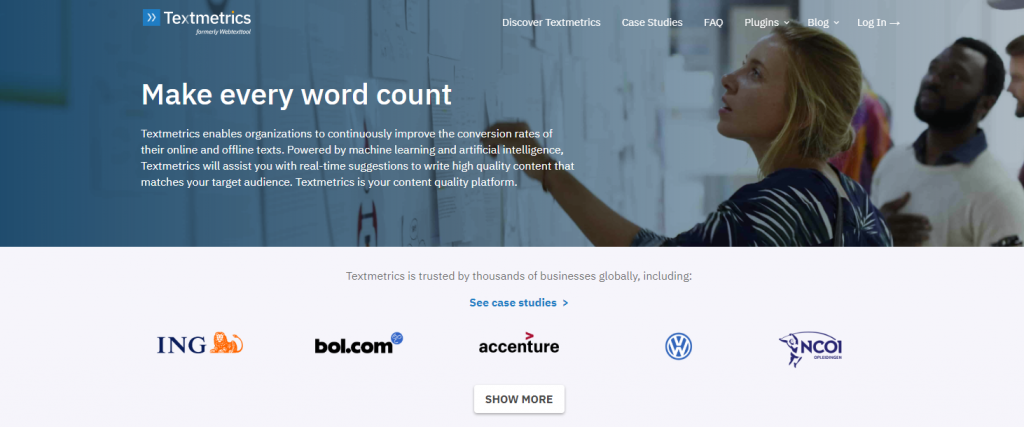 "Textmetrics enables organizations to continuously improve the conversion rates of their online and offline texts. Powered by machine learning and artificial intelligence, Textmetrics will assist you with real-time suggestions to write high quality content that matches your target audience. Textmetrics is your content quality platform."
Pricing: from $18.00/month
Textmetrics is one of those tools that will greatly help in your content optimization. The data it provides will help your people improve the text conversion of whatever it is that you write. It's an easy way to automate your content statistic acquisition as the numbers are available at your fingertips 24/7.
Feature Highlight
Content Audit
Keyword tracking
Keyword research
Content management
Competitor analysis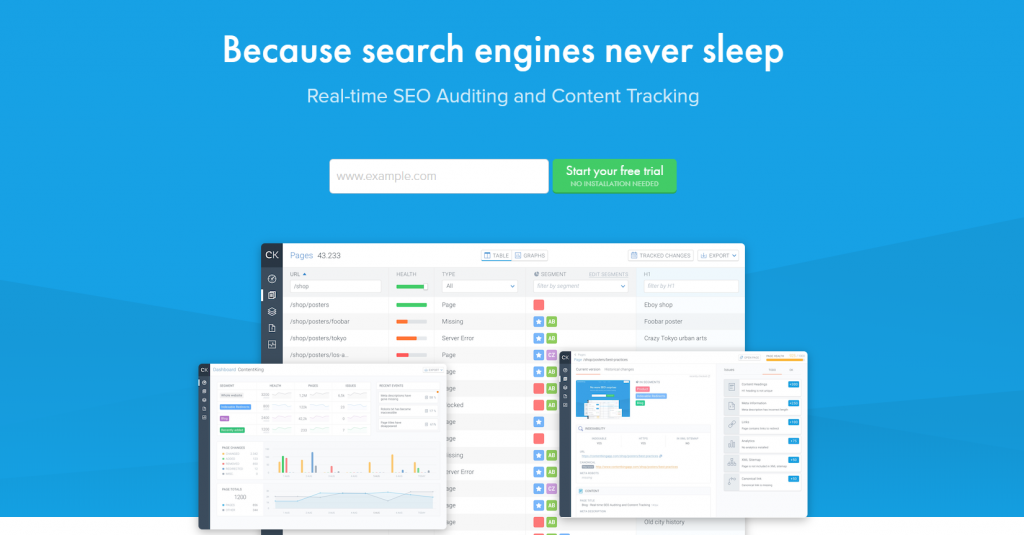 "Real-time SEO Auditing and Content Tracking"
Pricing: from $19/month
ContentKing focuses on automating your SEO-related processes. They pride themselves on 24/7, real time analysis of all your content on your site – not only this related to your content marketing. It comes with an advanced dashboard that offers you full insight into your SEO performance and analysis, as well as allowing you to spot problems and quickly implement changes.
Feature Highlight
Real-time SEO auditing
Actionable insights & tasks
Content change tracking
Visualized reports
No installation needed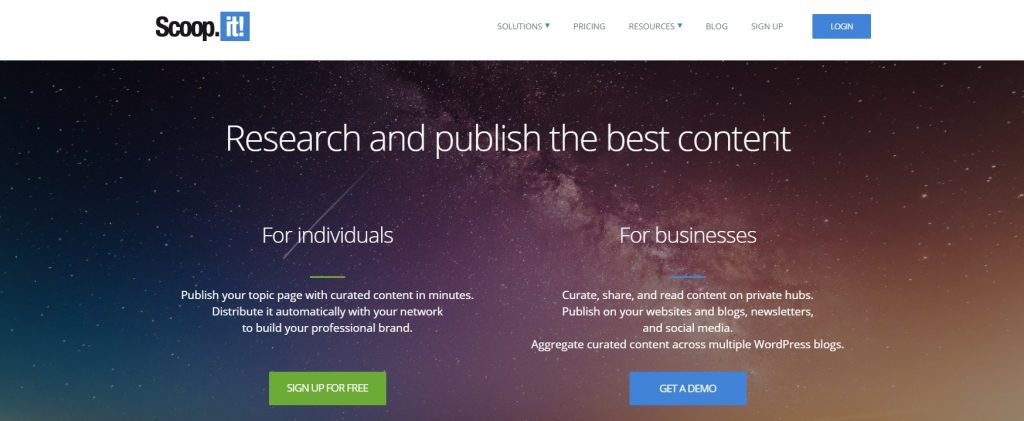 "We started Scoop.it because we believed software and technology could make content publishing much more time-efficient and impacting for professionals in general and marketers in particular."
Pricing: from $14.99/month
Content curation is a valid and valuable part of any content marketing strategy. Scoop.it makes it easier for you to find this high value and high quality content faster and easier.
Feature Highlight
Feed monitoring
Content discovery
Publishing to websites
Auto-scheduling to your social channels
Integration with WordPress, Hubspot and Drupal
Content performance analytics

"Our machine learning and natural language processing technology analyzes and compares all of your content to 1,000's of articles on the topic to show what's missing."
MarketMuse automates the way you analyze your content. What they do for you, is an in-depth audit of your site's content to see where you can improve. It's a useful AI assistant that will help you monitor how your content is doing and optimize it to make the most of it.
Feature Highlight
Content briefing
Content optimization
Audience targeting
SEO management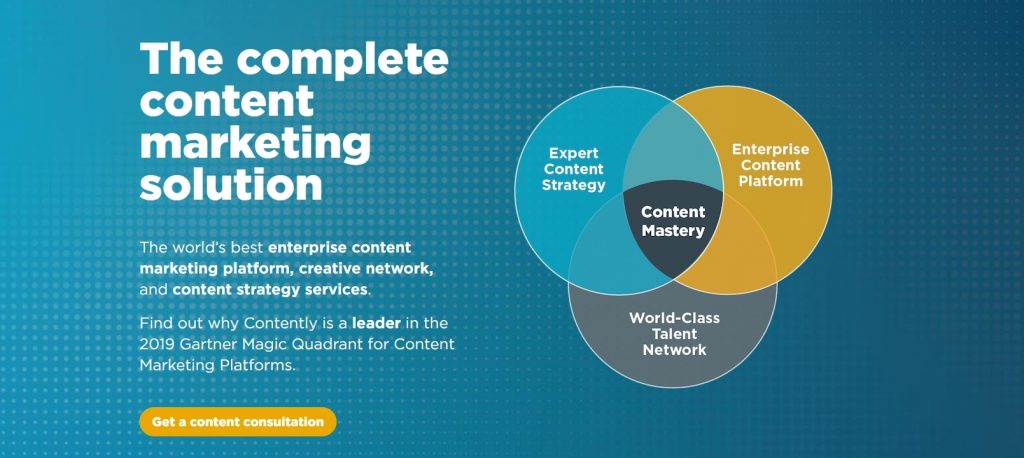 "We power the best content marketing programs on earth"
Contently is one of the most powerful content marketing tools currently available. Their goal is to help you set up and run effective content marketing campaigns that will inevitably end in converting your visitors in your customers.
Feature Highlight
Workflow creation
Team-shared editorial calendar
Salesforce integration
Content Personalisation
Content analysis
Email Marketing
Despite what some of us might think, email remains a powerful tool when it comes to growing your business. And that is why you won't have issues to find a tool that will help you get smarter with your email campaigns.
"With Omnisend, you can go further than email marketing. In just a few clicks, you can connect several channels to the same automation workflow, and create an immersive experience for your customer, no matter their stage in the customer journey."
Pricing: from $16/month
Omnisend is an omnichannel marketing automation platform built for ecommerce. While that may sound complex, using this platform is anything but. Using a drag and drop builder, you can build beautiful emails, sign up forms, landing pages, and workflows in just seconds. Use Omnisend's smart segmentation to target each message to just the right customer, boosting engagement and sales.
Feature Highlight:
Workflows using: email, SMS, web push notifications, Facebook Messenger, WhatsApp, and more
Drag and drop email builder with templates
Workflow templates for ecommerce needs
Smart segmentation on shopping behavior, campaign engagement, and profile data
Email capture forms, landing pages, gamified sign up forms, and popups
A/B Testing and campaign boosters
Advanced sales reporting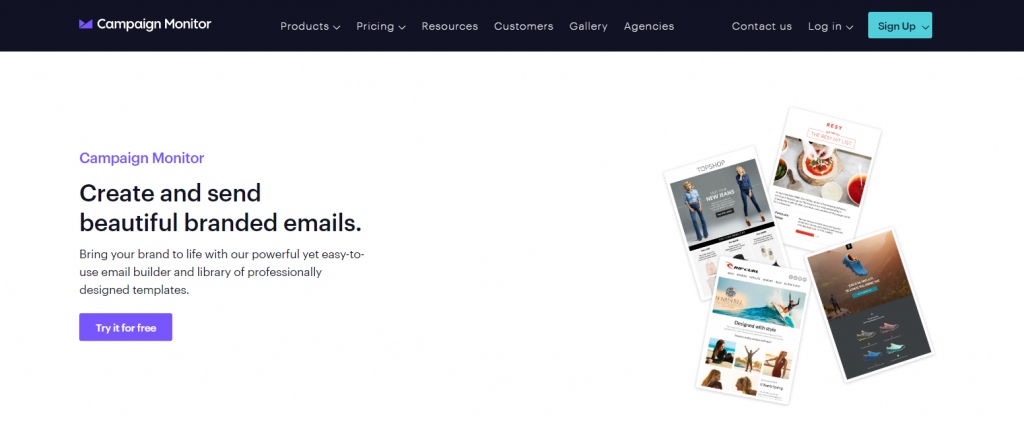 "Campaign Monitor gives you everything you need to run beautifully-designed, professional email marketing campaigns to grow your business."
Pricing: from $9/month
Campaign Monitor is more than what you'd expect from it by looking at the tool's name. While analyzing your current campaigns is big part of this platform, they're also equipping you with a variety of tools that will help you craft better mailing campaigns and get better results.
Feature Highlight
Signup form
Advanced segmentation
Variety of integrations
Campaign analytics
Transactional emails
Email personalisation
Personalised customer journeys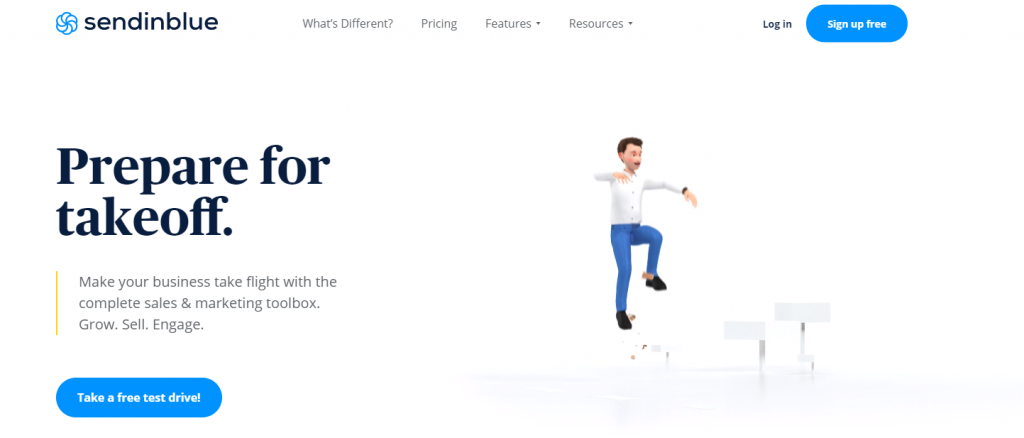 "Email, SMS, Facebook, Chat, CRM, and more, all-in-one platform to help you grow your business through building stronger customer relationships."
Pricing: from $25/month
Sendinblue may be most known for its mailing services, however they go beyond that and equip you with everything you need to send emails, set up a website chat or run SMS marketing campaigns.
Feature Highlight
Marketing Automation Features
Inbuilt CRM
Segmentation
Transactional emails
Retargetting
Sign up forms
Facebook ads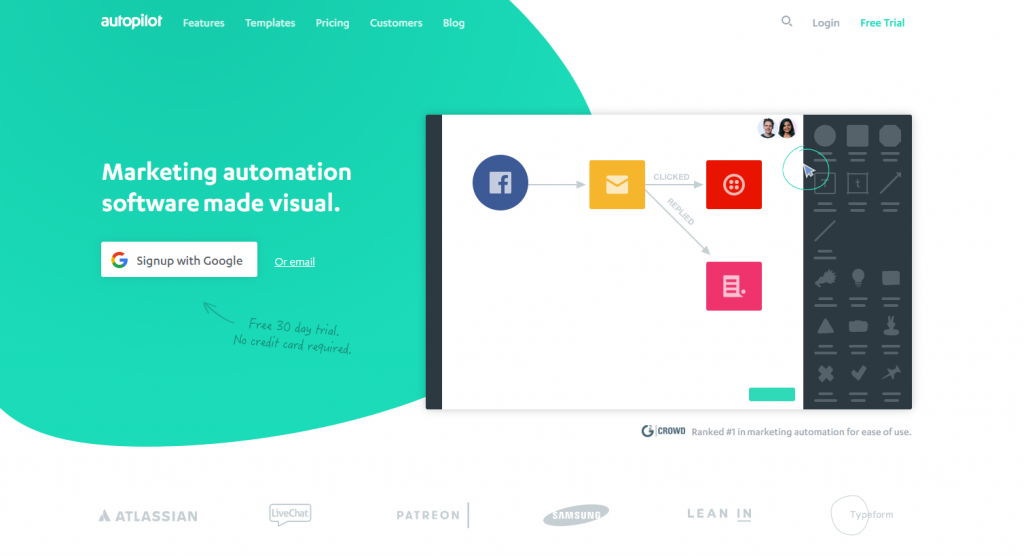 "With Autopilot's marketing automation software, you can automate all your emails at exactly the right time. Trigger emails based on time, behavior and interest"
Pricing: from $32.9/month
Even though we list it among email marketing tools, Autopilot is a whole marketing automation machine. They give you practically anything you'll ever need to automate the whole marketing process in your business – with emails being only the tip of an iceberg.
Feature Highlight
Marketing automation, email marketing and CRM in one platform
Lead and customer segmentation
Customer journeys
Team collaboration
Drag and drop email creation
Integration with Salesforce, Twilio, Typeform and LiveChat

"Our goal is not to offer you a platform with features that you do not need or will use, but a platform that helps you grow your business. We are working to resolve your growth and marketing needs."
Pricing: from $9.99/month
Kingmailer is a simple yet powerful tool that allows you to send beautiful and customized newsletter to people on your mailing list. It comes with a 30-day trial so you can check the software inside out before making the purchase.
Feature Highlight:
Open and click rate reports
Mobile friendly
Automated removal of duplicated adresses or unsubscribers
Autoresponders
Old campaign cloning
Stock images available to users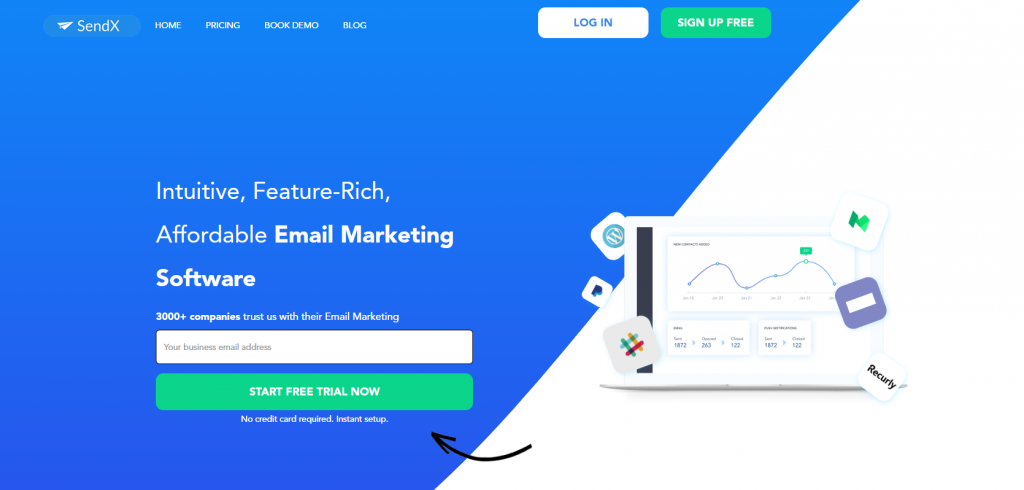 "Join more than 3000 companies who use our intuitive email marketing software"
Pricing: from $7.50/month
SendX is an advanced tool that automates your email marketing and newsletters you send to your customers. From an email builder to sign up forms and pop ups, it offers a whole bunch of features that help you create and execute successful email campaigns.
Feature Highlight
Website integrations
Sign up forms
Email list upload
Metrics and analytics
Drip sequences
Audience segmentation
Drag and drop email editor

"EmailOctopus is an affordable, easy-to-use email marketing platform for anyone with an audience. We're committed to saving you money, we'll never compromise on deliverability, and we're passionate about providing great service with a personal touch."
Pricing: from $20/month with a free plan up to 2500 subscribers
EmailOctupus is a viable option if you're looking for a mailing solution but don't want to pay for it just yet. With its limited free plan, this tool allows you to get your feet wet when it comes to email automation and newsletter creation.
Feature Highlight
Easy workflow automation
Responsive email designs
Large integration library
Real-time analytics
Sign up forms
"With our comprehensive set of Marketing tools, including Email Marketing, Marketing Automation, Email Template Builder, Landing Page Builder, Lead Generation tools, Social Suite & more, your marketing team can take things to the next level."
Pricing: from $7.79/month
Similar to Autopilot, EngageBay is more just an email automation tool. Still, since a mailing is a big deal for any marketing team, we recommend you try out EngageBay – a tool that serves all your business needs related to marketing, sales and customer service.
Feature Highlight
Marketing automation
Email sequences
Webforms
Landing Pages
Contact management
CRM

"Mailshake helps people have more conversations, qualify more leads, and close more deals than ever before."
Pricing: from $39/month
Mailshake is a tool designed strictly for cold mailing so you can close more deals more efficiently. It's vast feature library covers not only creation of customized emails, but also managing follow ups and automated campaigns.
Feature Highlight
Real time email analysis
Predefined templates
Analytics
Follow up management
Team collaboration
Integrations & API
A/B Testing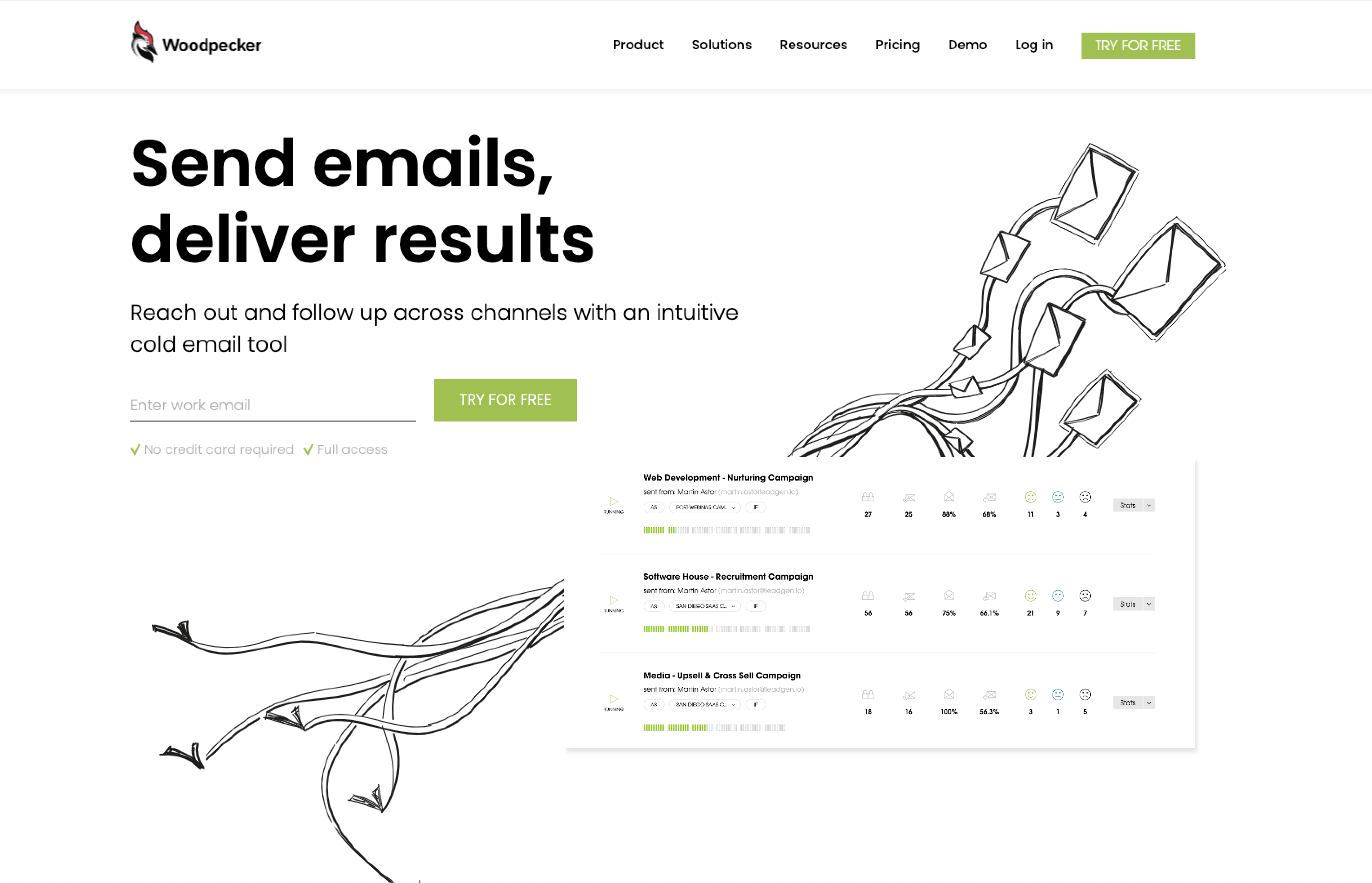 Pricing from $32/month & 7-day free trial
"Send emails, deliver results. Reach out and follow up with an intuitive cold email tool"
Woodpecker is a simple to use, yet very clever cold email tool that helps sales, lead gen and recruitment professionals engage with leads across channels. It saves you time spent on the process of reaching out to ideal clients and business partners and turning them into lasting partnerships. Woodpecker is used by B2B companies to personalize, automate and track their outbound sales campaigns all from one place. It's like an AI assistant that helps you save even 20 hours every week.
Feature highlight:
Emails sent directly from your email address
Follow-ups in one thread
Reply detection and AI-powered sorting
Built-in free email list verification in real time
A/B testing & campaigns with conditions
Manual tasks for LinkedIn outreach and calling
Woodpecker Calls – call scheduling & tracking app for Android
API + native integrations with HubSpot, Calendly, Google Sheets and more
Lead Generation Agency workflow available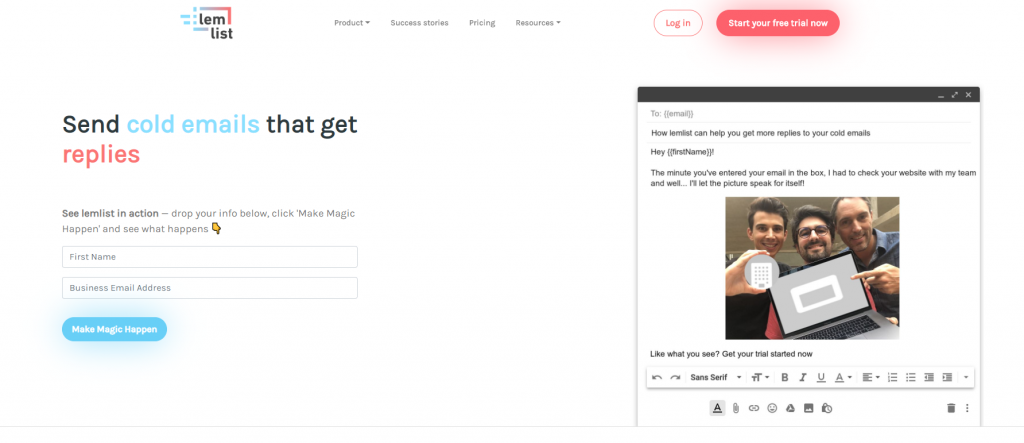 "Your first campaign in less than 10 minutes"
Pricing: from $29/month
Lemlist is a cold email automation tools that highly values personalization. User friendly, simple to use and feature rich, Lemlist will come in handy whether you're only starting with cold outreach or you're already an experienced email marketer.
Feature Highlight
Email templates
Smart personalisation, including images
Follow up automation
Predefined email schedules
Campaign review
Emails sent directly from your email address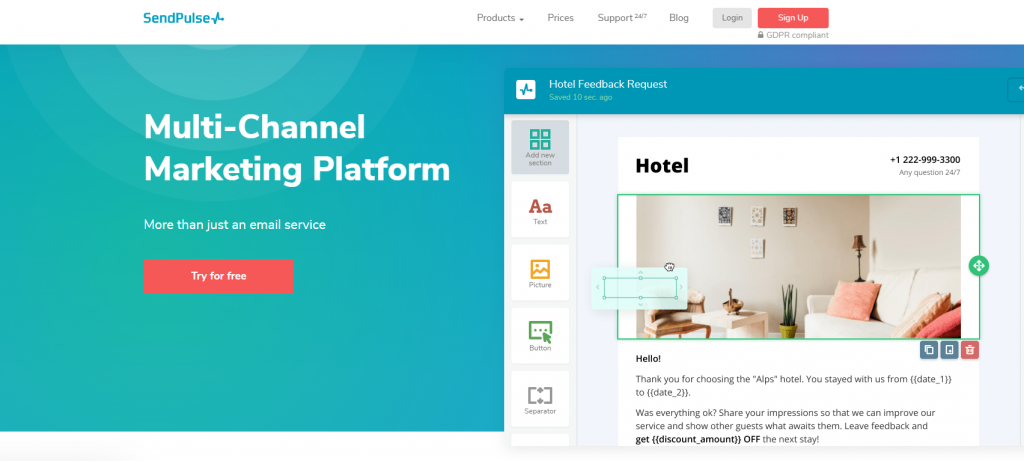 "Our main goal is to simplify things for marketers and business owners and teach them how to grow their business with the help of email campaigns and other communication channels."
Pricing: from $7.88/month with a free plan up to 2500 subscribers
Sendpulse automates not only your email marketing, but also your presence on the other channels. It helps you stay in touch with your customers through email, SMS, Viber or Facebook messenger. High personalization levels allow you to efficiently craft messages that resonate with your customers.
Feature Highlight
Variety of channels included, from email and SMS to Viber and Facebook Messanger
Drag and drop email editor
Browser notifications
Triggered email chains
Subscription forms
Customer Segmentation
A/B Testing
CRM
Customer Relationship Management is one of those parts of your business that you should automate as soon as you get the chance. Many elements of CRM processes can be easily handled by technology.
Here are some of the best examples.

Taskeo CRM is a part of the comprehensive business management suite. With it's custom pipelines and client data base, you can monitor the deals you're aiming to successfully close. Reminders, templates and email marketing integration are here to help you do more with fewer apps.
Pricing
From $5/user/month
Feature Highlight
Integration with appointment scheduling, project management, time tracking and email marketing
Customizable pipelines
Companies & Contact list
Automated activity log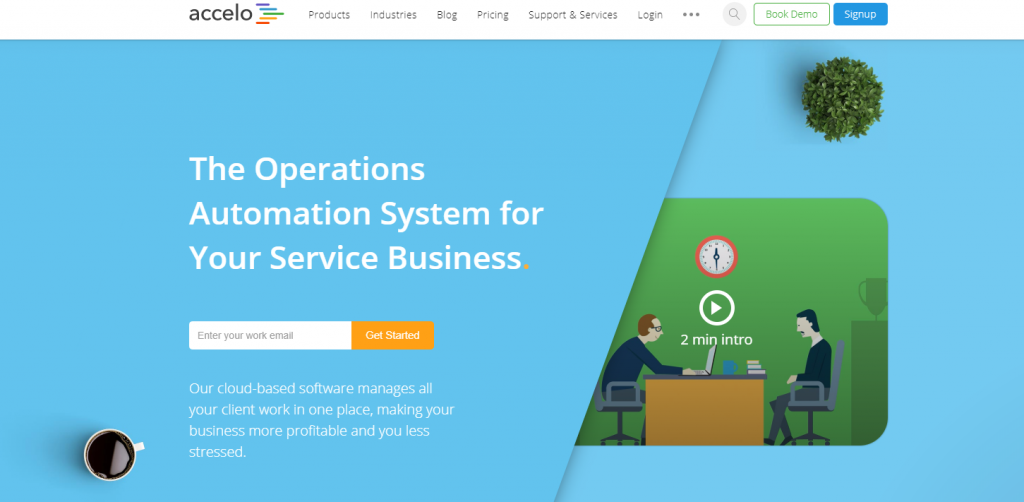 "Accelo Sales is the only sales and marketing platform built specifically for professionals. By focusing on your needs, Accelo Sales skips the complexity and clunkiness common in other sales products to help you focus on important client relationships."
Pricing: from $39/month
Accelo is a comprehensive tool where managing your sales and customers is just a part of a bigger picture. However, even if you don't intend to use all their features, it's worth considering giving her sales options a shot so you can automate your funnel and customer management like a pro.
Feature Highlight
Automation of processes
Client Records
Quoting
Mobile app
Team Inbox
Team Scheduling
Large integration library

"Work where you're comfortable — inside your inbox! Built directly inside of Gmail for desktop and mobile, with G Suite integrations (Sheets, Chat, Drive, and more) to help you access and gather your data quickly."
Pricing: from $49/month
Streak is a unique tool that is synchronized with Gmail – one of the most popular email providers out there. If you're looking for a CRM solution that you can manage from your inbox, look no further.
Feature Highlight
Project management features
Advanced event tracking
Mobile friendly
Email merge
Send later option
Thread splitter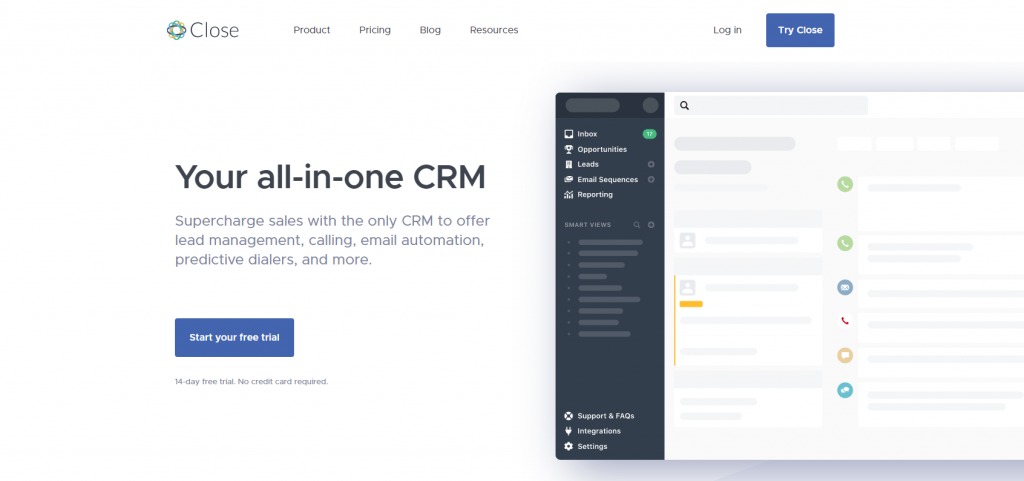 "Close gives you an overview of all your sales activities. Emails, calls, voicemails, tasks and reminders are automatically organized so that you always know what's going on and what you should do next."
Pricing: from $35/month
Close is one of the all-in-one CRM tools that are definitely worth trying out. It features pretty much all the functionalities you will ever need to manage your leads and successfully close more deals than ever before.
Feature Highlight
Built-in calling
SMS marketing
Email sequences
API and integrations
Advanced Reporting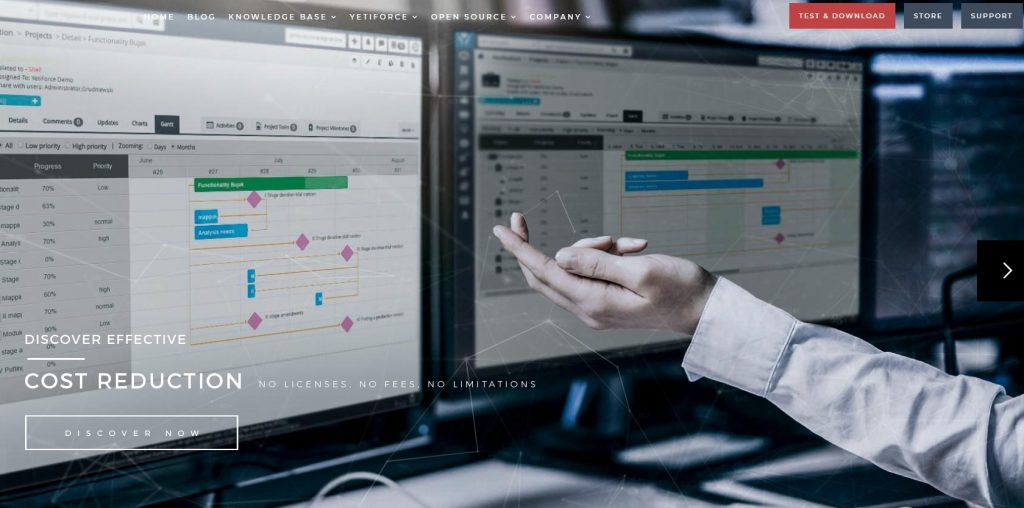 "Rich features and many customizable user's and administrator's modules, together with well-designed widgets, provide your company with a complete set of highest quality technological tools."
Pricing: from €65/month
YetiForce is a feature-rich tool that helps you organize all your CRM-related activities and make the most out of them. From customer management to analytics and reports, YetiForce helps you optimize your funnel from the first contact with your leads.
Feature Highlight
Widget-rich dashboard
Smart calendar module
Advanced companies and contacts module
Built-in emailing
Quoting, orders and vendor inquiring
Mission Suite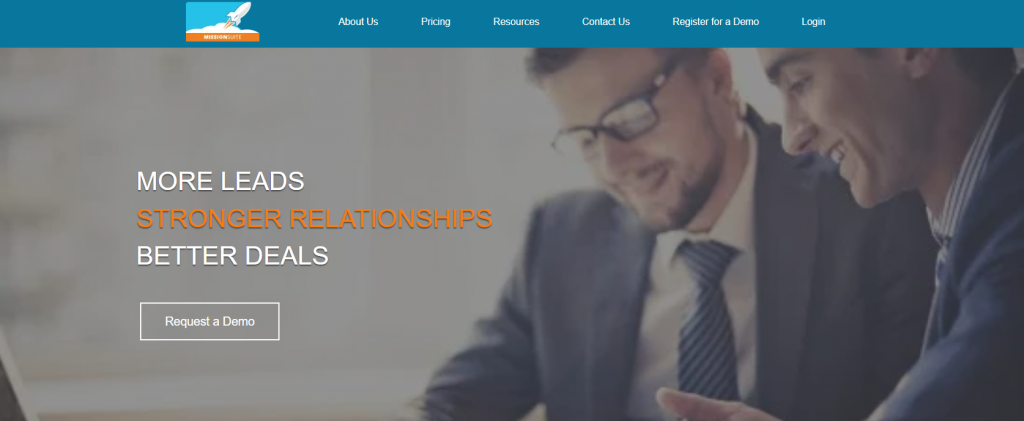 "Get to know your customers better, seamlessly, automatically, customize messaging to directly speak to their needs and increase conversion rates. Quite simply, Mission Suite's CRM helps you make more money with less effort."
Pricing: $30/month
Mission Suite is a tool that offers CRM features but also leaves you with a lot of automation room for your marketing activities. With its help, you manage your contacts and close more deals, as well as optimize your content and email marketing, lead generation and event management.
Feature Highlight
Automation features related to marketing task management
Advanced CRM
Inbound lead generation
Personalized email marketing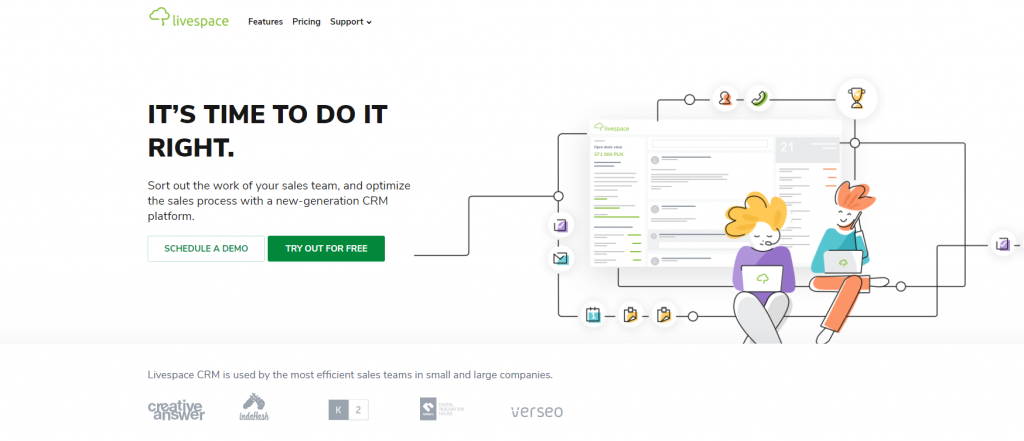 "The setting and achieving of targets in B2B sales doesn't happen by chance, but is the effect of a precisely designed process and its efficient implementation. It definitely has more to do with engineering than magic."
Pricing: from $15/month
Livespace is B2B dedicated CRM tool that helps you close more deals and take better care of your customers. Their features reflect focusing on the right deals and your most important clients, as well as determining which is which with comprehensive analytics.
Feature Highlight
Large library integration
Advanced analytics
Built for teamwork
Sales forecasting
Targets and goals tracking
Key accounts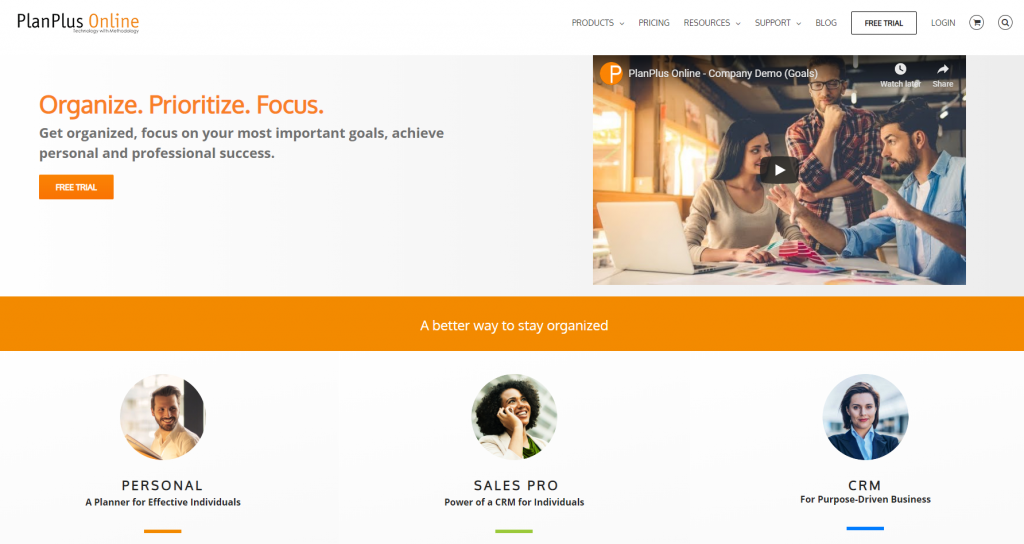 "With collaboration, sales, marketing, and project management features, PlanPlus Online's Business CRM solution enables productivity and ensures accountability within your organization."
Pricing: from $29/month
PlanPlus Online is a brand with several products fitted for your business side; their CRM comes with the second of their plans and allows you to organize your marketing and sales activities in order to close more deals and manage them better and in a more structured way.
Feature Highlight
All-in-one organization tools (calendar, notes, contacts, tasks)
Sales management
Process builder
Sales forecasting
Sales processes
Lead management
Integrations
Collaboration tools
Workflow automation
Employee Scheduling & Management
Creating schedules and managing shifts can become a tiresome task – but not if you let technology solve this problem for you. If you run a business heavily dependent on shifts and schedules, these tools below might be your game changer.
TimeCamp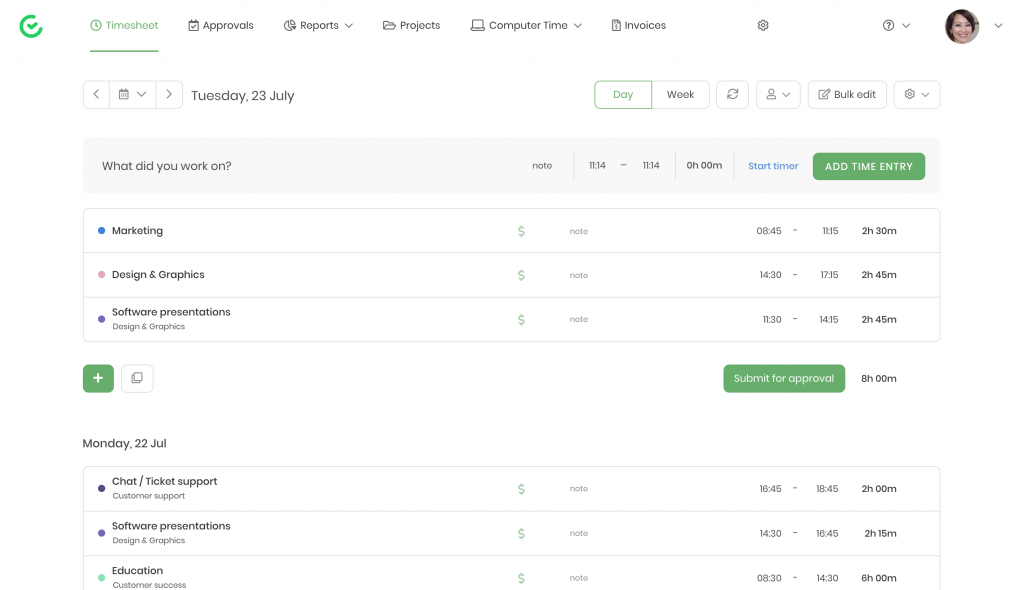 Pricing: starts at $5.25 per user per month (free plan and free 14-day trial included)
TimeCamp is a comprehensive project time tracking software that eases companies time management pain. Based on time logged with an automatic desktop app or by filling timesheets manually, it creates data-rich reports that provide managers with the knowledge on how their teams are performing.
Feature highlight
Automatic time tracking,
Timesheets – daily and weekly,
Reporting,
Invoicing
Project tree structure with tags,
Guests – invite people from beyond your organization and give them the access to reports (perfect for proof of work!)
Billing rates,
Attendance module,
Computer activity tracking,
Custom user roles – create your own user classes with custom privileges,
Timesheet approvals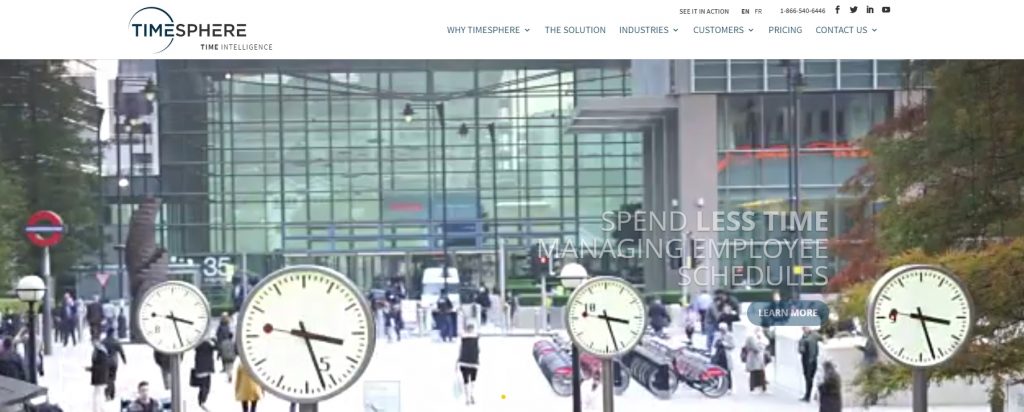 "It ensures business rules and employee requirements are being respected. Its automated decision support function helps manage replacements, shift offer and every other possible schedule change, while simplifying the overall communication with your employees."
Pricing: from $2 per employee/month
Timesphere is an advanced scheduling software that allows you to organize your shifts no matter how complex they are. On top of that, this solution offers additional management features that help you optimize your workflow and employee collaboration.
Feature Highlight
Scheduling and planning module
Demand forecasting
Order management
Cost tracking
Reporting
Employee portal for personal shift management

"With 15 years of feedback from thousands of managers, we're constantly refining our software to meet the needs of real businesses. With over a decade of development, Findmyshift is a stable, reliable and scalable scheduling service for all types of organizations, no matter how large or small."
Pricing: from 25$/month with a free plan up to 5 employees
Findmyshift is a user friendly scheduling tool enriched with additional employee management features. For many of the HR teams, it will successfully become the only tool they need to manage the shifts, payrolls and attendance.
Feature Highlight
Scheduling based on spreadsheet idea
Drag and drop interface
Calendar integration
Templates
Late arrival and absence tracking
Reports and metrics
Payroll management

"CakeHR is an HR software company that streamlines human resource management for customers in over 1,200 cities worldwide."
Pricing: from $4.2 per employee/month
CakeHR helps you manage your shifts but that's not where it's end. It's a powerful tool for all HR teams that will help them deal with their day-to-day assignments easier and faster and more effectively.
Feature Highlight
Shift management
Employee onboarding
Leave management
Expenses
Reporting
Time sheets
Performance analysis

"ClockIt is designed from the ground up to meet all the time and attendance requirements that your business may have. Features are built into ClockIt with more than 10 years of experience in the industry and carefully listening to what other customers want."
Pricing: from $15/month
ClockIt is a unique tool that bridges shift making and time tracking. You can use it to organize work for your employees as well as help them clock their working hours easily. On top of that, all the data is easily turned into reports and metrics that you can use in your payroll and performance analysis.
Feature Highlight
Time tracking
Schedule builder
Attendance tracker
Leave and vacation management
Reporting
Geolocation

"Our mission is to provide you with an app that is truly useful for your business. A one-stop shop that includes a range of practical tools that will cover all your events staff management needs."
Pricing: from $3/month
Ubeya is another useful solution that will meet your business needs when it comes to scheduling, staff management and payrolls. With it's affordable pricing it's a particularly attractive offer for small businesses that have just started out.
Feature Highlight
Employee availability
Confirmation & double check option
Reminders
Staff management and information
Timesheets
Payrolls
Employee segmentation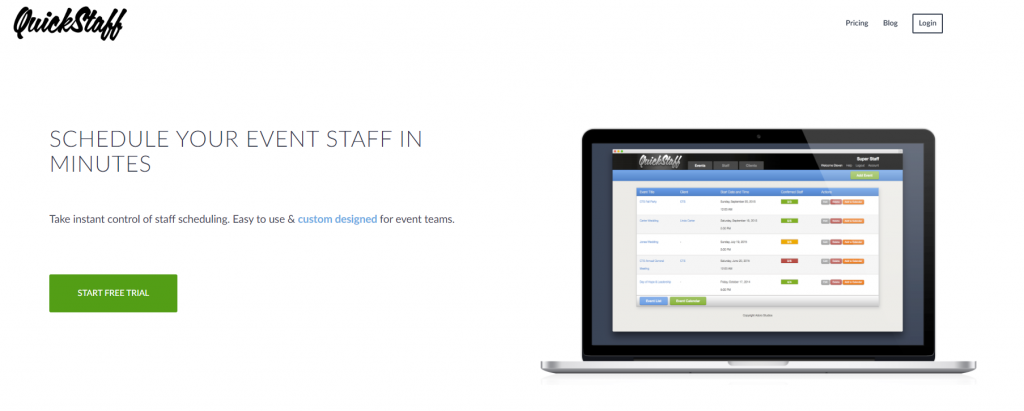 "Control it all from one single place without email, text messages, phone calls, binders, sticky notes and memory work"
Pricing: from $20 per month
QuickStaff is an event-based scheduling software that gives your team an ample room for organizing their work effectively. This tool's goal is to help you reduce unnecessary back and forth between your employees as you plan their shifts.
Feature Highlight
One-click confirmations
Staff calendars
Infinite staff events
Custom roles
Reminders
Notes
Eagle Eye View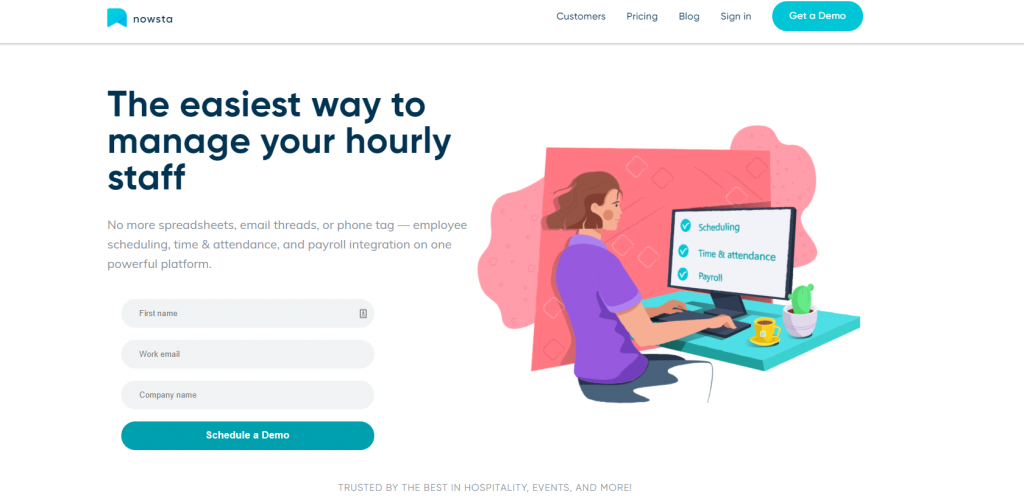 "An all-in-one workforce management platform"
Pricing: from $2 per user/month
Nowsta does more than helping you schedule your shifts so if you're looking for a tool to help you simplify your HR-related tasks, this platform is a must for your to check out.
Feature Highlight
Scheduling
Time tracking
Attendance tracking
Payrolls
Automated payroll management
Insights and reporting
Marketing
There's a lot of room for automation in marketing. That's why it's easy to find quite a few marketing automation tools that will boost your results while doing some of the work for you.
Still struggling to choose? Here are our suggestions.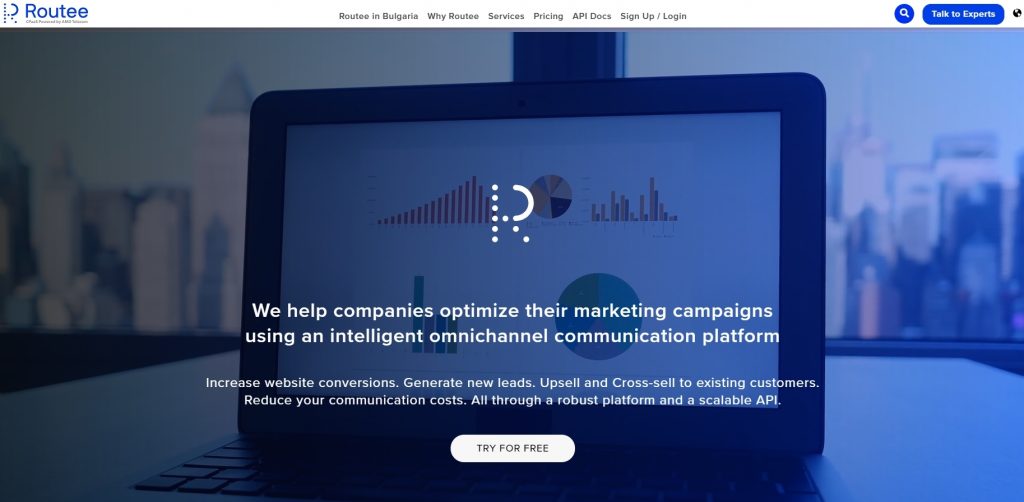 "Our marketing automation services are optimized for your needs. Create automated marketing campaigns fast and easy with Routee's web platform, and get your message out more effectively."
Pricing: depending on location and operator
Routee helps you optimize and automate your marketing activities on numerous channels but they specialize in in bulk SMS services, emails and messaging apps.
Feature Highlight
SMS marketing
Email marketing
Marketing automation features
Push notifications
Facebook and Viber messengers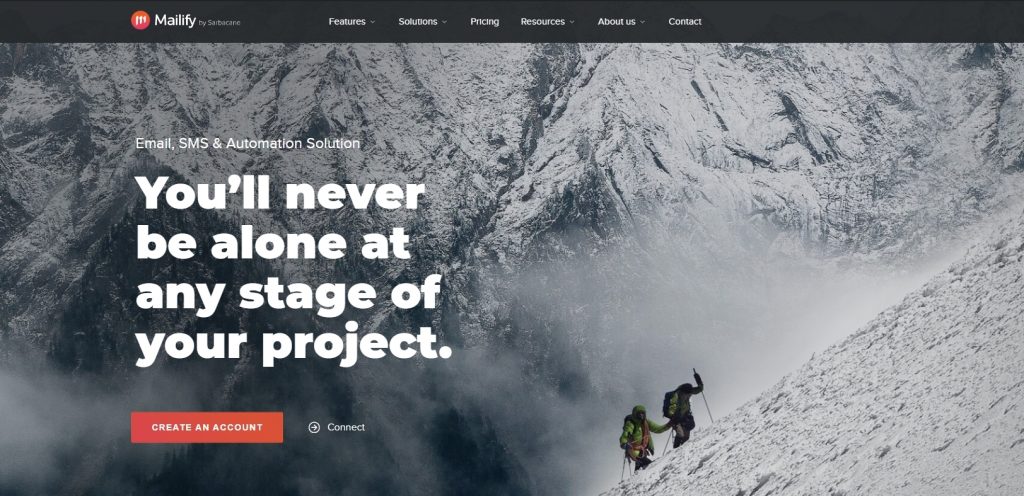 "With Mailify, you can manage email and SMS campaigns from one, centralized platform. Easily combine the use of both channels within a single campaign to achieve optimized results."
Pricing: from $59/month with a limited free plan available
Mailify is an advanced tool that helps you maximize the results of your email marketing and SMS marketing. It's paired with additional functionalities such as contact management and performance analysis so you'll never again miss a chance to improve.
Feature Highlight
Email and SMS marketing campaigns
Message templates
Drag and drop editor
Insights and reports
Behavioral filtering
Google Analytics extension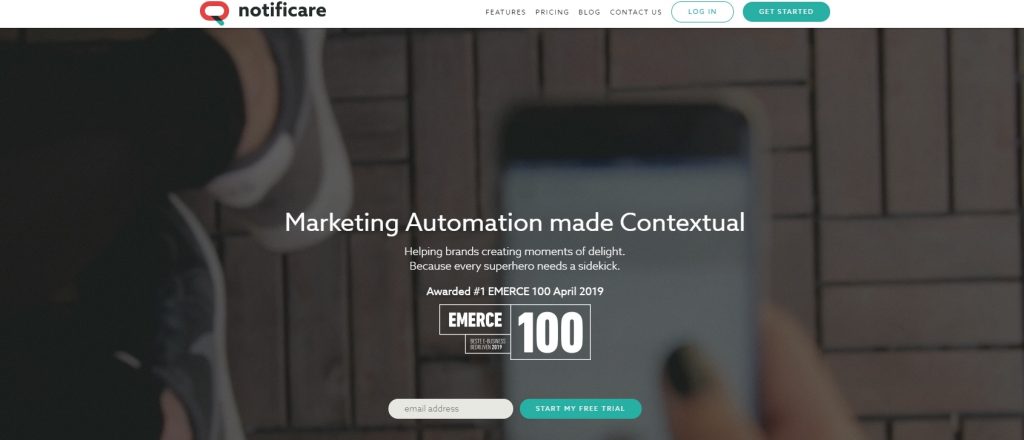 "With the Notificare Marketing Automation Platform, you will interact with your users regardless of what platform or channel they are using."
Pricing: from $399/month
Notificare helps you spread your messages wherever your customers are. It's your go-to tool if you're looking for a solution that will help you optimize and automate your efforts related to messaging and notifications.
Feature Highlight
Rich & interactive push
Analytics
Tags and segments
Website push
API access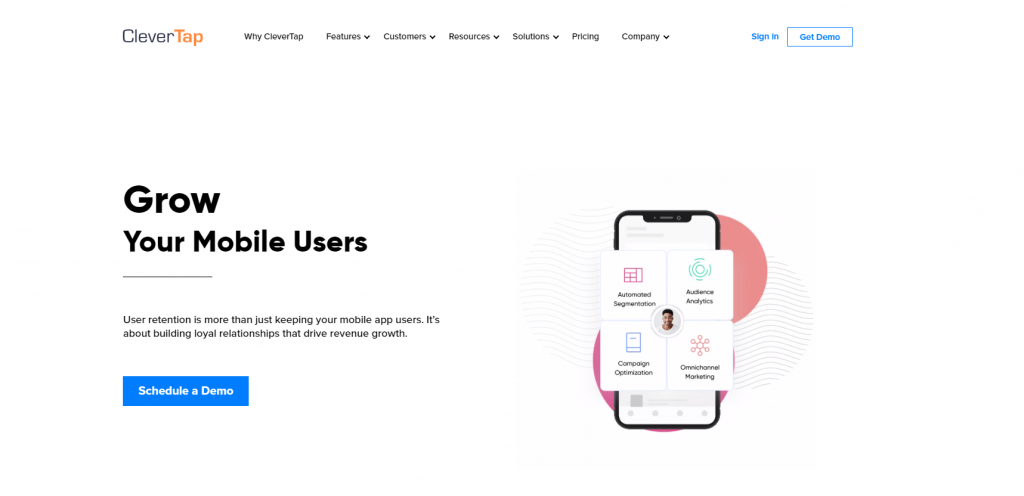 "We help brands align on three core metrics to convert, retain and grow their users"
Pricing: customized to a user
CleverTap is a one of a kind tool that helps you analyse your mobile app performance and optimize your mobile marketing. With all the features included in CleverTap, you'll be able to understand your users better and how to market your product to them.
Feature Highlight
Customer behaviour analytics
Funnels
Advanced segmentation
Triggered campaigns
Customer journeys
A/B testing

"Hey Oliver is specifically designed to meet the needs of your business – identify and engage your potential clients and increase sales."
Pricing: Talk to sales team for detailed pricing
Hey Oliver is a tool supposed to help you mainly with two things: automating your marketing campaigns and generating more leads with higher chance of converting. If these are your goals as well, then you should try this solution at some point.
Feature Highlight
Drip marketing campaigns
Profiling and tracking
Automated campaigns
Lead management
Real time chat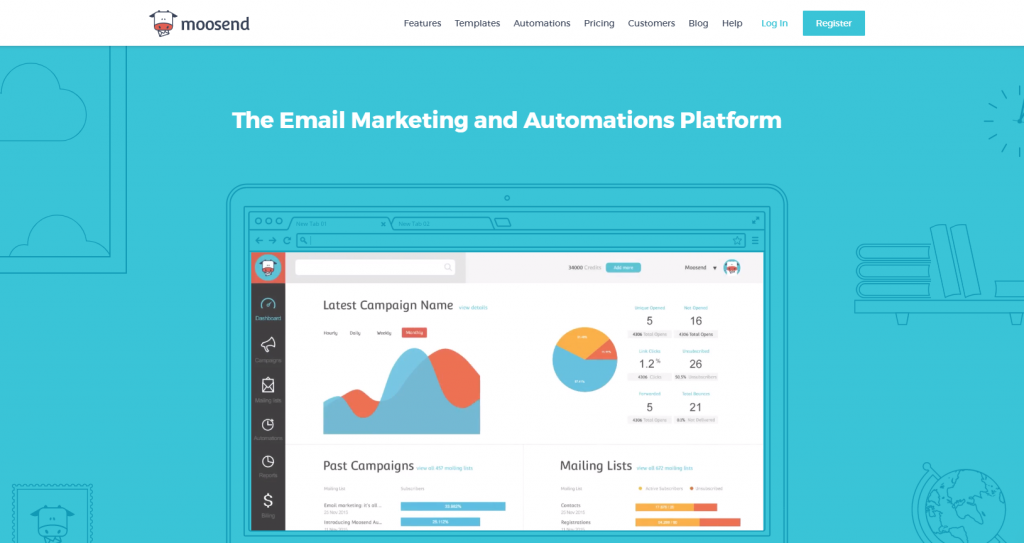 "Effortless and flawless email design, user-friendly list management, state-of-the-art automation, and reliable analytics, brought to businesses by Moosend."
Pricing: from $10/month with a free plan up to 1000 subscribers
They features might revolve around email marketing, but Moosend gives you more to go with that. Their features include workflow management and lead generation so you can close more deals more efficiently.
Feature Highlight
Drag and drop email editor
Advanced email analytics
Pre-built workflow templates
Cart abandoment
Product recommendations
API access
Integration library

"AdRoll levels the playing field for ambitious brands and marketers by giving them sophisticated marketing technology, tools, and expertise usually reserved for the big guys."
Pricing: Talk to sales for customized pricing
AdRoll team describes their product as "growth marketing platform" and its purpose is just that: to help you grow your business. From customer analytics to dynamic and personalized ads, AdRoll helps you set up better and more effective campaigns.
Feature Highlight
Large integration library
Insights and analytics
Advanced audience targetting
Retargetting
Cross-channel engagement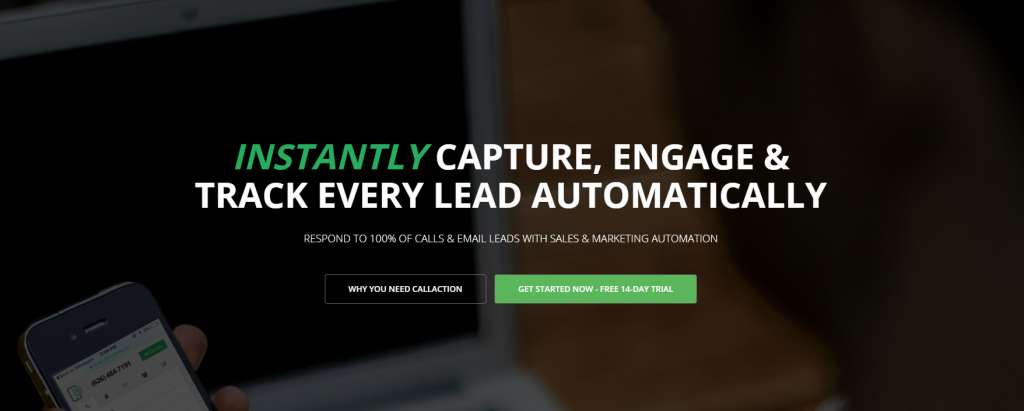 "CallAction is a mobile web application to automate the tracking and engagement of inbound calls across all marketing channels."
Pricing: $115/month
If call making & tracking is relevant to your business, then Call Action is a tool worth considering. Check out its automation features and see if they can improve your conversion rates.
Feature Highlight
Real-time number activation
Channel and campaign analytics
Call reporting Dashboard
Export caller records to CRM
Follow up notifications

"Platformly is a suite of tools for multi-channel marketing automation. From capturing and nurturing leads to turning them into customers and raving brand advocates, Platformly provides everything you need to build and grow a successful online business."
Pricing: from $16/month
Platformly is an all-in-one marketing automation platform, rich in all features that will help you grow your business. It's got a built-in CRM and lead capturing functionalities as well as business dashboard providing you with all the most useful data.
Feature Highlight
CRM
Business dashboard
Messaging
Lead capturing
Reports and insights
Integrations
Link tracking
Business Automation Tools: Summary
Look at that – you managed to get to the very bottom of our list of business automation tools! Let us know if it was useful and if so – don't forget to share it.
Also, drop us a message if you've got suggestions for this list so that we can expand it further! 🙂