Let's make something clear: working from home is anything but easy. Especially in a team.
If you're feeling like your people could be doing a better job, you're not the only one. Co-workers who only communicate online face entirely new challenges that stationary teams never worry about. Luckily, technology is there to help you. And that technology is our today's topic.
Recent remote work statistics conducted by BlueFace suggest that more people will be working from home than from traditional office locations. In fact, experts predict that by 2025, remote work will compete fiercely with office locations. This study was published before Twitter announced that it was incentivizing its employees to work remotely for as long as they desired. As if that's not enough, more and more companies go remote permanently.
Clearly, this means that businesses have to learn how to manage work from home employees and the right tools required to boost the productivity of distributed teams.
Let's dive in and have a look at 24 apps and platforms that will make life easier for you and your team.

Collaboration Tools
Let's start with collaboration tools as the first type of software for working from home. These are all the apps you'll be working with to get your tasks done.
Some of the tools mentioned below are all-in-one workspaces and others serve specific purposes and tasks.
Taskeo is an integrated cloud-based management platform for your business. Successfully replacing several stand-alone apps, it helps you do more with fewer tools. Taskeo comes with a number of features for comprehensive project management, customer relationship management, time tracking and billing and appointment scheduling.
Feature Highlight
Contact & Company Database
Flexible pipelines
Built-in appointment scheduling
Time tracking & billing
Recurring tasks
Tasks reminder
Task and project templates
Personal Dashboard
User activity feed
Pricing
Taskeo is free to try it out & no credit card is required. PRO plans start at $5/month/user.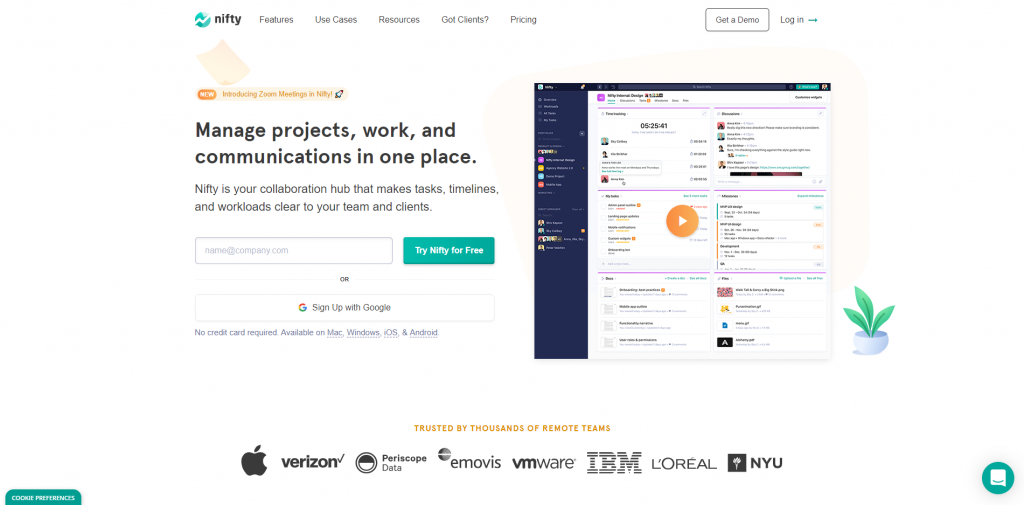 Nifty is a remote collaboration hub designed to help teams manage projects, goals, files and teams, all in one place. Nifty lets you view all your work in one simple, interactive dashboard, from project files to deadlines, keeping you and your team on the same page.
Feature Highlight
Integration with other software such as Zoom
Automated project status reporting
Project milestones
A built-in time tracker
Kanban Board and Task List views
Team chat within the tool
Project discussions within tasks
Project templates
Pricing
Nifty has four flat-rate pricing plans: Starter plan, which is free for teams up to 10 people and Pro, Business and Enterprise plans, that start from $79/per month.
"Empower cross-functional discovery and brainstorming through an infinite canvas, robust set of widgets, prebuilt templates, and powerful platform capabilities. Miro presents an entire toolkit for user story or customer journey maps, wireframing, roadmap or sprint planning, retros, and more."
Feature Highlight
Discussion Boards
Templates and workflows
Content & Document management
Mindmaps, flowcharts, customer journey maps
Zoom integration
Pricing
Miro has a limited free plan and premium plans starting at $8/user/month.
"Thousands of high-performing teams rely on whimsical to work together, faster."
Feature Highlight
Flowcharts
Wireframes
Mindmaps
Pricing
Whimsical has a limited free plan. Premium plans start at $10/month/user.
"Capture screenshots and screen recordings instantly: it's saved to the cloud with a link you can share with anyone, anywhere."
Feature Highlight
Available for Mac, Windows, Chrome Extension, Chromebook
Capture screenshots
Screen recording
Share captures with a shortener link
Save your captures in the cloud
Multiple integrations
Pricing
Droplr offers a free trial so you can test the product. Premium plans start at $4/month.
"Use StoryChief as a layer on top of your channels and collaborate on blogs and social posts in an easy-to-use, centralized environment instead of giving access to your backends."
Feature Highlight
Content Collaboration
Content Calendar
Social Media Management
SEO Content Management
Content Version History
User roles
Multiple Integrations
Pricing
Story Chief has a limited free plan. Premium plans start at $12/user/month.
Communication Tools
When working remotely, nothing gets done without proper communication. The second category of software for working from home that we're going to tackle are communication tools.
This kind of apps makes it easier to collaborate when you're only connecting online. From project management to video conferencing, there's a tool for every communication struggle you could experience.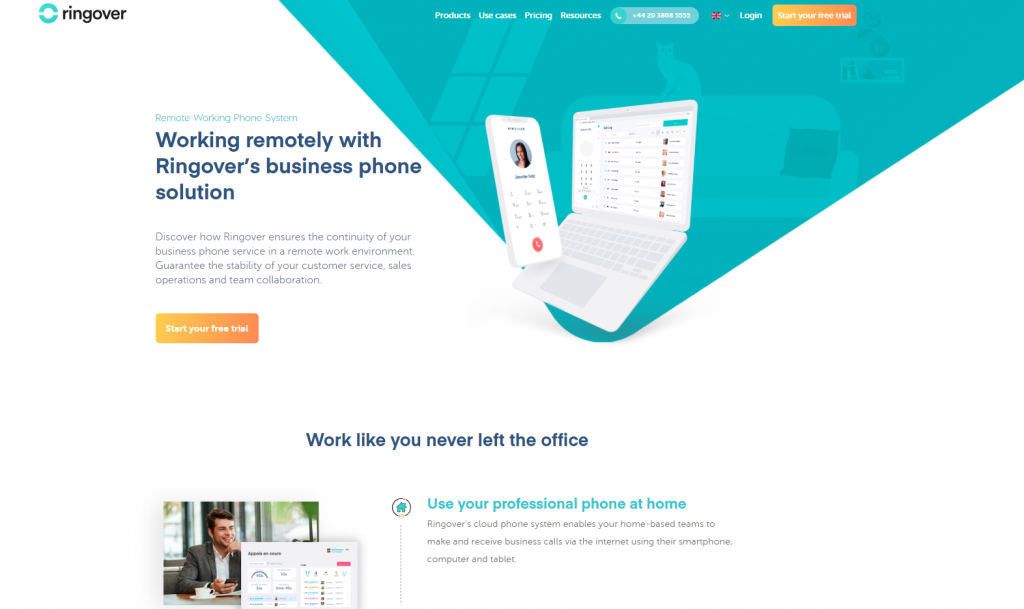 "Ringover is a click-to-play business phone system on mobile and web apps that makes it possible for distributed teams to stay connected to their customers, colleagues and partners."
Feature Highlight
Automatic call distribution
Audio & video conferencing
Business hours
CRM & Helpdesk integrations
Live call feed
Call supervision & monitoring
SMS and internal chat
Supervisor dashboard
Pricing
Ringover offers a free version during 7 days with standard plans starting at €17/user/month.
"Slack is the collaboration hub that brings the right people, information, and tools together to get work done. From Fortune 100 companies to corner markets, millions of people around the world use Slack to connect their teams, unify their systems, and drive their business forward."
Feature Highlight
Real-time chat
Audio & video calls
Channel for every conversation
Vast library of integrations
Available API
Alerts & notifications
Safe file sharing
Searchable history
Pricing
Slack offers a free version with standard plans starting at less than $7/user/month
"Zoom is the leader in modern enterprise video communications, with an easy, reliable cloud platform for video and audio conferencing, collaboration, chat, and webinars across mobile devices, desktops, telephones, and room systems."
Feature Highlight
HD video and audio calling
Recording and transcripts
Built-in collaboration tools
Team chat
Pricing
Zoom has a free basic plan & premium plans starting at $15 USD/month/host.
"Go ahead, video chat with the whole team. In fact, invite everyone you know. Jitsi Meet is a fully encrypted, 100% open source video conferencing solution that you can use all day, every day, for free — with no account needed."
Feature Highlight
No account needed
HD audio
Desktop sharing
Advanced security settings
Custom meeting URLs
Pricing
Jitsi Meet is fully open source and free to use.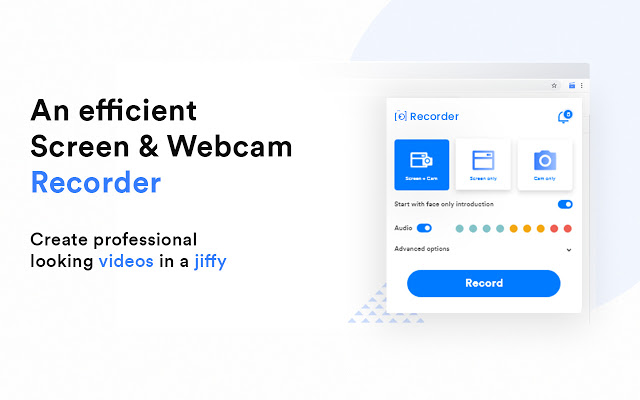 "StoryXpress Recorder is a powerful screen and webcam recorder to Record, Edit, and Share unlimited videos with clients and customers."
Feature Highlight
In-built video tools to draw, write and engage viewers
Heatmap Powered Video Analytics
Video Annotations like CTA, Banner, and Forms to capture leads
Integrate with top tools like Gmail, zapier, intercom, etc
CNAME enabled sharable video landing pages
Pricing
StoryXpress Recorder has a free plan to Record & Send unlimited videos. Premium plans start at $10/user/month.
"With Loom, you can capture your screen, voice, and face and instantly share your video in less time than it would take to type an email."
Feature Highlight
Screen and camera recorder
Fast sharing with a link
Easy editing
Rich reactions
Video comments
Controlled viewing
Pricing
Loom has a free limited plan. Premium plans start at $4 USD/month
"Communicate and collaborate using team chat and switch to video or audio calls with screen sharing for more efficient teamwork. Improve productivity by discussing and sharing ideas, projects and files with real-time or asynchronous team chat."
Feature Highlight
Custom domain
Public and private channels
Conferencing server
Multi-language interface
White Label
Pricing
Rocket.chat has a free version and premium plans starting at less than $3 USD/month/user
File sharing
To share files you're working on, you can use one of the general project management apps we mentioned above, or do so with a specific tool designed for file transfer.
The apps in this section were created to help you move the files safely (even when they're too large to be transferred by email) and easily exchange feedback.
"Dropbox Business is more than just secure file storage—it's a smart workspace where teams, tools, and content come together."
Feature Highlight
File storing
File editing
Desktop access & app
Content collaboration & productivity tools
Pricing
Dropbox offers a free plan and premium plans starting at $10/month.
"With MyAirBridge.com, you can quickly, reliably, and securely send or share your data around the world. The service is free for individual transfers up to 20 GB in size."
Feature Highlight
File storage
File sharing
Download folders
Preview images
Drag & Drop interface
Contact management
Pricing
MyAirBridge has a free plan and premium plans starting at less than $3/month.
"Filestage is an asset review and proofing platform used by companies and agencies worldwide to organize and manage their content review process. Founded in 2015, Filestage operates worldwide in distributed teams and includes employees from more than 10 different countries."
Feature Highlight
Document, video and audio review
Project folders
Unlimited reviewers
One-click approvals
File annotations
Versioning
Private comments
Track delayed files
Pricing
Filestage offers a free trial that lets you test their tool. Their premium plans start at €89.
"QuickReviewer is a cloud based collaborative review tool for designs and creatives. Our customers in a wide range of industries use QuickReviewer to streamline their review and approval process. Please read our privacy policy and license agreement before purchasing subscription."
Feature Highlight
Drag & Drop file upload
Controlled access to files
Split-screen version comparison
Multiple revisions
White label
Customized email notifications
Pricing
QuickReviewer has a free plan for you to test. Their premium plans start at 1gb storage for $59/year.
"Thanks to Nextcloud Files, your employees have easy access to their files, photos and documents to work and can share and collaborate with team members, customers and partners. And IT knows nobody besides those they shared with has access to those files."
Feature Highlight
Rich workspaces
File locking & access restriction
Workflow management
Advanced security features & GDPR compliance
Part of Nextcloud collaboration suite
Pricing
Nextcloud plans start at 50 users for 1900€/year.
"WeTransfer was founded in 2009 as the simplest way to send big files around the world. Today we're a set of beautifully obvious tools to keep your ideas moving."
Feature Highlight
Download tracking
Manage transfers after sending
Control access
Custom domains
Pricing
WeTransfer offers a free plan and a premium plan for $12/month
"ownCloud is an open-source file sync, share and content collaboration solution, with which teams can access data easily from anywhere and from any device."
Feature Highlight
Custom groups
Activity stream
Expiration dates
Private links
Dropbox and GoogleDrive integrations
Pricing
ownCloud is an open source platform available for free.
Commodity Tools
Software for working from home isn't just about sharing files, video calls or task assigning.
Below you'll find examples of platforms that will simplify your work with a bunch of features you and your distributed co-workers will love.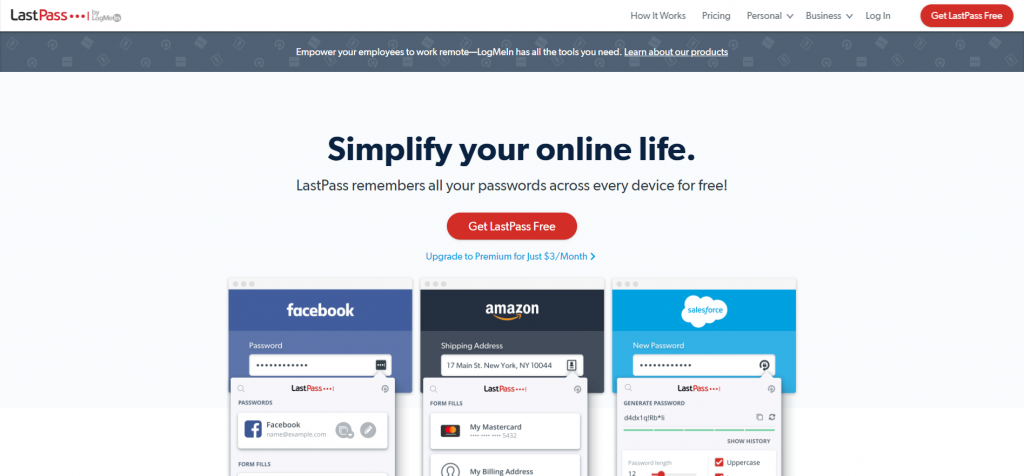 "Just remember your master password and LastPass remembers the rest. See for yourself how easy password management can be."
Feature Highlight
High-security password vault
Password generator
Password sharing
Multifactor authentication
Pricing
LastPass has a free plan as well as premium plans for individuals and companies. These plans start at $3/user/month.
"The Most Simple and Secure Way to Get Documents Signed"
Feature Highlight
Easy e-signing for documents
Document templates
Document audit trail
Team management
Personalized signature requests
Pricing
HelloSign premium plans start at $13/month. You can try the tool for free before signing up for any of the plans.
"We believe automation should be easy, because everyone deserves to work smarter—not harder."
Feature Highlight
Easy integration for a vast number of apps and tools
No code requirements
Select triggers and actions from the list
Pricing
Zapier has a limited free plan and a number of premium plans starting at $20/month.
"IFTTT is the free way to get all your apps and devices talking to each other. Not everything on the internet plays nice, so we're on a mission to build a more connected world."
Feature Highlight
Extensive directory of apps and tools to connect
API performance & health dashboard
Analytics & behaviour
Pricing
IFTTT has a free limited plan for individuals and premium business plans starting at $199.
"Integromat will automate processes that you currently handle manually. It is not only capable of connecting apps but can also transfer and transform data. It works 24 hours a day, seven days a week and does not require your intervention. Simply set Integromat to do what you want and let it work for you. Save your time!"
Feature Highlight
Vast variety of apps and tools to integrate
Developer platform for connecting your own app
Built-in routers
Execution history
Templates
Automatic error handling
Transactions
Pick your favourites
Now that you've got to the bottom of this list, there's only one thing left: build your own, customized toolkit of your work-from-home software. With the open source, freemium and premium options available, there's something for everybody.
Happy remote working!