Here it is: for all you lovers of good stories, educational reads and inspiring copies, we've just prepared a list of Medium publications worth following. As you'll soon see, all of them are perfect for CEOs, managers and business founders. But if you're none of them, then read on still because each of these unique collections offers something to learn from.
And by the way! While you're hitting the follow button on these publications, don't forget to do the same for Taskeo and get notified each time we publish a new piece of content!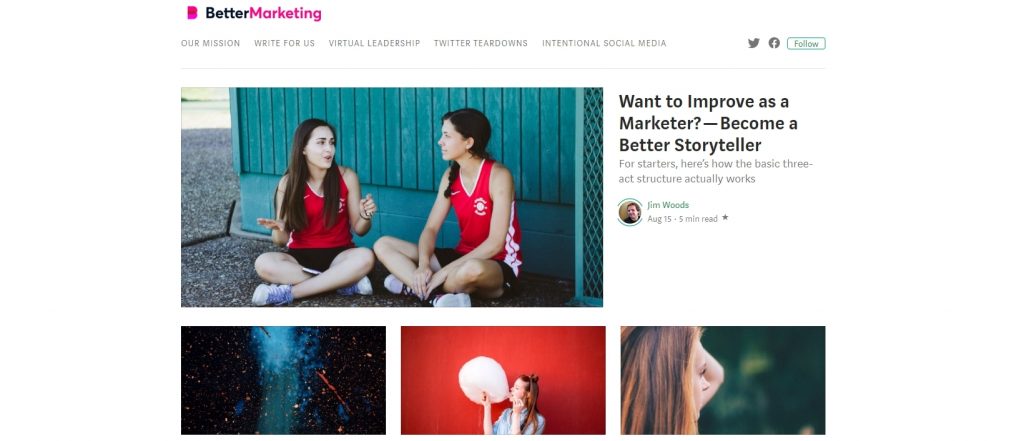 "Better Marketing is here for those of you who need to gather attention for a great product. Our goal is to help you become the kind of marketer the world desperately needs: the kind that can deliver and deliver the right way. We'll cover every aspect of what it means to be that kind of marketer."
Wherever you stand in your company, having at least some marketing knowledge isn't bad at all. Programmers, salespeople, support, founders and CEOs – all of us will benefit from knowing how to get your business our there.
And Better Marketing at Medium is an endless fond of ideas. Every article curated in this collection will supply you with everything you need to up your marketing skills and get inspired to create a better business strategy. And while that's the main theme of the publication, you'll also discover quite a few gems on leading and managing your team as well as your own growth.
Check out these: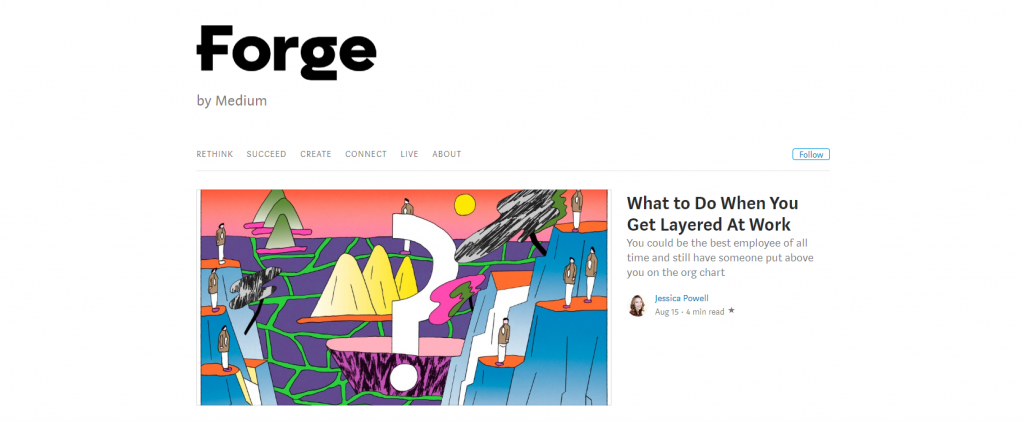 "We provide a toolbox of research- and expert-backed strategies to be more productive, inspired, and whole, and mind-expanding ideas about how we humans are navigating this big, complicated world."
Forge is an impressive collection of articles on all things personal growth. And we all need a little guidance in this department, no matter where you are in your life right now.
Follow Forge on Medium if you need additional inspiration about your career, leadership, productivity or setting up these good habits (and sticking to them!).
Check out these: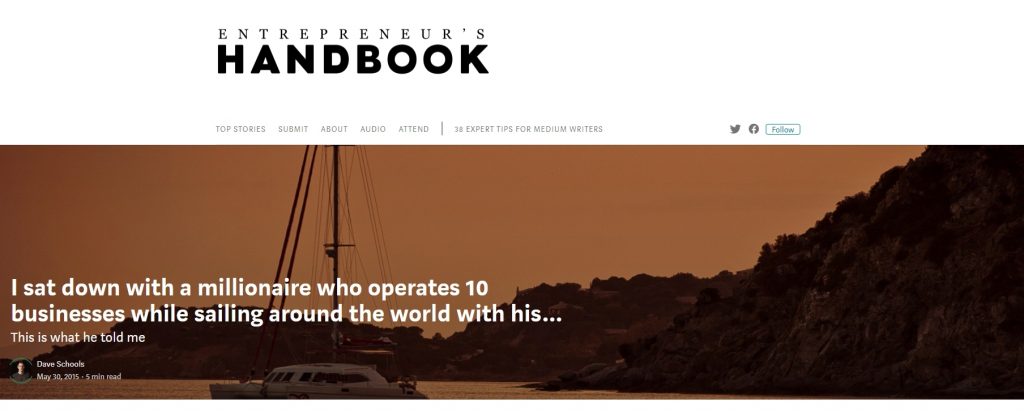 "Entrepreneur's Handbook is a publication dedicated to helping entrepreneurs succeed. It features founder stories, design articles, and startup deep dives, hard life experiences, advice, and creative thinking."
The name says it all: in this collection, you'll find articles all related to entrepreneurship and leading your people to success. From dealing with failure to attracting investors, Entrepreneur's Handbook gives you all the inspiration you need to work on your business harder – day by day.
Check out these: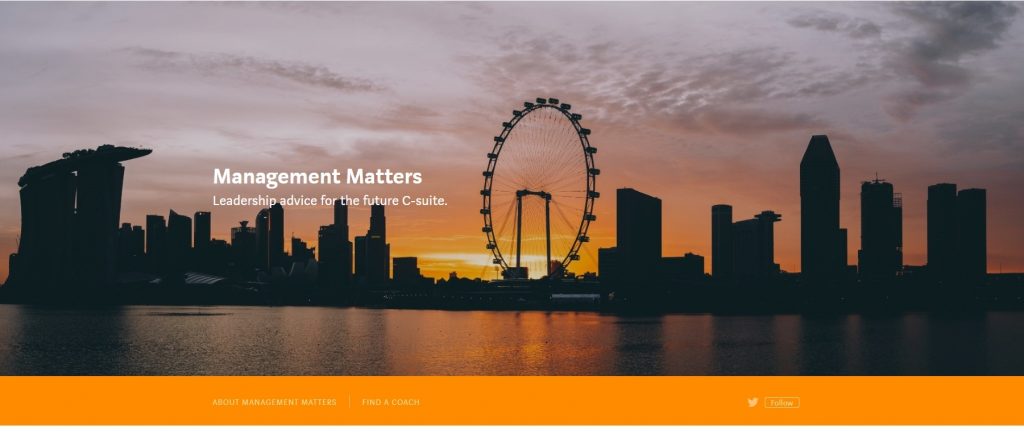 "There's plenty out there for the C-suite. What about the rest of us-the high potential managers & up-and-comers. The future C-suite. Real leadership & management advice for front- and middle-management. A publication focused on management matters, because great management matters."
Management Matters is your place to go if you want to become a better leader for your people. Discover a number of fresh, down-to-earth and practical guides on all issues that managers face daily.
Check out these:

"Interesting thoughts at the intersection of technology, psychology, and business"
Entrepreneurship isn't only about the finances and innovation and team-leading… and all those good things. There's also a good bit of psychology and in Psychology of Stuff, you'll regularly find interesting pieces that will open your eyes to a variety of matters – on your personal and professional level alike.
Check out these: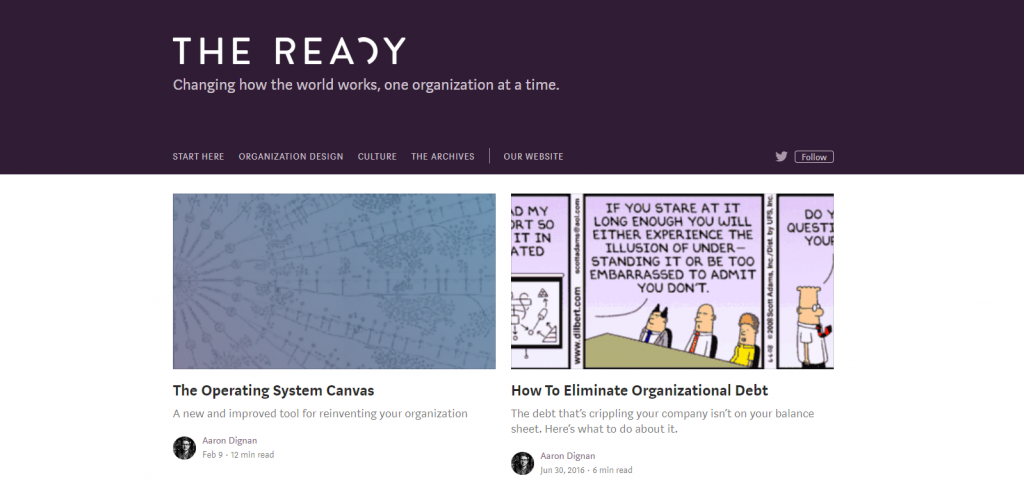 "Lessons from our quest to change how the world works. Topics include org design, self-organization, and dynamic teaming."
No matter what kind of business you have, The Ready has something for you. In this collection, you'll find advice on all thing related to organizing your company and teams – and your own work as well. Supported with a good dose of psychology, The Ready gives you a read that is both inspiring and educational.
Check out these:

"Who reads Hacker Noon?

Technologists, Software Developers, Bitcoiners, Blockchain Enthusiasts."
Hackernoon is a go-to piece for developers and techies, but not only. Marketers and founders will also find here a huge load of knowledge, inspiration, tips and case studies. Follow to get a regular supply of entrepreneurial and growth ideas.
Check out these: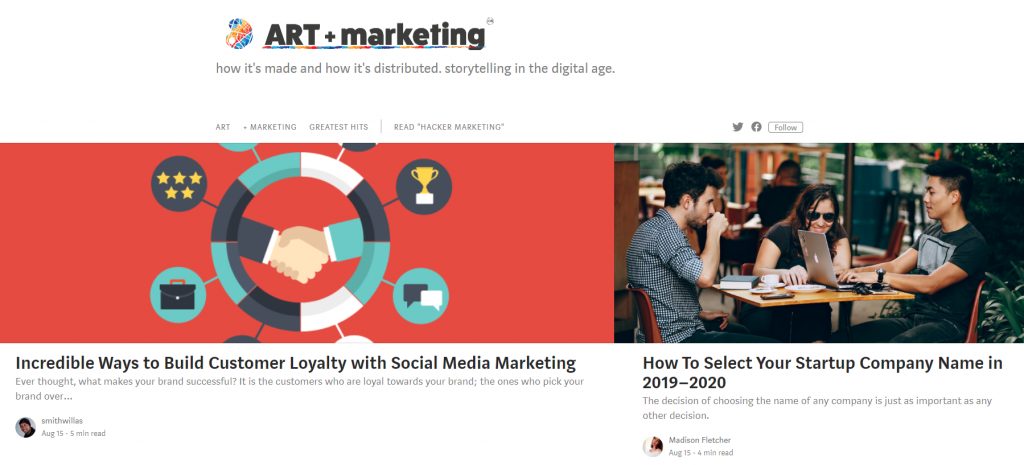 "We publish creators. Why they make. How they see. What they do. Everyday is the creators' perspectives. "
Both as a marketer and entrepreneur, you sometimes (only sometimes?) need to get creative. Art+Marketing is your place to be if you want to stay inspired all the time. Here's where you can learn more about creativity – for marketing and business-related matters.
Check out these:

"Business Leaders, in their own words. The Helm is a carefully curated collection of insightful content from the business frontlines."
On top of all leadership-related publications on Medium, The Helm is one of those worth mentioning. Practical yet innovative in their thinking processes, authors in this curated collection deliver only the pieces that can potentially change the way you perceive entrepreneurship. And, of course, get inspired to do better.
Check out these:

"Advice for programmers."
For the most part, articles in Better Programming refer to – surprise, surprise! – coding. Giving practical solutions to practical problems, Better Programming is your #1 developer publication on Medium. But even if you don't code, this collection will offer a bunch of topics on productivity, goal setting and team-leading.
Check out these:
Got your favourite?
The publications we've selected are those you won't find on the Medium's top bar – but they're worth checking out and following. We encourage you to dig deep into each of them and save up all those articles worth coming back to.
And, of course, don't forget to share them with us. 🙂