In 2019, Owllabs surveyed over 1202 full-time workers in the United States. 62% of them responded they work remotely "at any frequency". 30% of them said they worked remotely full-time.
In 2020, remote working has become the new normal. Workplaces must embrace remote work options due to the unprecedented situation of the pandemic.
Lawyers are among the impacted professionals. Remote work has been on the rise for years now and the digital transformation entered the legal industry as well. Despite that, lawyers are still quite unsure whether their duties can be carried out remotely.
Meanwhile, running a remote legal practice is possible.
That's why we've created this ultimate guide to remote legal practice management. The tips below will help you get started and setup foundation for your new, remote business.
Ready to dive in?

Part I: Why Is Remote Legal Practice Worth It?
Legal specialists around the world choose to run remote law firms for many reasons. Some of the most common ones include flexibility of schedule or saving time and money.
These days, everyone can benefit from advanced technology. It gives you free access to information regardless of where you are. It allows you to contact anyone on the globe. This alone gives lawyers much more flexibility in their working arrangements.
But there are a few more benefits to it. Let's take a look.
Skip the traffic jam. Less commuting, less time spent in the car. By limiting that, you free up more time for meaningful activities: talking to clients and working on their cases.
Schedule flexibility. Whether you'll stick to 9-5 or give up on it, it's completely up to you and our team.
Redefine your budget. Without an expensive rent and other office-related expenses to cover on a monthly basis, you gain access to additional financial resources that you can redirect into marketing or hiring additional team members.
Hire the best of the best. When you and your team no longer need to report to an office, you can hire across states or even countries. There's an entire world open for you to search for new lawyers. You'll be able to hire anyone who's best suited for your law firm and shares your values.
We're living in a world that changes day by day. New high tech multiplies faster than we can keep track of it. Thanks to this technological progress, you can give up on what's old and dated. You can improve, streamline and automate a large chunk of your business.
Many attorneys realize now that they can deliver the same result regardless of whether they work from home or from an office. But the former gives them the ability to work on their terms.
With that said, let's see how you can begin setting up your perfect home office.
Part II: Setting up Your Digital Workspace
Working from home appears more than enjoyable. There is no need for you to wake up extra early. You work from your most comfortable spot.
And, of course, what your office-bound colleagues could envy you, is being safe from the morning road rage.
As wonderful as it appears to be, it's not always this way. Staying productive when running a remote legal practice comes with many challenges. It's particularly tough for those who have only just started.
Below you'll find a few tips on how to overcome the most common struggles related to setting up your digital workspace.
Step 1: Find the Privacy
What is crucial when working from home is to have a set work space, somewhere separate from any distractions. While you might be more comfortable working from your couch with the TV on in the background, it will massively reduce your productivity, so try to recreate a work environment in a separate room, if possible. This also means wearing your usual work attire and not staying in the same pajamas for a week straight! It's important to keep regular schedule as much as possible. Schedule your breaks and lunch, much like you do when you work from your office. My number one suggestion is to check in often with your partners or associates to ensure they are aware of what you are working on and see if there is anything else you can assist with.

Kent Wiebe, Wiebe Wittmann El-Khatib
Sooner or later, you'll encounter focus issues. Having your bed, kitchen, TV and all entertainment a few steps away from you won't help. Similarly, children playing behind your back will hinder your productivity.
Keeping these distractions out of sight will help you regain focus.
That's why, for remotely working lawyers, having a separate working space should be the top priority. You need a place where you can fully concentrate on your work.
Having a personal office space at home will help you get in the working mode. It's best when you associate the space around you with your a working environment. This way, maintaining focus will be easier.
Step 2: Invest in Comfort
Comfort of your working place directly translates into your productivity. It's where we feel good and comfortable that we are most productive.
Don't underestimate the value of comfort and personalization of your home office.
Starting by purchasing ergonomic office equipment or smart tech gadgets. Adding personal knickknacks, photos, paintings or plants will help you customize your space and create an environment you want to come back to.
Remember, a comfortable home office is a must when you have to sit and stay productive for 8 hours (or even more) on a daily basis.
Step 3: Create a Schedule (No, It Won't Kill the Flexibility)
General remote work best practices such as following a routine, getting out of pajamas, and having a dedicated work space are just as important for remote attorneys. In addition to these fundamentals, remote attorneys should prioritize having a multi-hour block of uninterrupted time each day to work on deep thinking projects like drafting pleadings, research, writing briefs, or developing law firm policies. For attorneys that are running their own virtual practice, using a call service, remote legal assistant, and other administrative support services can help minimize distractions without jeopardizing client communication or business operations.

Larissa Bodniowycz, Bold City Legal & Sort of Legal
There are some downsides of working from home. One of them being that you might not be able to differentiate the time to relax and to work. Especially if you live with someone else.
People value remote work mainly due to the flexibility of a schedule that it offers. Often, they get trapped by that idea. They mistake flexibility with lack of organization and discipline.
Working during specific hours does NOT prevent you from having a flexible working schedule. Instead, it helps you set up routines and work on the discipline you must possess if you intend to run a remote legal practice.
Consider setting up working hours that don't collide with other matters that are important to you – like being physically active or spending time with your family. It will make you more predictable in the eyes of your clients that will know when you're accessible and when you're not.
Step 4: Deal With Distractions
It's easy to get interrupted. You might lose focus any second due to a momentary disruption coming from someone else.
Sharing your schedule with whoever lives with you is key for running remote legal practice. Make it clear that you need peace and quiet to be able to work efficiently and productively.
People that share your living space may not share your remote work lifestyle. To them, their time at home is the time for relaxing and stress-relieving activities.
Make sure that their activities don't interrupt you, or even worse, draw you away from work. By communicating your new working schedule openly, not only will you prevent others from disturbing you, but you may even end up with them supporting your routine in any way they can.
Step 5: Prepare the Equipment
Running a law practice from home means attending frequent virtual meetings. Investing in a pair of high-quality headphones and microphone will improve communication between you and your clients.
A good headset can also help you relieve stress in the middle of your hectic day. You can always take a short break to listen to music.
Don't forget a camera if you don't have an built-in one. Showing your face online to whoever you talk to ups your credibility and brings the virtual to a next level.
Last but not least, you will need an all-in-one printer.
All-in-one printers are able to print, scan and photocopy. All those features are included in a single, often very compact, device.
Step 6: Consider the Right Software
I run a virtual practice with 6 attorneys and 4 support staff. Our whole focus is employment defense, representing business owners only. Some of the apps/software we use include Clio, Box, Zoom, Bamboo HR, EverNote, eFax, TurboScan and Uber Conference. Internally, we've implemented Traction (a book written by Gino Wickman) that helped us frame weekly meetings and daily check-ins. We hold a meeting at the same time every week where we start off by going over our core values, our mission, our vision, and our ideal clients. In the meeting we encourage the team to bring up any issues and we work toward solving those issues in the meeting. At the end of every meeting, we rate it on a scale of 1-10. For any firm that's thinking about going remote, I would consider try going paperless first. If you can get everything scanned and uploaded to your system, it's a good start to transitioning your practice to virtual.

Cynthia Flynn, Hackler & Flynn
Remote workers depend on technologies to communicate, monitor and complete their work. Practice management software will be the foundation of your business activity and you should begin with getting one.
The tools you'll find below are ready to support you in overcoming the challenges of a remote attorney.
Communication Tools
Managing a remote staff of attorneys requires communication and empowerment. I communicate with the attorneys that work with me every day. We discuss the matters they are handling and I help them troubleshoot issues and make decisions for the best approach to a matter or issue. But communication alone isn't sufficient. I need to empower those attorneys to work independently and make the decisions needed for the matter. If I'm required to micromanage every task and make every ultimate decision then we would get nothing done and the client would suffer. So I empower my attorneys to do their best work and take ultimate ownership of the matter.

Kevin Keener, Keener and Associates
Success comes with effective communication. Remote teams practically can't function without apps allowing them to communicate.
Below we list a variety of communication tools to support your remotely working team. Whether you need an internal chat room or an app for video meetings with clients, these tools will help you a lot if you are running a remote legal practice.
Google Hangouts. One of the most well-known tools if you were to have a video conference meeting. Be it with your own remote working teams, business partners or clients.
Zoom is also known as one of the most popular video conferencing tools. The platform offers various kinds of communication solutions, such as video webinars, conference rooms, online meetings and others.
Miro is a platform that offers you to share your messages visually. It's a free online whiteboard platform for people to use. It is made for people who prefer to share ideas, plans and concepts in a visual manner.
Slack provides a chat room for you and your team to run internal discussions. It is able to integrate with other platforms so all actions and announcements go to your Slack workspace.
Rocket.chat is an open source, free alternative to Slack that you can host in the cloud or privately.
Loom is a screen and video recording software. It helps you share videos and record your screen that you can later send with a single link. Loom might come in handy when you are briefing different kinds of tasks to your team members.
Document Sharing Software
There are other platforms that can make your life even easier when you handle a lot of digital files.
Let's name a few document management and file sharing apps.
Hellosign – Running a remote legal practice means you are bombarded with a lot of documentation. Some documents & papers you will need to sign as soon as possible. Hellosign is a life saviour in this case as it allows you and your clients to sign documents digitally.
Dropbox is a file sharing tool and is a must-have for any remote working lawyer. It also serves as a cloud storage service for various kinds of files. This allows access to any files that have been uploaded to Dropbox, even if you are using different devices.
My Air Bridge lets you transfer large files online, directly to the recipient
Filestage is a file sharing/file reviewing software that will streamline your collaboration over documents. It supports PDF, but not only, allowing you to review your agreements and marketing materials at the same time.
Client Management Software
Client management software allows you to manage all your contacts, clients and prospects. Storing this data safely in the cloud is mandatory for remote legal practice. After all, you need access to your database regardless of your physical location.
Let's take a look at a few examples:
Taskeo gives you everything you need to manage your customers and schedule meetings with them. The platform comes now only with the customer relationship management features, but also with time tracking, billing, invoicing, appointment scheduling and project management.
Hubspot is one of the CRM industry giants, equipping you with a bunch of tools you'll need to successfully close more deals.
Close.io is a stand-alone CRM application designed to streamline managing all your clients relations and turning prospects into clients.
A CRM (Client Relationship Management) software will prove priceless when running a law practice from home. It will support you in managing your contacts, prioritizing deals, following up and storing your customer information.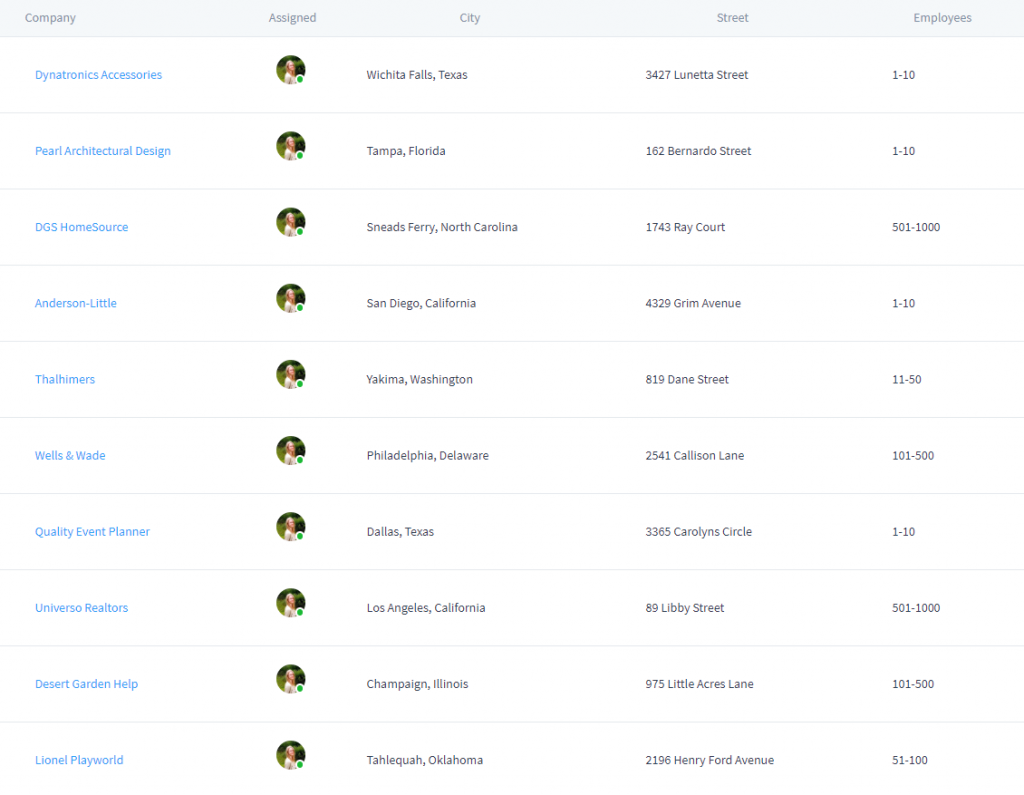 Profiling and segmenting clients won't be a problem anymore. A CRM will also enable you to get a better overview of a specific customer. This way, you can study each of them and create personalized offers matching their needs and expectations.
This, in turn, is a straight way to an improved customer experience. And that directly translates to fewer complaints and increased revenue.
Now, with all the software and hardware discussed, let's jump into expanding your client base.
Part III: Finding Clients Online
Finding clients is different for a remote legal practice. Because your law firm doesn't have the traditional office space model, some people may doubt your brand, question the quality of your services or wonder whether remote legal services are even possible.
Remote legal practices are equally capable of finding clients, it's just the matter of attracting and convincing them. Your law firm has to show its presence somewhere, a platform that has a large audience in it.
That is why finding clients online revolves around building a renown online brand and going where the right customers are.
There are many ways to build your online presence but the ultimate goal should be one: for your remote legal practice to establish its credibility and reputation. Thanks to this, you will have it easier to attract more clients.
Read as well: How to Grow Your Law Firm
Polish Your Website
One of the points of having a website is to present your brand. And you'll want it to be presented the right way. It's time to make your website superior!
Show off your achievements as a remote legal practice. Ask you past clients for reviews you can feature on your website. It will increase the credibility and status of your brand. Invest in providing high quality User Experience with your website design. It should be interesting and it should stand out while being pleasant to navigate.
Remember that attracting people to your website is not where it ends. The design of your page and the content you put up on it should, in a consistent and logical way, steer your clients down the sales funnel until they are ready to pay for your services.
This includes well-placed calls to action, visible phone number or email address and even lead magnets such as free consultations in exchange for the client's email address.
Don't forget to optimize your website for SEO by picking up the right keywords. One way to learn what your clients are potentially looking for and what they're talking about is to use services such as Answer the Public.
Don't Miss Out on Being Social
A remote legal practice can't do without a solid social media strategy. Online is where your clients are so be sure to be there as well.
Being active on social media will increase your exposure substantially. Many people will find out about your business through social posts which will lead to increased brand awareness. That, in turn, directly translates to higher chances of increasing the number of your clients.
Organize Webinars
Running webinars can also get people's interest, especially if you have a great topic to discuss with the right audience. Touch on the relevant, real problems your clients have and use the webinar to showcase your knowledge. It could address some issues you normally solve during a paid consultation. In case of a webinar, however, you can address the problems basics, without giving away your expertise for free.
The goal of your webinar to convert them into clients. Engage with your audience and educate them about your brand in a way that seamlessly fits into your webinar's narrative. You can include stories and your experiences to help that natural transition from educating your prospects to selling your brand.
But don't panic if you fail to convert some of your attendees. Access to your webinar should be locked behind a user's email. This way, you can get in touch with them later.
Educate Through Courses
Generally speaking, you can create two types of courses: lead-generating courses and revenue-generating courses.
Lead-generating courses are generally free. Just like in case of webinar, you will use this type of course to touch on the surface of your clients problems and provide solutions they can start with. You'll weave your brand into a narrative and encourage your course attendees to sign up for paid services that you offer.
A revenue-generating type of a course, instead, is a paid one. It usually helps your clients solve the problem they have, offering an actionable solution from the start to finish.
Be Active in Online Communities
Web is full of places to show yourself. And in building an online presence, showing yourself, day by day, on a consistent basis, is nothing if not essential.
From presenting your expertise to networking, online communities present countless options.
Here are a few places to consider:
Facebook groups
LinkedIn groups
Quora
Medium
Industry forums
One last thing that you should consider when looking for clients online: learning from your competitors. Don't hesitate to see where they are, what they do and how they promote themselves.
That said, let's talk about managing your remote legal team.
Part IV: Managing Remote Team
It's important to equip your lawyers and staff with the tools to be successful while working from home. We utilize a cloud-based case management system, video conferences for meetings and depositions, and enhanced cyber security features to ensure our data and work product is protected. We value responsiveness to our clients, and fortunately the features we have in place allow us to continue to handle claims proactively, even while working remotely. It's also important to prioritize your tasks each day while being adaptable as new challenges and issues emerge. Our attorneys and support staff have found that they are able to accomplish more during a shortened work period by staying focused and managing their time efficiently. Avoiding the constant LA traffic always a bonus, too!"

Sarah MacDonald, ME Law
How often do you feel like something about managing your remote team is off? Do you struggle to direct or lead your remote team as a whole?
Running a remote legal practice comes with challenges unique to your business model.
One of the biggest troubles related to running a law practice from home is being unable to be with your team physically on a regular basis. Differences in work culture or time zones don't make it easier either.
Luckily for you, we've got the answers to your struggles.
Discover Project Management Software
Remote teams are these which, more than any other, rely on visualization of their workflow. Project management software, such as Taskeo, makes it so much easier to stay on top of everything.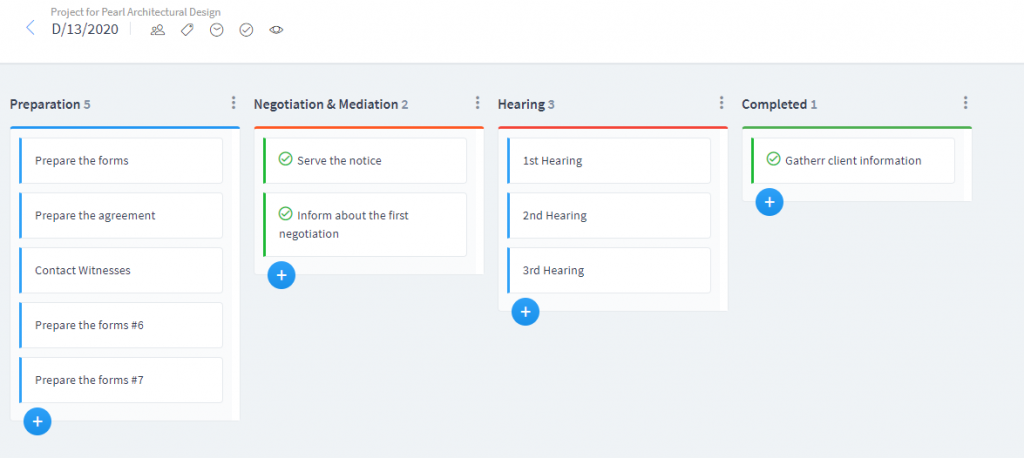 Here are a few things that the right tool will help you with:
Allocate the right tasks to the right people
Easily visualize processes and workflows
Calculate project costs
Track time spent on tasks
Monitor execution of the assignments
Instantly spot bottlenecks in your workflow
Discover opportunities and positive patterns
Assign process ownership
Limit the need for video calls and asking questions
Sounds good? Before you move onto your next project, switch to online task management.

Create Lasting Bonds
Regular communication with your colleagues is key for remote teams. For a non-remote team, it's not that much of a problem since you meet each over 8-hours long workday, 5 times a week.
As a remotely working team, you will need to put extra effort into creating lasting personal relationships. In fact, according to Buffer's State of Remote Work report, 20% of remote workers point to loneliness as one of their biggest struggles.
How can you remedy that?
Interact with your team regularly, ask them non-work related questions every once in a while. Show interest in their life or hobbies.
Consider remote team building activities, such as gaming together.
Create separate communication channels where you can joke, share memes or funny videos and just chat about unimportant matters.
Great results require great relationships between the team members. It doesn't matter what activities you do, as long as you interact as a team and get to know each other better.
Once your remote team has fantastic connections between them, it's going to be much easier to work on delivering high quality legal services.
Improve written communication
You'll soon discover that running a remote legal practice is relies on written communication mostly.
And that's not easy.
Misunderstandings occur frequently when you chat more often than you talk in person. After all, all you get are letters: you don't hear tone of voice or see faces of the people you chat with.
To avoid that, invest in improving your team's written communication.
Don't be afraid to drop the formal style. Write as you talk. Use emojis. Insert gifs. Anything that adds emotions to your writing helps you convey the right mood and message behind your words.
Be extra clear with your instructions
The correct way to instruct your team members can prove challenging to even seasoned remote workers. At the same time, it's vital to master the art of specifying your expectations.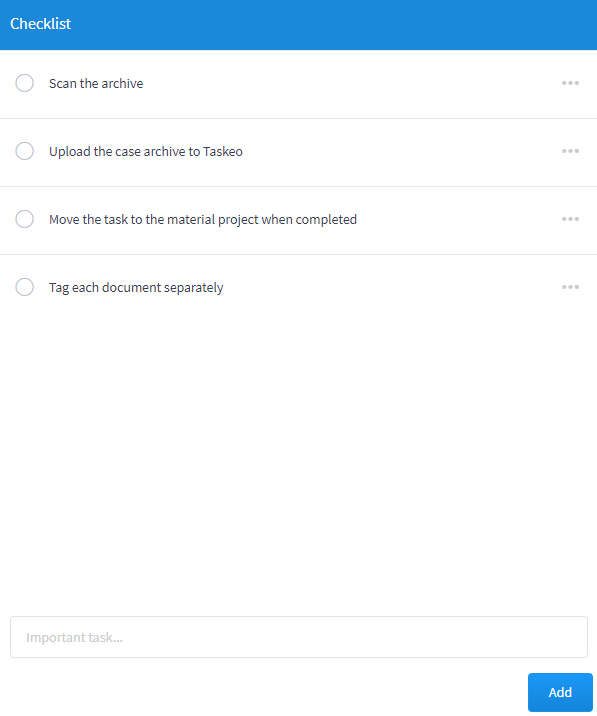 If you use a project management software, be sure to be extra clear about what you put in each task that you create.
Here are a few critical elements to consider:
Deadline
Person responsible for task execution
Step-by-step guide on how to complete the task
Samples and examples to look up
Necessary materials related to the task
You can record a video instead of sending a written message, if that's your preferred method of communication. In the same time, you can also create task templates that will save you time rewriting recurring instructions.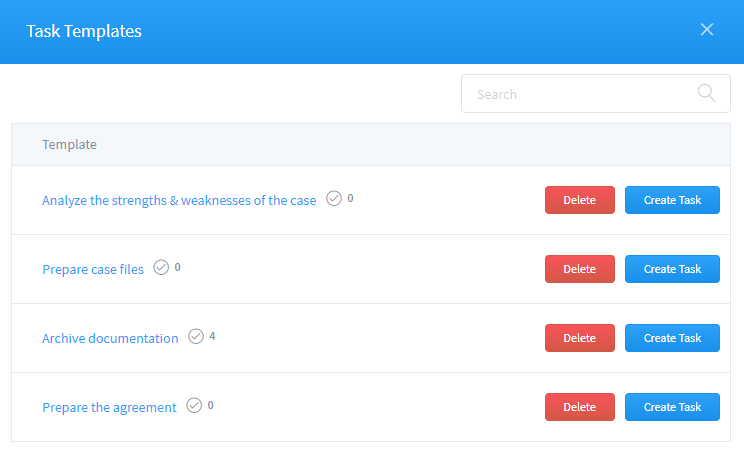 Follow Patterns
Patterns and workflows are what keeps remote teams on track. Your remote legal practice will also benefit from repeatable processes in place of loosely designed workflows.
Events that happen in your company on a regular basis (such as client onboarding, prospecting or marketing) should be designed to follow a pattern. This way, each of your employees will know their role in the process and they won't have doubts when it's their time to step in.
Part V: Hiring For Your Remote Legal Practice
In the last section, let's talk about hiring.
Employees are a company's most valuable resource. That is why when you hire someone for your remote legal practice, you'll want them to be the top-tier talent. Following certain recruiting tips will ensure you hire the best of the best, but when it comes to remote legal practice, character traits are extremely important.
Hiring for a remote law firm, however, definitely has different requirements compared to the office working law firms.
Here are a few attributes to look for in an employee that wants to join your remote legal practice.
Self-starters
Remote working teams need individuals who take the initiative to get their work done. Having to direct people to their tasks constantly will hinder the overall effectiveness of your team.
Self-starters are capable of working effectively without the need of having problems and tasks pointed out to them. They don't need constant motivation and supervision. When they spot an issue, they take care of it.
At the end of the day, independent workers who can work solo or in a group are absolute gems.
High discipline
You'll also need people with high self-discipline. When you aren't physically there for your employees, some might loosen up their working schedule. And you don't want that to happen with company's goals on the line.
Look for individuals able to self-motivate and showing signs of discipline required from a remote worker.
Remember: not everyone is made to work from home. Some people are only able to thrive when constantly pressured and checked on frequently. In remote teams, this is a personality trait you want to avoid.
Good with written communication
As we already said, communicating over chat is challenging. Some people don't do well sharing their thoughts through writing as they do while speaking. When you don't hear another person's tone of voice or see their face, it's hard to tell the emotional context of their message. That alone leads to misunderstandings.
That's why you need employees that are good at written communication.
When two professionals misunderstand each other, your projects and cases will suffer. A costly mistake like that could be a blow your company will take months to recover from.
Over to you
If you've made it to this point, you're definitely ready to start your own remote legal practice. Well done!
Start your remote work journey today. And if you want to learn more about how technology can help you run an independent, remote legal practice, make sure to sign up for a free consultation.