Meetings and calls are an integral part of every business – big and small. And if you meet many people on a daily basis, then you know how painful it can be to manage all the meetings.
Consultants, sales reps or founders searching for partners – people like this have their calendars packed to the limit. Are you one of these people who nervously flip their calendar pages looking trying to time for someone? Well, we've got a solution just for you.
It's Taskeo's appointment scheduler.
Lacking patience and time for all these different apps?
Every day, hundreds of apps fight for your attention. Project management platforms, online calendars, analytics software, CRM apps. No wonder you're feeling overwhelmed.
You've got no patience, time or money for managing all these apps, let alone for adding an appointment scheduler to the heap. We get you.
That's the problem we solve.
Most of the meeting scheduling tools you'll find are stand-alone products.
This appointment scheduler is different. It merges with your existing Taskeo project management account. Thanks to this, you can schedule your meetings from the same app you use to manage your team's tasks.
Less is more.
Is Taskeo's appointment scheduler for you?
Do you struggle organizing your meetings?
Do you have it hard to manage your schedule?
Are you tired of tiresome back-and-forth email threads that only make it harder to set a meeting date?
If you answered positively to at least one of these questions, then yes, Taskeo's appointment scheduler is for you. It's for anyone who wants to regain control of their disorganized, overloaded calendar.
However, we designed this tool with very particular people in mind:
Managers trying to squeeze team meetings and one-on-ones in their busy schedule
Consultants looking a better way to stay in control of all their meetings and clients
Sales reps searching for a solution that will help them manage their calls and meetings smartly and keep tracks of all follow-ups
These issues will no longer bother you
Painful meeting arrangement process. Say goodbye to long email threads or trying to reach the other party via mobile.
Time zone differences. No need to calculate them or even think about them. Taskeo's appointment scheduler will automatically convert the time for you and the other party.
Overloaded schedule. Use meeting duration to arrange your meetings on the calendar – smartly, orderly and logically.
An increasing number of apps to manage. You will no longer need third-party solutions. Taskeo's appointment is a part of our existing module pack. That means one support, one subscription, one app. Lower costs and less hassle.
No insight into your peoples' schedules. You can always see what's on their calendar, when they're free and who they're meeting with.
No follow-ups and losing customers. Don't lose your prospects and convert your leads into paying customers like a pro. Use Taskeo to create tasks and reminders that will ensure you always follow up with the right people.
Let's talk features
Taskeo's appointment scheduler comes packed with features you'll fall for. It's a constantly expanding list as our talented devs dish out functions that our users request & love.
Meeting Duration. Set meeting duration to create appropriate time buffers and prevent overstepping your own boundaries.
Preview team members meetings. Who's up to what? Who they're meeting? Help your people organize their meetings and prioritize their contact as you preview their schedule.
[Upcoming] Meeting Types. First contact? Follow up? Support or sales? Label your meetings to keep your schedule tidy.
[Upcoming] Calendar Integration. Google Calendar or iCal? We've got you covered.
[Upcoming] Reporting. Use Taskeo's reporting feature to see how much time you spend on meetings and calls.
[Upcoming] CRM module integration. Follow up with everyone you've spoken to, create tasks, reminders and contact databases. It's all in one, and it's so easy.
Got a suggestion? A problem you've found no adequate solution to? Tell us all about it. You might see it implemented in Taskeo!
It's for free – so why not try it?
Taskeo's appointment scheduler is available in the platform's free plan. Try it and use it for as long as you want – no commitment.
The free plan comes with one appointment scheduling module.
However, if you update to the PRO version, you'll be able to create unlimited appointment modules.
Alright, but how does it work?
Arranging meetings with Taskeo's appointment scheduler is as simple as it gets.
First, set up your meeting module.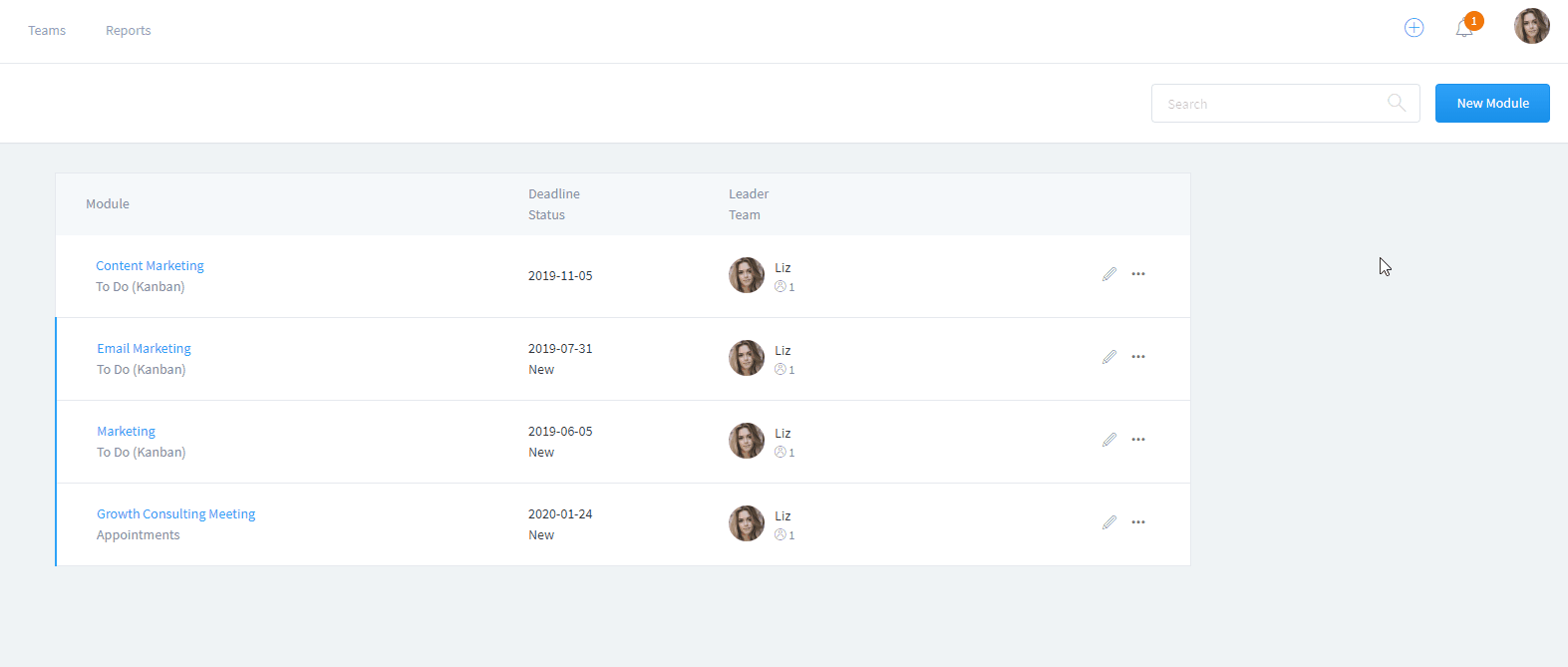 Define when you're available for call or meeting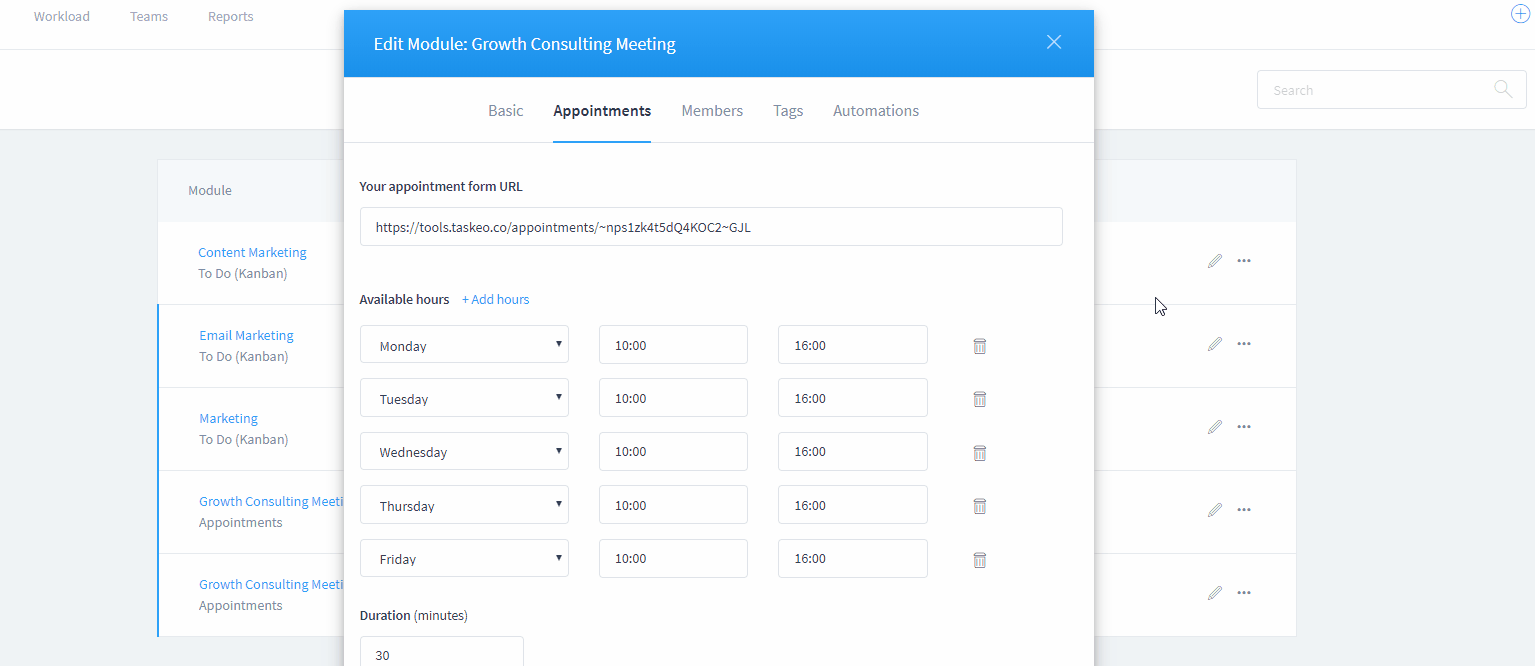 Set the meeting duration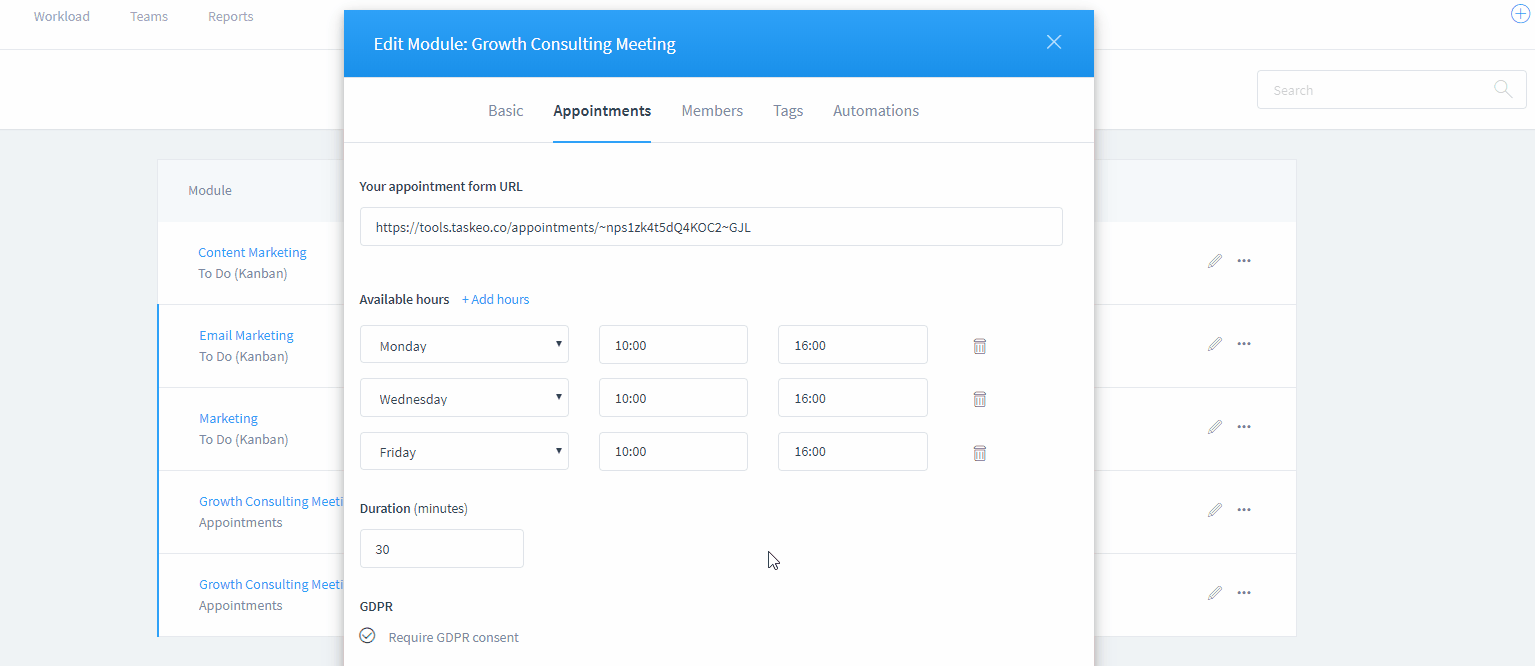 Send your link to someone you want to meet with. They'll be able to choose from available time slots and once they do, you'll receive an email notification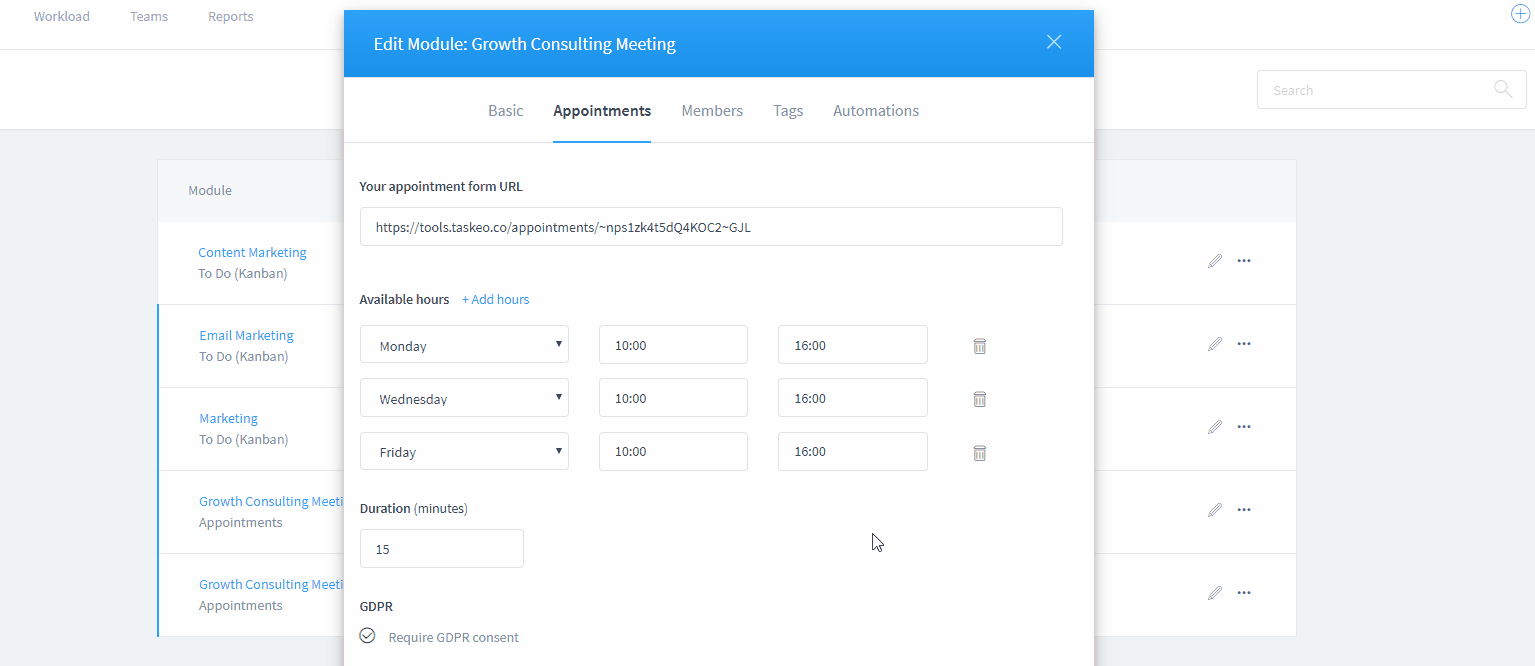 So easy!
Where can you try it?
Create a free Taskeo account to try the appointment scheduler.
Questions? Suggestions? Leave them here
Still got questions? Get in touch with our team.
Chat with through our customer chat
Join our Facebook group
Send us an email to office@taskeo.co