We're happy to announce that recently we've revamped and renewed the way you manage your teams in Taskeo.
Having received a lot of feedback and questions regarding the old version, we've decided to come up with a new and better one.
This update changes a lot not only in the looks of the feature, but also in the way you'll handle any kind of upgrade code you're going to add to your account.
Feature Preview
In the new version of the team management, each user has it's own team automatically assigned to them. You instantly become an admin of your own team but you can be a member of someone else's team as well.
Click the filters to preview your team and those to which you belong as a team member.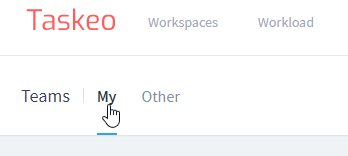 Once you open a team, you will see a list of all members that belong to it.
In this view, you can find all info about your team:
Available pro codes you've purchased
Last time your people were online
Their timezone
Whether they're another admin of your team
Whether they've been upgraded to pro version

Clicking on a user in your team view will allow you to see their projects and workspaces, as well as remove them from your team.
What does the updated team management feature change?
We've faced worries expressed by our users that the PRO codes they've purchased – especially from limited offers such as LTD – will be permanently lost if an employee whose account has been upgraded, leaves the team.
The new team management solves this issue as your team members no longer need to redeem codes directly from their accounts. It is still possible for them to upgrade their Taskeo account on their own. However, from now on the team leader can purchase a number of PRO codes on their own and distribute them between their people. If you happen part ways with one of your employees, their account can be easily downgraded and the upgrade returns to the person who has purchased it.
We've designed the changes to help you manage your teams and subscriptions better. Log in today to check out the new feature and don't forget to subscribe to our YouTube channel for regular Taskeo tips & tutorials!